The number of connected devices in and around our homes continues to rise as more and more consumers rely on them for the convenience, comfort, health and safety they provide. And while these devices are designed to be part of a network, they often communicate via different standards depending on the application.
Most of us are familiar with the Wi-Fi standard, for example, which enables content sharing and internet access in the home. But there are a number of Internet of Things (IoT) standards beyond Wi-Fi, such as Bluetooth® Low Energy (LE), Zigbee® and Thread/Matter®. These low-power, low-data-rate wireless standards are commonly used in IoT-connected products such as door locks, LED lighting and appliances. The challenge with having different standards is that each one has its own requirements in terms of product design. That means vendors have to decide which one they'll use before they can design new devices.
Looking ahead, even more technologies are targeting similar smart home use cases, such as the Connected Home Over IP initiative, which combines 802.15.4 and Bluetooth LE into a single standard. Unfortunately, developments like this will only make the task of choosing between technologies and future-proofing solutions even more difficult.
Download your free copy of our white paper below.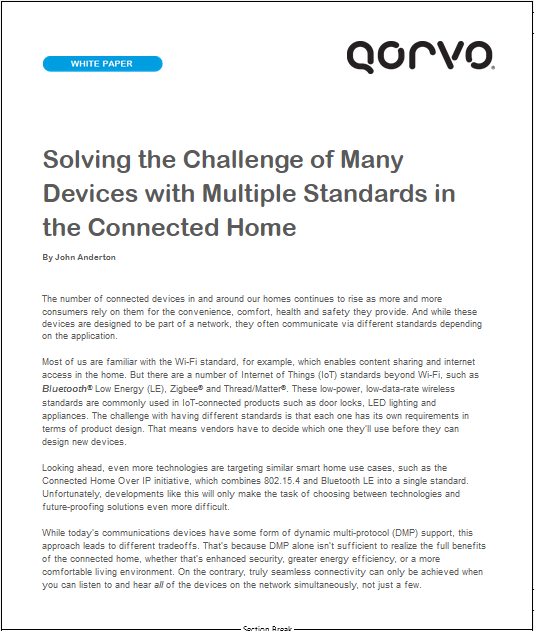 What's Inside:
How to leverage Qorvo technologies for Wi-Fi 6 (802.11ax)
BAW filtering solutions
Front-end modules – with and without integrated filters