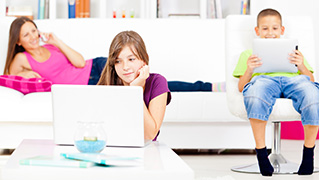 The digital age forever changed how we enjoy and consume media in the home. In any given household, parents can stream an HD movie in the living room while one child streams music upstairs and another child downloads research from the web in the den.
The term "connected living room " describes this type of technology use and covers all the major devices used in a household: smartphones, tablets, laptops, television systems, set-top boxes, Blu-ray players, gaming consoles, home theater projectors and home audio systems. And that is just the cusp of the Internet of Things — connecting your home's security system, lights, thermostat, appliances and more.
Bringing High-Speed Wi-Fi to the Living Room
Qorvo's wireless technology and product portfolio, including our ultra high-efficiency power amplifiers and front-end modules from the RFPA55xx and RFFM45xx families, bring high-speed Wi-Fi to the global connected living room market, which is expected to be worth $957.65 billion by 2020. The RFPA55xx series, as well as our integrated high-performance power amplifiers, switches, filters and other integrated Wi-Fi modules, supports whole-home distribution of HD video and gives customers a variety of wireless connection options. It also supports multi-user multiple input/multiple output (MIMO) for multiple users with up to 8 streams for 5 GHz and 4 streams for 2.4 GHz.
Qorvo provides global networking leaders with the market's best technology, optimized for the highest data rates supported by the latest 802.11ac standard and the emerging 802.11ax standard. Our industry-leading technology delivers unparalleled speed and simultaneous coverage for multiple devices, paving the way for the Internet of Things (IoT) within the home.
Your Devices, Coexisting Seamlessly
Qorvo also provides market-leading band-edge and coexistence filter solutions supporting the 2.4 GHz spectrum. Our filter solutions leverage Qorvo's advanced bulk acoustic wave (BAW) technology to allow Wi-Fi and LTE signals to coexist within the same device or in close proximity to one another, as well as provide maximum range and throughput at the band edge of the 2.4 GHz channels — optimizing the heavily crowded 2.4 GHz spectrum.
Today's consumers demand that home Wi-Fi networks deliver high data throughput to support a broad range of data-hungry, connected applications, like streaming media and gaming, with full coverage for the entire home. Qorvo's RF solutions enable industry-leading RF performance for high-speed 802.11ac and advanced wireless networks for the rapidly expanding number of devices in the home, connecting multiple wireless products seamlessly.
View Qorvo's Wi-Fi products for the connected living room.