1: The Innovative Breakthrough of Layered SAW
One of the many SAW innovations is temperature compensation using surface layering to isolate the interdigital transducer from the external environment to mitigate filter fluctuations. It does this by using a Silicon Oxide or Silicon Nitride material layer on the surface of the die, as shown below.

Another notable innovation is layered SAW. This revolutionary update improves temperature compensation and Q factor (The ratio of stored versus lost energy per oscillation cycle. It's used to measure the selectivity of a resonant circuit). Layered SAW achieves these performance improvements by adding a layer of silicon oxide under the surface of the piezoelectric layer and functional layer, as shown in the below image. Layered SAW provides the best overall performance versus regular SAW and TC-SAW (Temperature Compensated SAW).
2: Temperature Compensation of BAW versus FBAR
Although we see a variety of Bulk Acoustic Wave filters on the market, there really are only two major types — Bulk Acoustic Wave (BAW) and Poly Film Bulk Acoustic Resonator (FBAR). The main differences are the material and how they are put together, as shown below. The BAW filter is stacked with a Bragg reflector layer allowing heat to easily migrate away from the device. This allows the BAW filter to run cooler under hot conditions. The FBAR, on the other hand, has an air cavity that somewhat reduces the level of heat dissipation causing more filter fluctuations when placed in environments with temperature variances.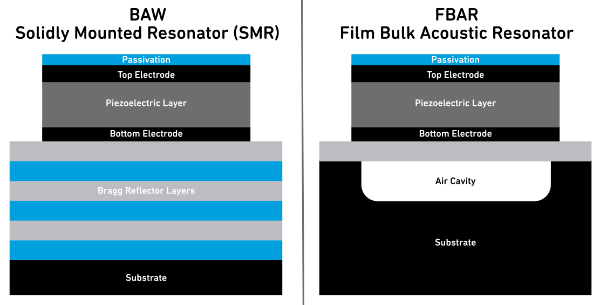 3: RF Filters are Becoming Smaller and More Complex
Customers are demanding more features and greater performance in smaller packages, so manufacturers and designers are working to meet those demands. Wireless devices are getting smaller and smaller, and Wi-Fi pods per room or mesh network devices are becoming sleeker and smaller as well. Moreover, available RF space is shrinking in our smartphones to make room for larger batteries, more cameras and more RF pathways.
In smartphones, manufacturers have increased battery size to support new features like multiple cameras and antennas for Ultra-Wideband (UWB), millimeter wave and diversity functions. Wireless standards like Wi-Fi, low-band, mid-band, high-band, ultra-high band, UWB and millimeter wave capability are required — meaning many smartphones need as many as six antenna pathways. All of this is shrinking the smartphone PC board area used by component manufacturers. Therefore, RF front-end (RFFE) system designers must create smaller front-end components, including filters — in addition to integrating these filters inside small RFFE modules. To achieve this goal, smaller, more complex and increased functionality is required in today's RF filters.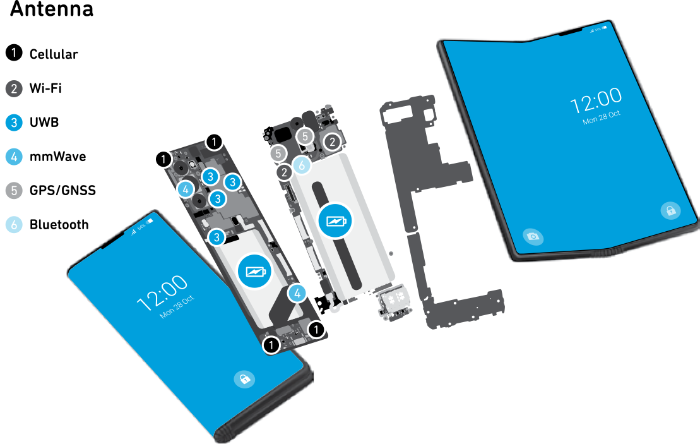 4: The Small but Powerful Multiplexers and Antennaplexers
The standalone bandpass filter and duplexer are no longer the only go-to products for interference mitigation and support of the multiple RF pathways in today's smart devices. Today's smart devices need a smaller and more complex RF filter like multiplexers and antennaplexers.
The antennaplexer operates near the antenna to help efficiently and effectively steer the proper signal deeper into the device. Antennaplexers reduce the need for more discrete components and lower the number of antennas used in a system.
Antennaplexers give designers much more flexibility in delivering greater performance in smaller and smaller devices. Antennaplexers help reduce the number of antennas required, creating space to allow for more features. They can maximize performance, reduce system level de-sensitivity and offer easier changes in architecture. As a result, antennaplexers deal with a common problem facing 5G RFFE manufacturers — they allow the increase in RF complexity while decreasing the RFFE area used. With their help, manufacturers can accommodate new 5G bands, 4X4 multiple-input-multiple-output (MIMO) and other requirements that push for fewer antennas without impacting existing and new system features.
Alternatively, Multiplexers operate further down the RF front-end chain, near the transceiver. Multiplexers separate the RF pathways, reducing system complexity and the need for many individual discrete RF filters. Multiplexers also provide carrier aggregation support, enabling a large capacity of data throughput. The below figure shows the difference between an antennaplexer and a multiplexer.
Multiplexers are a group of RF filters that are combined in a way such that they do not load each other and achieve high levels of isolation between their outputs. They are used within the RFFE close to the power amplifier and play an important role in carrier aggregation. Multiplexers provide an elegant solution and, in many cases, the only practical solution for carrier aggregation combinations that use closely aligned bands.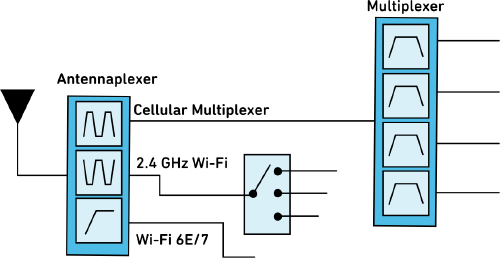 RF Filter Technology for Dummies 2nd Edition includes deep dives into these four details as well as many associated topics for quick reference so you can pick a subject and dig deeper in the appropriate chapter. For instance:
The importance of understanding spectrum. It's a scarce commodity, and RF filters help sort out the various spectrum bands to mitigate crosstalk interference, maintain peak signal performance and optimize efficiency.
Understanding how piezoelectric materials convert applied mechanical stress into electrical energy and can transform electrical energy into mechanical strain.
Filter isolation and how it helps determine the amount of power leaking from one RF path to another.
And much more.
You will also learn what engineers face as the modern spectrum becomes increasingly crowded. Innovative filter use can be crucial in assuring the flexibility needed to meet the demands of modern products.
Get the book. It's free!
RF Filters For Dummies® 2nd Edition — Free download from Qorvo.com
Although this book is full of good information, we could only cover so much in 48 pages! So, if you find yourself wanting more after reading this book, just go to our Design Hub, where you can find blogs, whitepapers, articles, videos and more on Qorvo's RF filter technology and products.