BAW vs. SAW Technology
Although surface acoustic wave (SAW) and Qorvo's LowDrift™ and NoDrift™ SAW filters are well suited for applications up to about 1.5 GHz, BAW filters generally deliver superior performance with lower insertion loss at higher frequency levels.
BAW filters are inherently less sensitive to temperature change than standard SAW filters. LowDrift and NoDrift BAW reduce temperature sensitivity even further, making this technology ideal for extremely challenging applications in frequency ranges handled by BAW.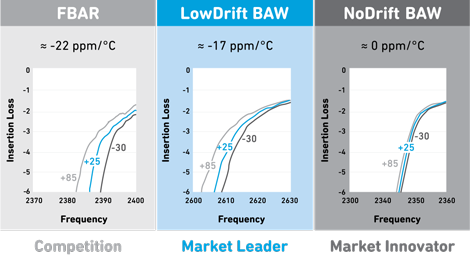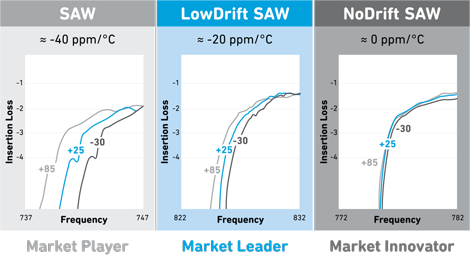 Q Advantages Using BAW for Multiplexers
As you can see in the figure below, BAW is the best choice for multiplexer filter designs as you move up (to the right) in frequency, because the SAW bulk radiation acoustic energy is larger than BAW in the upper frequency spectrum.

Learn more about how smartphone designers consider regional and carrier requirements, as well as global roaming for high-end next-generation devices. Filter requirements vary in each region or country because of local differences in spectrum allocation, and the situation will only become more complicated as more LTE bands are allocated.
Download the Qorvo Advanced Filters Brochure for mobile products.