For more than 30 years, Qorvo has enabled innovation for next-generation defense and aerospace technologies. Qorvo products are at the core of many of the world's most advanced radar, space, communications and electronic warfare (EW) systems. Innovations such as GaAs, GaN, SAW, BAW as well as integrated assembly, custom die-level packaging and expert engineering, help Qorvo to meet the world's mission-critical needs. In partnership with the U.S. Department of Defense, DARPA and Research Laboratories, and Qorvo's own R&D, we have engineered significant advantages in size, weight and power (SWaP) for our customers.
Browse Defense and Aerospace
Qorvo offers strategic customers additional services including integrated assembly, test and packaging, all in our secure facilities. We call this world-class facility "AMMA" — short for Advanced Microwave Module Assembly.
One-Stop Convenience: Fabricate circuits, package die and test components in one secure location for shorter lead times and greater savings.
Single- and Multi-Chip Assembly: Integrate single or multiple die using industry-standard or custom packages. Our packaged products benefit from the same innovative and dependable manufacturing process controls that ensure reliability and functionality for our MMIC device solutions.
Experience and Innovation: Ensure your program success through Qorvo's expert teams and state-of-the-art facilities.
Die-on-Tab (DoT): Simplify assembly, increase yields and mitigate thermal considerations through virtually void-free vacuum reflow die attach. The DoT process attaches die-level devices to thermal spreaders for easier handling. All devices are 100% in-factory X-ray inspected.
Contact your local sales person for details about our convenient, in-house integrated assembly and packaging services.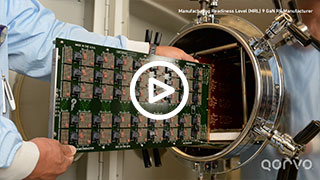 DoD-Accredited "Trusted Source" Supplier
Delivering Trusted Products That Meet Mission-Critical Needs
Qorvo is proud to be a Category 1A "Trusted Source" supplier for the U.S. Department of Defense — providing the DoD and intelligence community with critical system microelectronics; foundry access for mission applications; and technology support through partnerships within the defense industrial base.
Our accreditation:
Certifies that Qorvo products, processes and procedures meet the DoD's stringent control and secure handling standards.
Expresses the confidence of the DoD Defense Microelectronics Activity (DMEA) and the National Security Agency's Trusted Access Program Office (TAPO) that Qorvo will continue to deliver trusted foundry goods and services that meet mission-critical needs now and into the future
Covers our GaAs, GaN and BAW technologies.
Qorvo has led the industry as a trusted supplier and continues to add value with each renewal of the accreditation.
Accreditation Milestones
2008
Qorvo receives original "Trusted Source" Category 1A accreditation.
2012 Renewal
Accreditation adds post-processing, packaging/assembly and RF test services.
2016 Renewal
Accreditation expands to include design services.
Read the 2017 press release >
DoD Manufacturing Readiness: MRL 10
Manufacturing Readiness Level 10 for GaN
Qorvo is an established GaN provider for domestic and international defense and commercial programs, with one of the most mature manufacturing processes, and the highest level of production readiness in the defense industry.
Using the MRL concept developed by the U.S. Department of Defense (DoD), Qorvo has achieved – Manufacturing Readiness Level 10 – for its GaN technology.
MRL 10 is the DoD's highest level of production readiness and indicates:
Qorvo GaN manufacturing processes have met full performance, cost and capacity goals.
Qorvo has the capability in place to support full rate production of GaN technology. Full rate production has been demonstrated and LEAN practices are in place.
The DoD's Manufacturing Readiness Assessment (MRA) ensures that manufacturing, production and quality assurance can meet operational mission needs. This process prepares the product or system for a successful transition from the factory to the field, providing value and confidence to the customer.
Qorvo continues to provide record-setting GaN circuit reliability and compact, high-efficiency products, paving the way for robust performance, low maintenance and long operational lifetimes.
Spatium®: Solid-State Power Amplifiers
Qorvo's patented Spatium® RF power combining technology provides a highly reliable, efficient alternative to traveling wave tube amplifiers (TWTAs). It delivers a higher standard of efficiency, reliability and bandwidth as well as clear size, weight, power and cost (SWaP-C) advantages.
Target Applications
Test and measurement
Other defense systems