Qorvo's Antenna Switch & Routing Portfolio
Improve System Efficiency and Reduce Complexity of the RF System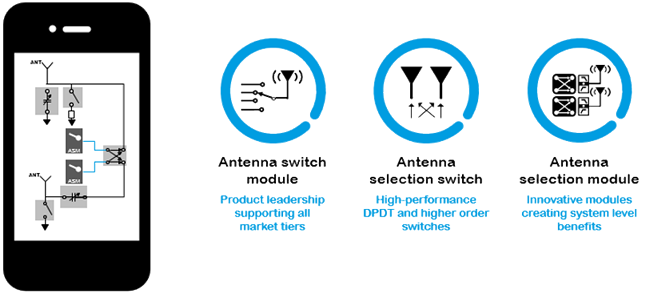 Multiple Portfolios Address Antenna Performance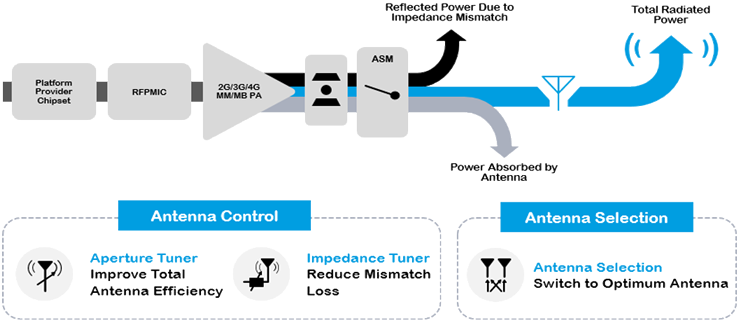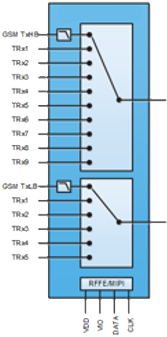 Good performance SP5T + SP6/8T and SP6T+10T split ASM for CA application
Integrated GSM low-pass filters (IL < 1dB)
Broadband performance: 0.5-3.8GHz
RFFE interface
Small solution size
DC blocking capacitors are not required in typical applications
Direct VBATT connection (2.4-5.5V)
> 1kV HBM ESD protection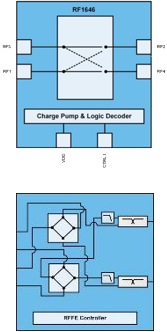 Low insertion loss and high isolation
Excellent linearity and harmonic performance for use in wireless communication systems
Broadband performance: 0.5-3.0GHz
Optimized for carrier aggregation architectures
State-of-the-art insertion loss and harmonic performance
Integrated diplexer allows for a compact, easy-to-implement solution
Very low-current consumption
RF Fusion™ Mobile LTE Modules are tuned for flagship performance and ease of use, for platforms targeting advanced core RF solutions in flagship/premium smartphones and data devices.
RF Fusion™ High Band Module
PA, TRx Switch, Filters, ASM
FDD and TDD-LTE
UL CA, B41W, ET
RF Fusion™ Mid Band Module
PA, Switch, Duplexers/Multiplexer, ASM
FDD and TDD-LTE
B1+3 CA, ET
RF Fusion™ Mobile Wi-Fi Modules
Qorvo's RF Fusion™ Mobile Wi-Fi Module is an integrated front-end solution uniquely designed and manufactured with high-performance Wi-Fi filters, switches and amplification.
This architecture is leading the transition to more highly integrated mobile Wi-Fi front-end solutions, with the highest levels of performance and integration.
It combines a Wi-Fi coexistence filter, 5GHz power amplifier, 5GHz low noise amplifier (LNA), diplexer, switch and coupler in a compact small package size.
Connect with a Qorvo Expert
Interested in our high-performance solutions for mobile products? Contact us to learn more.