Qorvo's CPE solutions support demanding market requirements and the evolution of emerging CPE applications. Count on Qorvo to deliver the highest solution efficiency, best-in-class linear power, and optimum receive performance, while remaining focused on the solution's bill of materials.
CPE Solutions from Qorvo
Integrated front-end modules (FEMs)
High-performance switches (SPDT and SP3T)
Switch-LNA modules
Filters and modules (band-edge, cellular coexistence, harmonic and out-of-band rejection filtering)
Detector / coupler and advanced power management
Support for IEEE 802.11 Standards
Legacy 2.4 GHz and 5 GHz 802.11a/b/g/n
Optimum 5 GHz 802.11ac performance
256 and 1024 QAM modulation
Emerging 802.11ax capability
20, 40, 80 and 160 MHz bandwidth
Wi-Fi / cellular coexistence and compliance
Multi-user MIMO (MU-MIMO)
New automotive 802.11p requirements
802.11af and 802.11ah markets
Distributed Wi-Fi, also known as Wi-Fi Mesh, is the next indoor infrastructure for the Internet of Things (IoT).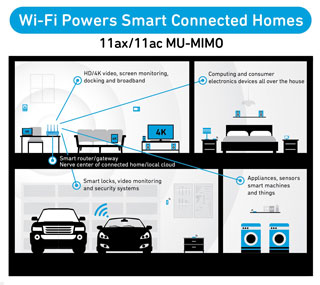 802.11ax / ac Wi-Fi powers smart connected homes. View full size image | View PDF