Challenges for Small and Mobile Designs
Designing for Wi-Fi 6 in more compact devices is not unlike designing for Mobile phones. The challenges come from ensuring the same networking capabilities and adherence to RF requirements as in routers and network adapters but using much smaller IC devices at low power. Some of these challenges include the following:
Trapping and filtering—As seen with Wi-Fi 5, higher frequencies introduce new challenges. 6 GHz Wi-Fi frequencies have very narrow transition bands. Achieving rejection that meets system isolation with minimal insertion loss becomes a more significant challenge in small spaces; there's no space for shielding or discrete filter components. Whether working in 5 or 6 GHz, Qorvo's compact Bulk Acoustic Wave (BAW), band edge, and broadband filters eliminate the need for shielding hardware around closely aligned components. Integrating these filters inside the RF front-end meets coexistence needs in small spaces.


Figure 2: Where edgeBoost, coexBoost, and bandBoost filter technology is used
Interference—Users really don't care much about what frequency (or technology) they're running, as long as they can connect. Many devices support multiple radios, so it's critical for Wi-Fi 6 front ends to co-exist with other technologies. Qorvo high-Q BAW filters for Wi-Fi 6 offer many advantages, including:
Extremely steep skirts
Significant size reductions
Resolves coexistence of Wi-Fi and LTE signals within the same device or near one another
Qorvo's filters enable high-performance coexistence, allowing Wi-Fi transmitters to operate close to the upper and lower FCC band edges.
Range—Smaller devices with less internal real estate can limit the reach of Wi-Fi. Higher frequencies deliver more bandwidth but are less able to penetrate physical obstructions. Using BAW technology like edgeBoost and bandBoost filters, as shown in Figure 3, helps designers maximize RF range in their systems. Moreover, efficient energy usage and an integrated antenna allow more capabilities to be delivered in smaller spaces. Qorvo's new Wi-Fi 6/6E FEMs and filters meet the challenges of designing for small devices while helping minimize the amount of engineering effort to deliver an optimal solution.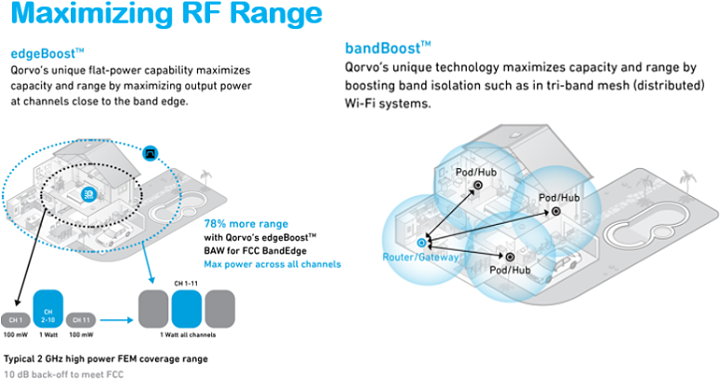 Figure 3: BAW filters used to maximize RF range
Real Estate—Compacting all the necessary Wi-Fi 6 features and capabilities into less real estate presents the most considerable challenge for delivering innovative uses of next-generation Wi-Fi devices. Small spaces constrain the physical environment and require a closer analysis of the following:
Power efficiency and heat dissipation—These can differ depending on the application. An IIoT edge sensor can be severely limited, while a solution designed into an automobile has greater tolerance.
Antenna integration—Devices with integrated antennas eliminate the need for multiple external components.
EVM—Error Vector Magnitude requirements are much tighter.
Multi-band compatibility—As mentioned above, coexistence is a must.
Environmental—Environments vary as widely as the application, from ultra-cold and dry to very hot and humid.
Reliability—Wi-Fi has established an expected level of reliability with users and must be delivered irrespective of the device size.
Certifications—While Wi-Fi users expect a level of reliability, government and industry continue to require compliance to regulations and expected performance levels. Smaller devices can challenge designs to meet these requirements, including regulatory compliance (FCC, FDA, FAA, etc.), industrial certifications, and commercial partner certifications.
Final Thoughts from Kevin:
Wi-Fi continues to enable new technologies throughout our daily lives, well beyond the home gateway and smartphone. It is now becoming a new go-to technology in the military and industrial worlds—with recent technological developments like AR, VR, real-time industrial safety and more. Building on this momentum, Qorvo continues to collaborate with customers in these areas to help enable new design innovations with advancements driven by our Wi-Fi 6/6E FEMs.