At Qorvo, we're closely tracking the emerging 5G standard. One thing that's particularly exciting is the likelihood that 5G includes millimeter wave (mmW) functionality for high data-bandwidth connections. As PC board space becomes more limited and as frequencies increase in the 5G environment, gallium nitride (GaN) technology becomes even more appealing for RF applications.
The Path Toward 5G
Compared to GaAs, silicon or other traditional semiconductor materials, GaN will really start to shine in 5G network applications, such as high-frequency and size-constrained small cells. As shown in the figure below, wireless network enhancements will drive many technology advancements as the standard evolves toward 5G.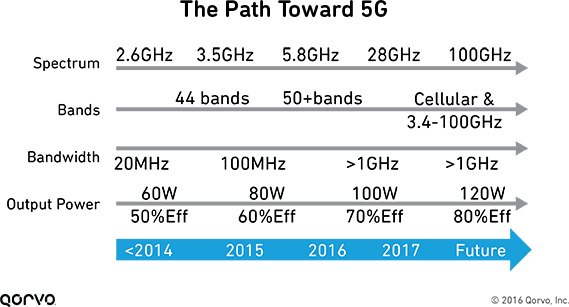 Go In Depth
Learn more about the emerging 5G standard:
Ultimately, when we get to the emerging mmW standards, GaN will have a clear advantage over today's technologies. GaN offers higher power density, which brings several benefits:
Size reduction
Lower current consumption
Higher system efficiencies
We already see the benefits of GaN in the 4G base station arena, where GaN has begun displacing silicon LDMOS. For 5G, GaN's ability to work in the high-frequency range allows it to evolve from base stations to small cell applications and, ultimately, into mobile devices.
Going Beyond Infrastructure: Moving GaN into Mobile Handsets
The first GaN applications were developed for high-power military use such as radar or counter-IED jammers, eventually moving into commercial base stations and cable TV repeaters. Typical operating voltages for these applications range between 28 and 48 volts.
In handheld devices, however, the average voltage range is 2.7 to 5 volts. To operate GaN at these low voltage levels, we will need to work on a different class of device. We've already started to look at GaN devices in alternative materials, in order to operate efficiently at low voltage.
GaN Developments for 5G at Qorvo
As shown in the figure below, Qorvo currently has a broad range of production-released GaN foundry processes used to enable products for 5G applications:
Higher voltages, lower frequencies: As we move lower in frequency, we bring into play our 0.25 µm high voltage technology, or QGaN25HV. This QGaN25HV allows us to move to 48 volts with a 0.25 µm device, with high gain and power efficiency. QGaN25HV is well suited for 5G base stations as they move toward 6 GHz. At the lower 4G frequencies, between L- and S-band, our highest power density 0.5 µm technology works up to 10 watts per millimeter.
High-frequency applications: Our current GaN process portfolio includes 0.15 µm, or 150 nanometer, technology for higher frequencies. Our 0.25 µm technology is well suited for applications ranging from X- through Ku-band. This 0.25 µm technology also offers highly efficient power amplifier functions.
But what about GaN processes for mobile 5G handsets? As we see the higher frequency standards emerge (Ka-band or mmW), low-voltage GaN processes will require further development.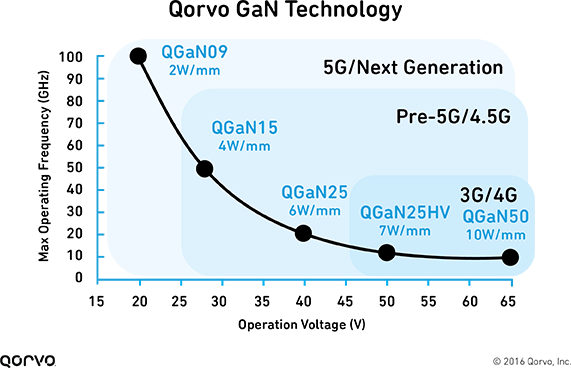 Addressing Packaging and Thermal Challenges of GaN and 5G
One last piece of the puzzle to enable GaN for 5G involves advanced packaging techniques and thermal management. GaN devices for highly reliable military applications have traditionally been available in ceramic or metallic packages; however, commercial 5G network infrastructure and mobile handsets will require smaller, lower-cost, plastic overmold packaging to compete with incumbent silicon LDMOS or GaAs devices in plastic packages. Similarly, mobile handsets will focus on low-cost modules that include GaN mixed with other technologies, analogous to today's products — but they'll also need highly compact, highly efficient mmW materials and devices.
The challenge for infrastructure will be developing packages that maintain RF performance while addressing thermal management. GaN's higher power densities — from 3 to 5 and as much as 10 times higher than GaAs — present a very tough thermal and mechanical problem to the subsystem package designer.
Our engineers always balance three requirements: RF performance, thermal management, and low cost. Qorvo has plastic overmold packages with enhanced thermal management capabilities for GaN, including thermal spreaders built into the bases of the package.
Our products in plastic packages also meet stringent environmental standards, such as JEDEC standards for temperature, humidity and bias compliance. This gives our customers assurance that our products will have long-term reliability for their 5G applications — whether high frequency, high power or low voltage.
Looking to the Future
Although 5G is still several years away, Qorvo is already working to develop the process technology and packaging techniques to enable our customers' 5G applications. GaN is sure to play a key, exciting role in the 5G landscape.