Qorvo's 30 years of Foundry Service Produces Market-Changing Defense and Small Business Innovations
Maintaining a U.S.-based foundry is critical for the DoD, our country's defense primes, and our key partnerships because it continues to fuel new technology, innovations and maturation of processes. Advancing technologies and manufacturing products in high volume not only helps drive costs down but brings new technologies into the commercial space – as we are seeing with 5G.
We sat down with Senior Director of Research Vijay Balakrishna to discuss Qorvo's foundry, its history, and why it has a crucial role in the company's strategy.
Q1: Qorvo's legacy in RF innovations – particularly its foundry services – has a considerable history. Tell us about the key milestones.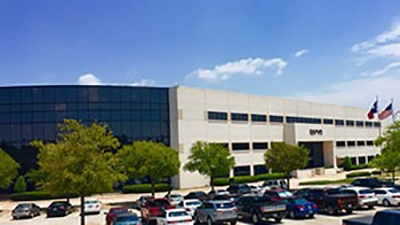 Qorvo has been a main supplier of Gallium Arsenide (GaAs) for multiple markets since 1985. Our GaAs (III-V) semiconductor roots stem from several technology companies that came together to form Qorvo.
Altogether, it's been more than three decades of supporting a wide variety of customers with foundry services. We provided GaAs MESFET in the 1980s, pHEMT in the 1990s, Gallium Nitride (GaN) in the 2000s and we've continued advancing GaAs and GaN technology. Some may think of GaAs as antiquated but really, it's all around us, in airplanes and satellites for example, and just as necessary as ever – even for future 5G technology. We have also expanded foundry services to acoustic filters – Surface and Bulk Acoustic Wave (SAW, BAW) filter technologies – benefiting both the defense and commercial markets.
Back in 2005, we worked with the Defense Advanced Research Projects Agency (DARPA) on its Wide Bandgap Semiconductors RF program (WBGS-RF) to advance critical GaN transistor technology for X-band radar and wideband EW applications. Since then, we've met challenging wideband MMIC-level performance metrics in power, efficiency and bandwidth. Besides being the first to release the 0.25-micron GaN technology (GaN25) in 2008, and offering it as a foundry service in 2009, we were also the first to reach a 65-volt process for GaN. From UHF to Q-band, Qorvo's GaN product line has continued maturation, achieving Manufacturing Readiness Level (MRL) 9 through the DoD's Title III GaN program.
Q2: Since the merger between TriQuint and RFMD, there have been some misperceptions that Qorvo no longer has an open foundry. Is the foundry open?
Yes, the foundry is open to strategic customers. We typically work with large defense companies and government research organizations, and we also work with small businesses and universities on research ideas. We engage with many labs, like DARPA, that pursue challenging initiatives and advanced functions that involve creating new designs, running tests, and exploring "what if" scenarios on particular technology nodes.
When we have the availability, we're open to working through new designs and innovations and produce both custom and standard products. We also provide wafer and chip options for prototyping.
Q3: What are the driving factors of Qorvo's Foundry Services?
Working in lockstep with our customers affords us a hands-on perspective regarding new technology needs and use cases – from 3-5 years to 10 years and beyond. They're the canary in the coal mine, giving us the inside view into future research and shaping the products we develop.
For instance, DARPA's advanced research projects look at needs 10-20 years out. They're driving technology and programs with the future in mind. One example – what do we do with silicon after Moore's Law, how do we get more out of our chips?
The Army, Air Force, Navy and other research labs look 5-10 years out; the defense primes work approximately three years out. For small businesses and universities, it's hard to say. Their timelines really vary, depending on the customer and the needs of the industry.
Q4: You've talked about the technologies – GaN, GaAs, and the BAW/SAW acoustic filters – produced in the foundry. Why do your foundry customers come to Qorvo?
We see our customers evaluating four key services:
For our defense and DoD-based customers, US-based foundries are a critical resource. These organizations are looking for a secure, trusted environment in which to design, develop and test new ideas and technologies. We're proud to offer a DoD-accredited Trusted Source (Category 1A) facility, that has achieved Manufacturing Readiness Level (MRL) 9.
Another service that we offer is a wide breadth of technology with the scalability to meet customer needs. We're one of the few companies that can scale rapidly to manufacture GaAs, GaN and BAW acoustic filters. The ability to scale also provides the benefit of driving production costs down.
In addition to providing quality and reliability, we do cost walkthroughs with our customers to make their solutions affordable. They give us a price point; we make recommendations on how to achieve their cost targets. We work with our customers to reduce test times, improve yields, and deliver additional services or packaging. We also discuss specifications and volume needs to drive the costs to the next level of assembly.
Last but not least, we're the only vertically integrated foundry of its kind. This means we offer additional services like packaging, on-wafer tests, visual inspections, and extended foundry services all under one roof. Offering this variety of services is unique – including the ability to process wafers, die, components, packaging, provide consulting, run testing, grow the epitaxy.
Q5: Earlier you mentioned that Qorvo provides a variety of extra services for strategic foundry customers. What are some of these services?
Our services are bucketed into a few different categories:
One is assembly and packaging technologies. Many customers prefer integrated, cost-effective packaging designs – so we offer various high-reliability RF packaging options including ceramic, plastic epoxy packaging, military-grade and high-grade custom metal packaging – all produced in house. Our automated microwave module assembly (AMMA), located in our Texas facility, is where we perform assembly functions. With the addition of die-attach equipment, we fabricate, test, package and ship die-level devices to customers from one secure location.
Qorvo Advanced Microwave Module Assembly (AMMA) Facility. Watch the Video
Another is design consulting. We have world-class researchers and designers available to engage with our customers. It's common that we may recommend small changes to design or custom testing to improve circuit performance or reduce variations and sensitivity. We offer consultations on electronic parameters and can adjust manufacturing characteristics, such as how we test and analyze a new product. We talk with our customers in great detail about our processing capabilities, to understand their needs and provide guidance regarding which processes will work best in their design.
Another service offered is technical assistance – various options in our processes and data acquisition analysis for customers to make better choices with their circuits. For example, the types of transistors, number of capacitors, allowable configurations for interconnect, different capabilities for on-wafer tests, inspection criteria, delivery characteristics are all areas we may offer insight. Our customer base produces highly differentiated products and we help them achieve that.
At times, our customers are looking for a secure foundry space in which they can either choose to develop new designs and technologies, while still maintaining their own IP – with the option to utilize Qorvo senior research fellows and designers for their expertise, or not.
Q6: What are some significant technologies that the foundry has produced?
One significant achievement is when we were working with a large defense prime contractor on an emergent need for the U.S. Army. We were able to quickly ramp to scale, successfully respond to our customer's needs, and field the technology, thus, working to save lives in Afghanistan.
Another example is within space communications, most recently New Horizons. That mission was notable because it sent the first high-resolution pictures of Pluto and its moons back to Earth, nine years after launching. There's some remarkable history here – including that our space-qualified technology accompanied other explorations like the Curiosity Rover on Mars and the Cassini-Huygens spacecraft near Saturn as well.
Explore GaN Designs Commercial and Military Markets Read the e-Book>>
Qorvo is with you every step of the way. We offer a collection of RF design tools you can use through critical design stages. Explore Our Design Tools>>
We've had more than 250,000 Qorvo components launched in space, for more than three decades – aboard orbital payloads, such as communications and navigation satellites, including programs which support broadband data, telecommunications and global positioning services.
Qorvo has pioneered and perfected many of today's processes with GaN, GaAs and other materials that enable the most powerful RF modules on the market. Notably, GaN – matured through a defense funding model – is now extending data rates and operating frequencies for commercial 5G networks, more than ever envisioned for mobile wireless communications. These foundry-produced innovations are possible due to years of tests, proven reliability in harsh environments, and focus on quality. With a thriving foundry, and more than three decades of innovation under its belt, we're always looking to the future and new research developments.