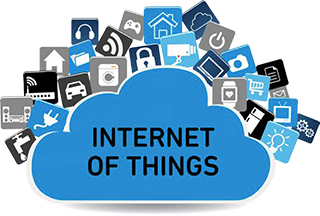 There's no doubt about it, the Internet of Things (IoT) is generating a lot of excitement and there's no shortage of new applications on the horizon. From smart homes to connected cars to the wireless infrastructure that manages it all – take a look at the mounting advancements in IoT and where new technologies come into play.
Smart Homes: Managing the Growing Number of Smart Devices
With the onset of new devices for today's smart home we now have the ability to remotely control the temperature, "talk" to our TV, and automate a grocery list even without opening the refrigerator door to see what needs to be stocked. As Wi-Fi 6 (802.11ax) becomes a reality, some major improvements are coming – primarily in RF range, data rates, reduced size and RF interference management. Distributed Wi-Fi or as we like to call it, a Pod in Every Room, is a viable approach to connect an entire house, wirelessly. With this blanket of connectivity, the pods in each room will serve as wireless access points – supporting the host of Wi-Fi, Zigbee, Thread, Bluetooth® signals on multiple channels – equipping high- and low-speed IoT devices in every room.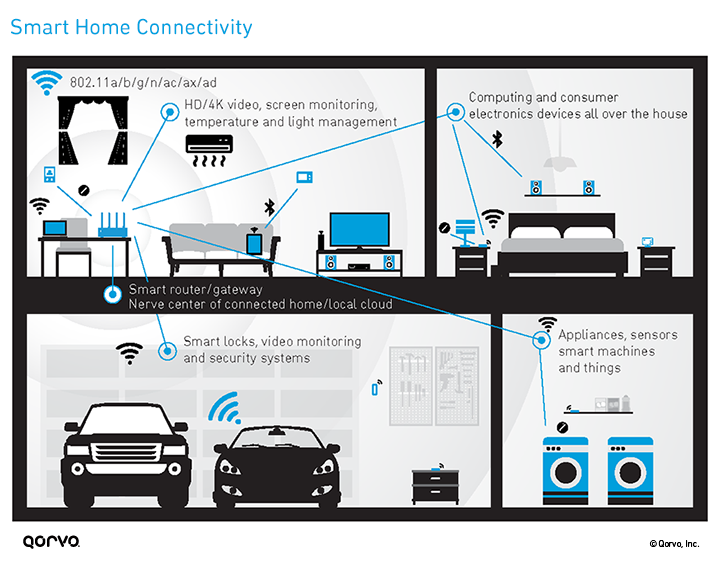 However, as with every nascent technology, there are challenges. Two big considerations for IoT devices are size and heat. Designers must consider heat and size when using separate chips to enable Zigbee, Thread and Bluetooth Low Energy (BLE) in their system. Additionally, although the continued expansion of Wi-Fi 6 capabilities, number of MIMO streams, and potential for increased frequency spectrum compound the heat and size challenge – it creates the optimum vehicle for distributing the large data bandwidth requirements of today's home. Now there are Smart Home solutions that provide more real estate in the design, as well as heat reduction. These solutions include:
System on Chip (SoC). Using a multi-protocol IoT solution that sends and receives these wireless signals altogether in one integrated System on Chip (SoC) saves space. For instance, Qorvo is not only focused on multi-layered SOCs that process all of the RF signals referenced above on one chip but also on band edge performance. This ensures that signals transmitted over the 2.4 GHz and 5 GHz bands are clear, without interference, and supplied the power needed to communicate.
Integrated front-end module (iFEM). Instead of using separate PAs, LNAs, filters, switches, they all can be integrated into an iFEM. This decreases design labor hours and negates the cost of additional equipment like lumped element resistors, capacitors and inductors. An iFEM with filtering technology also enables coexistence and band edge performance. RF performance is optimized reducing losses and scaled for smaller solution size. Qorvo's technology capabilities enable simplification of the Wi-Fi 6 complexity with expanded frequency coverage.
System in Package (SiP). Qorvo has developed a SIP that simultaneously supports Zigbee 3.0, Green Power, Thread and BLE. This SiP integrates Qorvo power amplifier technology providing 20 dBm output, extending range and battery life and enabling robust interference resolution. All of these are especially important for smart home applications. That way, when you stream video, receive doorbell snapshots, manage the thermostat, and respond to smartwatch alerts, it doesn't affect the wireless capabilities of anything else in the house (sensor alerts, alarms, lighting, etc).
Cellular IoT: Connecting Fleets, Farms and Cities
While we already connect to the IoT with smartphones, tablets and doorbell cameras, some longer-range IoT connections include utility meters, sensors that monitor farm field irrigation, and telematics that track trucks on cross-country routes. Telematics have been used to measure commercial vehicles by monitoring fuel consumption; vehicle maintenance; fleet utilization; vehicle location; optimum routing; and driver behavior.
Smart buildings, smart grids and smart manufacturing – or the Industrial IoT (IIoT) – also have far-reaching possibilities. Machine-to-machine connections utilize high-volume cellular smart metering and asset tracking applications use low-power wide-area networks based on the NB-IoT and LTE CAT-M1 (eMTC) standards. NB-IoT RF technology optimizes performance and provides a low power consumption solution in low-power IoT applications. Designed for global use, it helps IoT manufacturers reduce cost by minimizing the need to regionalize their products. New features and functionality for smart factories – such as manufacturing devices reporting statistics and usage efficiency – could mean repairs or fixes before equipment breaks down, and even better forecasting and supply chain/customer data.
ABI Research predicts that low-power wide-area networks will be the world's fastest-growing connectivity technology through 2025, supporting four billion IoT devices by that date.
Automotive V2X: Driving Multiple Possibilities
The "connected car" – or vehicle-to-everything (V2X) – includes a spectrum of communication possibilities, including vehicle-to-vehicle (V2V); vehicle-to-infrastructure (V2I); vehicle-to-pedestrian (V2P); and vehicle-to-network (V2N). Gartner Research estimates there will be 250 million connected vehicles on the road by 2020.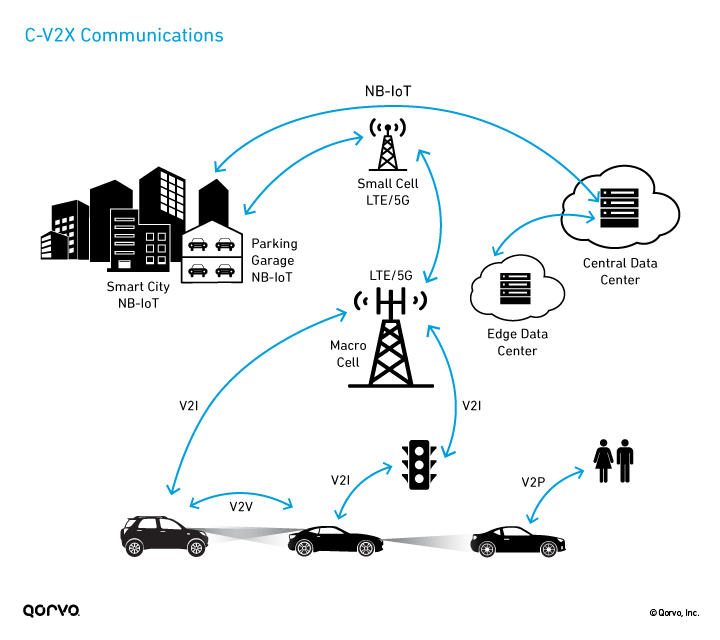 Qorvo is working with Qualcomm and major automakers to trial cellular vehicle-to-everything (C-V2X) applications – an important step to support wireless safety communications between vehicles, bicycles, pedestrians and infrastructure. C-V2X enhances situational awareness by detecting and exchanging information using low-latency direct transmission in the 5.9 GHz Intelligent Transportation System (ITS) band for V2V, V2I, and V2P situations, without a cellular subscription or network assistance.
Qorvo has collaborated with leading automotive manufacturers to provide precise RF communications through the performance and integration of the C-V2X module. Qorvo's RF modules provide higher power operation resulting in enhanced RF range, improved accuracy and higher reliability – all essential for intelligent, onboard communication systems within the connected car and/or autonomous driving. Qorvo's FEM includes an HBT PA, PHEMT LNA and PHEMT switch, which provide the high bandwidth benefits of 5G and lower temperature operations in automotive applications.
However, V2X and the heavy use of Wi-Fi hot spots also creates new safety challenges in the connected car. For example, V2X and 5 GHz Wi-Fi will have significant spectrum coexistence challenges that will need to be addressed using innovative filter products. Some filters provide an important safety factor, such as in the case of band 13. Proper bandpass filters such as band 13, mitigate interference between the cellular LTE band 13 and the public safety band used by U.S. public safety services.
Finally, V2X is being used to enhance the capabilities in advanced driver assistance systems (ADAS). ADAS typically employ cameras and radar sensors to provide visibility around a vehicle to a range of about 200 meters. V2X applications can share and coordinate this information to extend the effective range of ADAS up to several kilometers.
Qorvo has been performing worldwide trials and ensuring all products meet stringent automotive industry requirements (AEC-Q100 and AEC-Q200). Qorvo's Connected Car For Dummies® e-book can be found here.
Base Stations: Paving the Way for Data
IoT devices, smart homes, machine-to-machine communications and connected cars will all require the performance of a strong network infrastructure. With massive growth of IoT data traffic, we're prepping for how this substantial increase will challenge the existing communications' capabilities.
5G base stations are expected to navigate far more traffic at much higher speeds than current network base stations. With new spectrum available for 5G in both sub-7 GHz and millimeter wave (mmWave) bands, there is an entire ecosystem being built around the implementation of 5G networks capable of providing carrier aggregation, massive MIMO and beamforming solutions to maximize data capacity and throughput.
Today, new amplifiers, switches and filters, are available to facilitate rapid deployment of IoT networks. In fact, in China, these solutions are facilitating an early network build-out using the 900 MHz frequency band. The small-signal product family delivers high linearity, low power consumption, low noise, small size and excellent integration. It includes transmit linear amplifiers, gain blocks and variable gain amplifiers, as well as attenuators, switches, filters, duplexers and low-noise amplifiers.
By meeting and exceeding 5G performance metrics and developing new products for Customer Premise Equipment (CPE), mmWave repeaters, small cell and base stations and enterprise systems, we're constantly innovating for the promising world of Wi-Fi 6/6E. We capitalize on our front-end differentiators, reducing power consumption and interference resolution while maintaining high throughput and range.
In Summary
When looking ahead to 5G and the possibilities for the IoT, new solutions are innately focused on foundation for connectivity – for homes, cars, machines, cities and even regional infrastructure. The increased device connectivity will help to enable the IoT and the Industrial Internet of Things (IIoT) – empowering 100 times more devices – on a scale we haven't witnessed yet.
The Bluetooth® word mark and logos are registered trademarks owned by Bluetooth SIG, Inc. and any use of such marks by Qorvo US, Inc. is under license. Other trademarks and trade names are those of their respective owners.