It's the holiday season, and you know what that means? Yes, you might finally get that smart egg tray you've always wanted.
With the rise of the Internet of Things (IoT), there's never been a better time to surprise the ones you love with high-tech holiday gifts. But before you seek out smart devices for everyone on your list, consider the gift advice from late author and journalist Charles Kuralt:
"Gift shops are well named. There's never anything in them you would want to keep for yourself."
Need inspiration? Look no further than our holiday guide for the bottom 10 IoT gifts: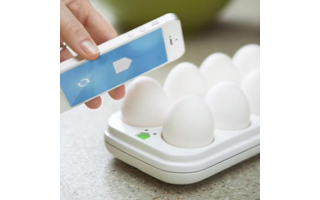 10
Smart fork, because great food should be measured in "fork servings."
9
Pet activity trackers, because Fido has health and fitness goals, too.
8
Smart egg tray, so you know how many eggs are left, without opening the fridge door.
7
Smart frying pan, so your smart egg tray and fork have someone else to talk to.
6
Connected onesie for parents of future astronauts who believe in startin' them young.
5
Smart toothbrush, because we all remember lying to mom about brushing our teeth.
4
Smart rings, because smart watch notifications aren't small enough.
3
Phablet, because smartphone screens aren't big enough.
1
Wearable hot spots, in tribute to the late TieFi, which was discontinued after overwhelming demand on Father's Day.
"But wait, there's more!" as famed pitchman Ron Popeil — who had a slew of useless gadgets over the years — would say. These bottom 10 IoT gifts come with guaranteed difficulty syncing to your smartphone, car and other devices.
IoT Services, Not Things
You might think I put these devices in the bottom 10 because of their inherent silliness. It's actually for an entirely different reason: they are things, not services. The very name Internet of Things can be misleading, as Cees Links, GM of Qorvo's low power wireless group would echo, because the IoT is really about systems that speak to each other, utilize web intelligence to become smarter over time and enable better and faster decision making.
A pet activity tracker certainly allows Fido to monitor his resting heart rate, but it does not guarantee a change in behavior. A smart home system, on the other hand, can lock doors when there's no one home, adjust the thermostat when there's no one in a room or send an alarm if there's an intruder.
The promise of the IoT lies in consolidating multiple smart devices into a single hub, on a single network and managed with a single interface to serve the customer. Removing consumer responsibility for the setup and maintenance of smart applications also eliminates the burdens of competing standards and stand-alone, proprietary network connections.
Translation: no more compatibility issues between your smart fork and frying pan.
As we await a future of IoT services, gift a gadget this holiday. Though equally absurd, these bottom IoT gifts will keep on giving, long after the sprouts on your Chia Pet have wilted.
This article first appeared in Brent's Musings on Microwave Journal.