Ultra-Wideband (UWB) is a wireless technology that enables unprecedented accuracy in real-time measurement of location and distance: it can accurately determine a device's location within centimeters, both indoors and outdoors.
This accuracy makes UWB an extremely good fit for COVID-19 contact-tracing and social distancing applications, which are being developed in many countries to help prevent the continuing spread of the pandemic. A matter-of-fact, UWB is the only technology available that can deliver the level of accuracy required for this application.
UWB's capabilities are also being applied to a broad range of other applications, including:
Secure keyless entry to cars.
Locating essential supplies in hospitals.
Improving operational efficiencies and safety in factories.
Controlling smart devices in homes, based on people's location.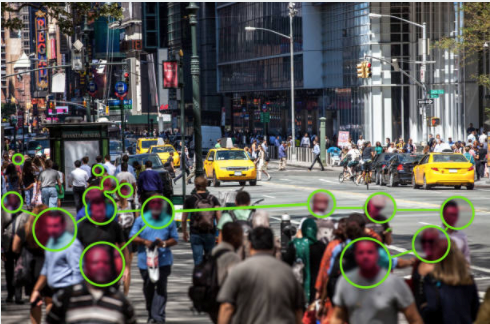 How UWB Accurately Measures Distance and Location
UWB's capabilities stem from the fact that it was designed from the outset to achieve real-time, ultra-accurate, ultra-reliable location and communication.
UWB can be used both indoors and outdoors, because — unlike GPS/GNSS navigation systems — it doesn't rely on satellites.
Instead, devices containing UWB technology communicate directly with each other to determine location and distance. They do so by measuring the time that it takes signal pulses to travel between devices, which can be calculated based on the time-of-flight of each transmitted pulse.
The accuracy of this method depends on the signal's bandwidth; very wide signals are needed to achieve high accuracy. UWB signals use roughly 500 MHz of bandwidth — many times wider than other technologies that are sometimes used for location sensing. That enables UWB to achieve centimeter precision, which is critical for many applications.
Besides enabling two UWB devices to determine the distance between them, this method can also be used to accurately determine a device's location by comparing the signals from several different UWB access points.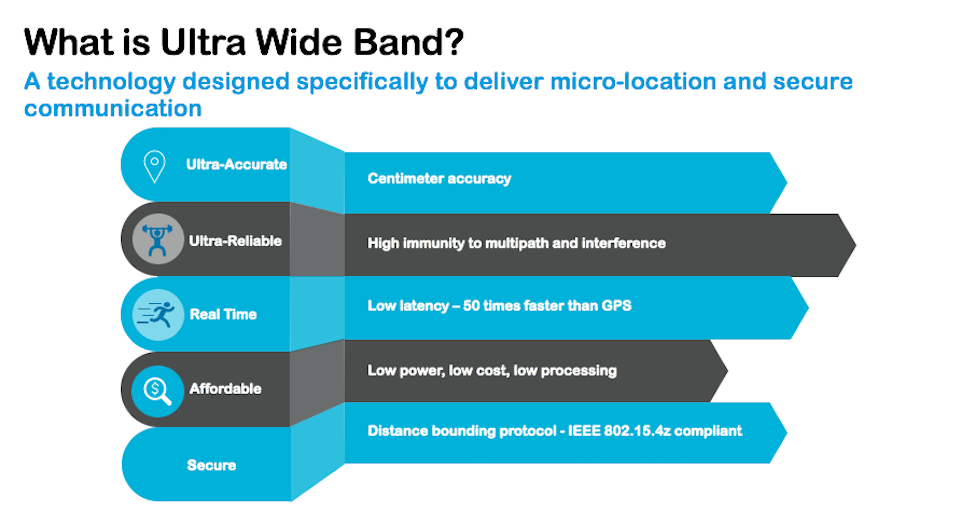 UWB for COVID-19 Contact Tracing and Social Distancing Applications
UWB's accuracy makes it an ideal fit for COVID-19 contact-tracing and social distancing applications, which are being developed worldwide to help track and prevent the spread of the coronavirus.
Contact-tracing apps let someone know if they have been in close contact with someone who later becomes infected with the coronavirus. To protect privacy, use of these apps is generally voluntary; people opt in if they want to share their data.
Contact-tracing apps track close contacts between people by exchanging anonymous information between their mobile devices when they are in close proximity. This information is generally communicated via technology such as Bluetooth®. If someone later becomes infected and voluntarily offers to share that information, the system immediately informs the people they've recently been in contact with, so those people can seek testing and treatment.
Unlike other wireless technologies, UWB provides the accuracy that's needed to be absolutely certain about whether someone was close enough to others to transmit the virus, because it can calculate the distance between people with centimeter precision.
To optimize power consumption, UWB can be used in tandem with Bluetooth Low Energy (BLE). A device can use BLE for an initial distance approximation, then power up a UWB chip to determine the exact distance.
UWB is also being used in social distancing applications, which are designed to make sure people maintain a safe distance from others. These applications make it easier for people to safely return to work in factories and other environments.
The UWB Era is Just Beginning
The potential of UWB is only beginning to be realized. The technology is enabling a wave of applications that use highly accurate location and distance sensing to deliver new experiences and capabilities — including many applications that haven't previously been possible.
To learn about UWB at Qorvo, view our recent news.
The Bluetooth® word mark and logos are registered trademarks owned by Bluetooth SIG, Inc. and any use of such marks by Qorvo US, Inc. is under license. Other trademarks and trade names are those of their respective owners.