When it comes to the Internet of Things (IoT), there's only one thing we all agree on: we don't agree on what it is.
Need proof? Here are a few recent forecasts about the number of IoT devices anticipated by 2020, starting with the most conservative:
21 billion devices by 2020, Gartner
38 billion devices by 2020, Juniper Research
50 billion devices by 2020, Cisco and Ericsson
50.1 billion devices by 2020, World Economic Forum
200 billion devices by 2020, Intel and IDC
It looks like Gartner and Intel disagree on where to put the decimal point.
Though the IoT is extremely difficult to define, the explanation offered by Cees Links, general manager of Qorvo's Low Power Wireless business unit, is a good place to start: IoT "things" must be able to speak to other devices and systems, as well as utilize web intelligence to become smarter over time. The IoT is about delivering services, not just about gadgets.
With Cees' wisdom in mind, here's a look at what the IoT is — and what it isn't.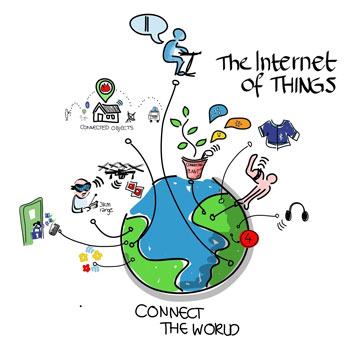 Figure source: Wikimedia Commons
What the IoT isn't
Contrary to what some UFO spotters and Bigfoot fans believe, the IoT is not about government mind control.
The IoT isn't about "wearables" either. If your fitness tracker bracelet, watch or clip-on is connected to your smartphone, but not to the internet, it's not truly an IoT device. The same goes for your smartphone-controlled garage door opener, mini indoor drone and the pesky RFID tag that the sales clerk forgot to remove from your new LED T-shirt.
If it isn't networked, it isn't the IoT.
The IoT also isn't standardized. It's the reason why syncing your smartphone to your car, or to your security system, or to your new smart toaster typically involves a slew of expletives. Behind the scenes, there are multiple wireless standards competing with each other.
For a safe, well-functioning connected car, you need 4G (LTE) to the car, but various flavors of RF within the car for "infotainment," enhanced driver awareness and safety.
Competing wireless standards are also responsible for bandwidth bottlenecks in the home. You may start with a 100 Mbps connection, but by the time the kids have streamed House of Cards and the smart thermostat finishes downloading its latest update, you're back on dial-up.
Long story short, industry-leading companies need to agree on which standards will support IoT and on device compatibility. Until then, you'll continue fighting for bandwidth with your Wi-Fi-enabled can opener.
What the IoT is
Even though your puppy just ordered 17 boxes of detergent while gnawing on your Amazon Dash button, the IoT does offer the promise of making our lives easier.
The IoT is held together by RF technology, from smart homes to smart energy solutions like connected lighting. ZigBee is certainly one key enabling RF technology for IoT that offers short range, low power wireless communication. The applications of ZigBee are numerous, from home gateways/set-top boxes and smart home sensors to industrial applications on the factory floor.
The IoT is much more than shiny, bright consumer devices. The Industrial IoT (IIoT), though often overshadowed by the endless parade of smart toothbrushes and other novel gadgets, is very important. Smart grids, smart buildings and smart manufacturing have far-reaching implications; in fact, GE and Intel predict that 46 percent of the global economy can benefit from "the industrial network of connected machines." It's a wonder this quiet revolution is so seldom talked about, when a nuclear reactor telling the cooling tower to send more water seems a bit more important than losing connection to a Barry Manilow MP3.
The IoT: hard to define, but full of potential.
Now if you'll excuse me, my refrigerator is calling.
This article first appeared in Brent's Musings on Microwave Journal.