Wi-Fi Channels, Range and Capacity
Qorvo's bandedge BAW filters improve Wi-Fi range and capacity by allowing Wi-Fi systems to maintain maximum RF output power on all channels in the 2.4 GHz Wi-Fi band. They solve a key challenge for Wi-Fi system engineers: how to maximize output power on all non-overlapping Wi-Fi channels while meeting strict FCC limits for emissions in restricted bands.
Download your free copy of our white paper below.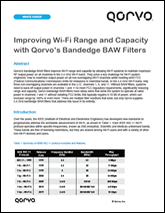 What's Inside:
Background: Wi-Fi Channels, Range and Capacity
Spectral Masks vs. Bandedge Tests
BAW Filter Placement and Trade-Offs