Introduction
The goal of all IoT development engineers is to design, build and get their product to market as quickly as possible. Qorvo understands this and is here to assist you achieve this goal. This guide will display how Qorvo helps meet this goal and offer a detailed look into key development tools to create an IoT product quickly and easily.
The Steps to an IoT Final Product
Our integrated hardware, software, integrated modules, certified applications and third-party programming partnerships help speed your IoT product development time. Below are the steps and attributes that help bring your solution to market from design to development to production.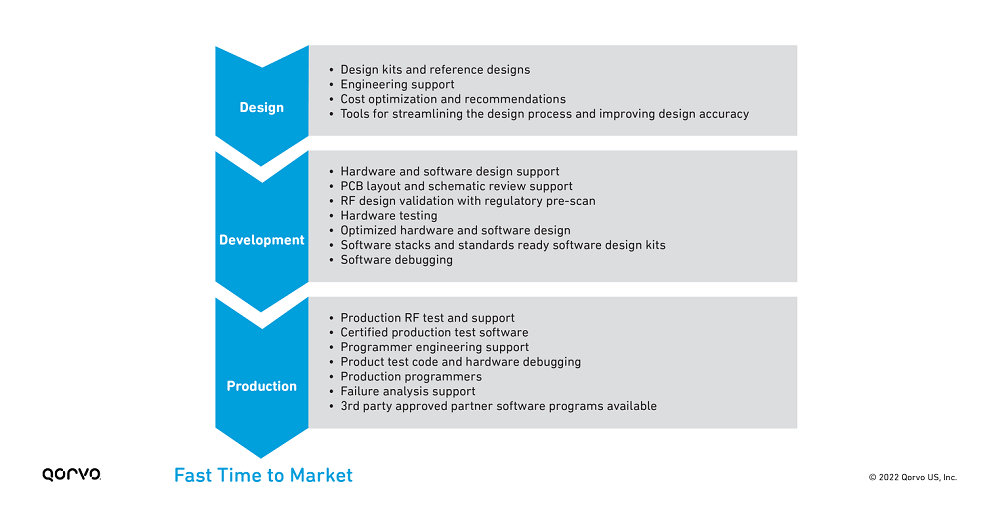 How Qorvo Helps Jump Start Your IoT Design
The key to creating a best-in-class, fast and differentiated IoT designs requires tools, software and support. Semiconductor companies providing these attributes will provide the best development experience for IoT product designers.
1 - Evaluation hardware and software
Qorvo provides all the hardware and software tools to evaluate your IoT product.
Fully functional development kits complete with software
IoT end-node, gateway, ultra-wideband – development kits
The gateway development kit mimics a typical IoT environment Linux OS with a resource rich application processor. It also supports USB and SPI connectivity
ConcurrentConnect technology provides multi-standard interoperability that is fully implemented in hardware and software to simplify development
High performance modules and reference designs
Fully integrated RF front-end modules for all use cases
2 – Rapid Prototyping
We provide you with rapid prototyping tools and resources to make design easy and effortless.
Modules for turnkey reference applications for rapid prototyping
Tools and software to test and validate product quickly and easily
Developers can evaluate, develop and test smart home use cases quickly and intuitively
3 – Development Tools to innovate the IoT Design
We provide access to development tools for all IoT application needs, with add-on selectable features and customizable reference designs. Designers have the tools to build a full-featured turnkey solution.
Turnkey reference design solutions/applications
Selectable add-on features
Customizable reference designs
Ability to integrate application modules in your final product
Tools from evaluation board stage to final production parts
4 – Optimize and Certify
Qorvo's applications are certified and optimized for easy implementation and quick time to market. Leveraging our designs and applications ensures a fully certified IoT product.
Applications are certified to each standard
Optimized IoT reference designs complete with maximized RF communication capabilities
Software and hardware are pre-certified to accelerate standard certifications
5 – Production Ramp
Qorvo provides the needed support via software and hardware engineering as well as established third-party easy to use programs like SEGGER J-Link and others. This makes production ramp for your IoT product easy.
3rd party testers and support
3rd party programs for multi-communications
SEGGER J-Link for fast and easy de-bugging
Software – The Engine to Your IoT Hardware Efficiency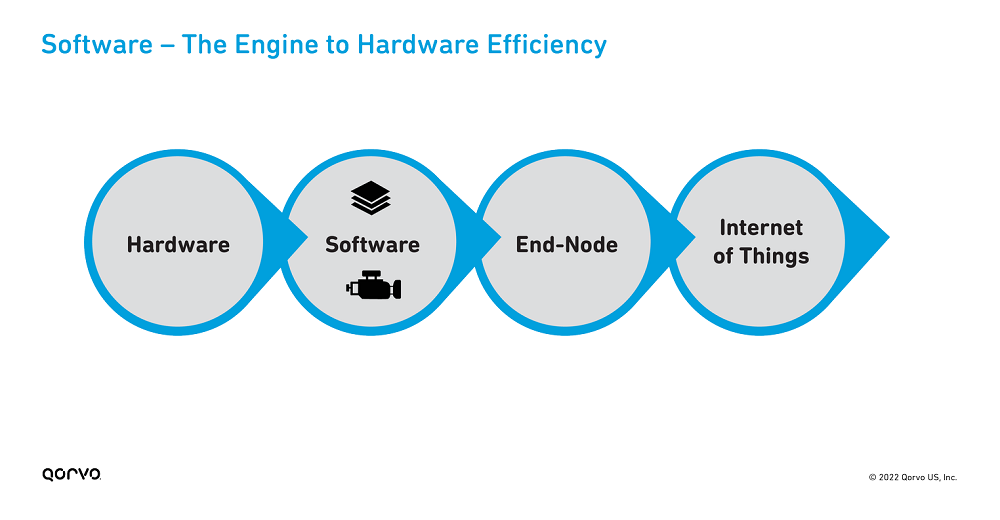 Software is central to creating any IoT end-node product. To help you decrease design time and provide more time for working on the innovative portion of your product, several software tools need to be accessible. Let's outline some of those tools Qorvo provides to ensure an effortless development.
1 – Seamless interoperability
ConcurrentConnect technology – providing interoperability and zero latency communications across multiple standards.
2 – Future proofing
Regular firmware updates to standards and software development kits
3 – Turnkey apps
Mobile device apps for controlling applications – providing a real-world experience
4 – Development Tools
Free development tools for testing and verifying applications
API/Low-level driver examples
SEGGER J-Link OB for fast and stable debugging
5 – Fully functioning System-on-a-Chip
SoCs that are feature rich and have built-in edge computing
On-device processing of sense inputs with ML
Take-action locally, leveraging the advanced ARM M55 Core
6 – Superior RF performance
ConcurrentConnect communications including maximum RF range and antenna diversity to enable signal reliability in any IoT environment – achieved with no additional bill-of-material costs
Fully secure and fast communications
7 – Expandable
Ability to expand application with sense and control for all IoT use cases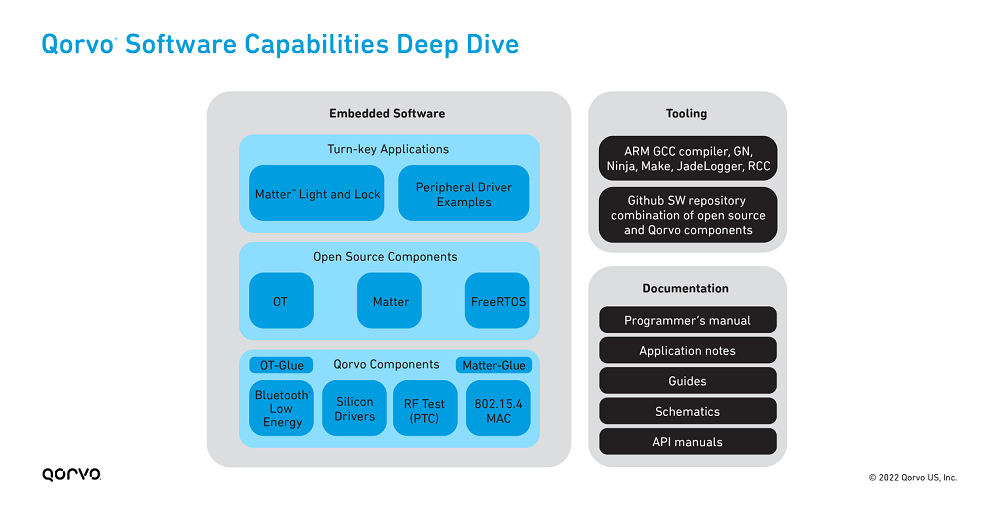 Qorvo – Making IoT Design a Snap
The reason Qorvo provides all these software, hardware and tools is so IoT system developers can create the most innovative product. Doing so, will ensure the product is differentiated from the many other IoT solutions in the marketplace. Qorvo goes a step further than other IoT semiconductor solution providers by offering the most compelling and easy to implement solutions to ensure seamless product design. We also certify our solutions to make certain your design will hit the market fast and without delays.