The future looks bright for smart lighting. Although the market has struggled to garner mainstream interest over the last several years, the tide is starting to turn. According to Statista, smart lighting revenue is expected to quadruple in the coming years, growing from just $11 billion in 2020 to $44 billion in 2030. [1]
What's driving the growth? One big push is the industry's move to a universal connectivity standard. Like most smart home segments, smart lighting has been plagued with lack of interoperability and complex set-ups. Buying a smart light bulb has been a frustrating experience as users try to figure out which products pair with their existing ecosystems. The installation process has been just as overwhelming, with users paging through complicated manuals and setting up multiple bridges to connect and control the devices within their home ecosystems.
However, with the introduction of the Matter standard, many of those connectivity challenges will become a thing of the past. Smart products operating on the open-source, freely available standard will finally be able to communicate with each other, both simplifying the user experience and allowing manufacturers to refocus their efforts on innovation and development of futuristic use-cases. Also, the market will likely see a fresh wave of up-and-comers entering the smart lighting space since developers will no longer need to create their own platforms and software for their products.
Other factors such as rising energy costs, smart building applications, and increased interest in home automation are also carving out new opportunities for connected lighting. Put simply: The market is in a prime position for manufacturers and developers considering a move into the smart lighting space. Success will depend on whether or not industry players have a full understanding of the market and what consumers truly want.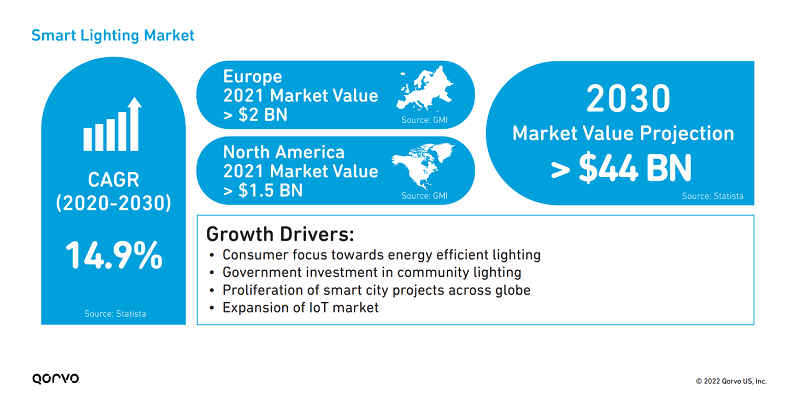 This article will look at some of the major developments happening in the smart lighting landscape—what opportunities exist for up-and-comers, key drivers and potential use cases, and technology and design considerations for current and future solutions.
A Smart Opportunity
Within the smart home and home automation industry, smart lighting offers one of the largest market opportunities. Because lighting is a universal need with global reach, the potential for connected lighting is greater than many other smart products. In fact, a recent report from Strategy Analytics states that smart light bulbs are "a perfect smart home ice-breaker" and are often the first devices consumers purchase when they want to experiment with real-time control and programmed scenes and routines. [2] The firm also rates the smart light bulb as the third most popular smart home device.
However, there is still space for both growth and improvement within the smart lighting market. According to Strategy Analytics, there is plenty of room for innovators to co-exist with legacy players, provided they focus their efforts on developing solutions that address real consumer needs. Specifically, their research shows that consumers are placing a high importance on predictive management, automation, user application interface, control methodology of their lighting products, and out-of-box operation.
Another major opportunity for smart lighting is its energy savings potential. As the price of gas and electricity continues to rise, everyone is looking for new ways to save energy and reduce costs. In addition, manufacturers all over the globe are feeling the pressure to reduce energy usage—a push that will likely only intensify over the next several years. Smart lighting aligns with all of these trends. Experts estimate that smart LED lighting can reduce energy costs by as much as 90 percent in industrial installations and office buildings. [3] With the additional use of sensors, artificial intelligence, and machine learning, smart lighting solutions can take savings even further by gathering and providing information on occupancy, traffic patterns, and usage patterns, giving users even more opportunities to save both energy and money.
Perhaps one of the most exciting opportunities smart lighting offers is that it can be scaled to use cases outside of the consumer space, including smart retail and smart buildings. According to a recent report from Market and Research, retail has emerged as the top beneficiary of smart lighting, and it's not just because of the energy saving benefits. [4] Some smart lighting systems installed in retail stores are leveraging Bluetooth Low Energy (BLE) and Visible Light Communication (VLC) technology, which allows LED light fixtures to communicate wirelessly with smartphones. This gives the retailers the ability to track purchasing patterns and offer shoppers information on product availability and sales offers.
Connecting with the User
With so many possible applications, manufacturers and developers will need to zero in on specific consumer needs in order to find sustainable market success. Historically, this has been a difficult task for many companies in the smart home space, as evidenced by the lackluster consumer interest. Innovation for the sake of innovation is no longer a feasible strategy. In an emerging marketplace like smart lighting, finding creative ways to tap into unmet user needs will be the key to growth.
The following are the three main areas developers should be focusing on as they seek to drive consumer adoption, as well as potential use cases.
Convenience
All users want a plug-and-play experience. In an ideal situation, a user would simply buy a smart light bulb, take it home, screw it into a fixture, press a button on their mobile phone, and set-up would be complete. Although the industry is working hard to make that scenario possible, the benefits of smart lighting shouldn't stop there.
One important feature will be remote management. Having the ability to control lights via a smart home app from a remote location helps give users a sense of security and automates an otherwise tedious task. With the addition of sensors, AI, and machine learning, smart lighting systems can also be used to sense location and push alerts to consumers when they've left the lights on, set schedules to help users save energy, and even connect to the TV and automatically adjust the lighting level based on homeowner location and activities (i.e., playing video games).
Convenience benefits can also stretch beyond the consumer space. In a retail scenario, smart lighting can double as beacons that transmit data in real-time. For example, within the store, inventory data from the Electronic Shelf Label (ESL) can be transmitted through the LED bulb into the hub or mainframe. This allows the retailer to closely track their supply, so they know when to restock shelves and order more back stock. Meanwhile, the beacon could also trigger the retailer's app located on the shopper's mobile phone, alerting them of a coupon that could be applied to their purchase.
Sustainability
As stated earlier, high electricity costs and mounting social pressure have made sustainability a growing priority in both the consumer and commercial spaces. Similarly, it should be a major priority for smart lighting developers and manufacturers. Sustainability features such as low power consumption should be a design priority for any smart lighting product. Additionally, because the upfront cost of smart lighting is higher than traditional lighting, return on investment will be a major consideration for users. Developing features and functions that give users the option to track their energy usage and save money will help drive adoption.
Developers can integrate Bluetooth into their smart lighting designs to identify physical presence, auto-populate room settings, or add ultra-wideband (UWB) technology for precise ranging. Going even further, companies can offer users a far-reaching energy management strategy that monitors energy usage, energy costs, and potential maintenance issues, while saving power across a wide range of smart home devices. Other potential features include predictive analysis of future energy costs and automatic shut-off when usage is high.
In smart building applications, the savings potential is particularly high. On average, 30 percent of the energy used in commercial buildings is wasted, according to the U.S. Environmental Protection Agency. Meanwhile, lighting is the single largest consumer of electricity in a building, averaging about 17 percent of power in commercial buildings. Smart lighting solutions aimed at reducing energy can not only help building owners save on operating costs, but may also help them earn rebates and other green energy incentives.
Personalization
Today's tech users are accustomed to getting what they want, especially when it comes to entertainment. Streaming services automatically curate music and shows based on user preferences, and everything from home screens to alarms can be personalized. Smart lighting should follow suit.
One big challenge for developers will be finding ways to deliver an immersive user experience. This means customizable features and UIs will be critical, as well features that cater to the user's sense of comfort and safety.
For example, a TV connected over Wi-Fi could communicate with a Matter light bulb to control and customize the ambience while watching a movie. Lighting could also be pre-programmed based on a user's personal modes (i.e., "dinner party" or "homework time"). Security features, such connecting the garage door with the smart light, can also allow homeowners to enter a brightly-lit home.
Technology and Design Considerations
From a marketing standpoint, user interface and applications will drive smart lighting adoption; however, there are some technology and design considerations developers will need to keep in mind, especially as the industry transitions to a universal connectivity standard.
Key Technologies
For more than a decade Wi-Fi, Bluetooth LE (BLE) and Zigbee have been the dominant connectivity standards in smart lighting. With Matter on the horizon, what will happen to the other connectivity standards?
The reality is that none of these standards will disappear overnight, and they will likely remain in the market for the foreseeable future. The following is an overview of existing protocols and the role they will likely play in the future of smart lighting:
Wi-Fi. Wi-Fi can be used for gateways and many other IoT devices inside your home and can also be used in smart lighting. This may be ok for one or two lightbulbs, but if you had 20 lightbulbs that use Wi-Fi it can take an unwanted toll on your network connections. Ideally smart lightbulbs don't consume much bandwidth however as you add more and more you could see a strain on network capacity. Therefore, using lower data consuming lightbulbs with standards other than Wi-Fi, like Matter, Bluetooth Low Energy, Zigbee, etc., might provide a better home network experience. Additionally, Wi-Fi consumes more energy and has more latency than Bluetooth Low Energy than Thread standards.
Bluetooth LE (BLE). The use of BLE in smart lighting has been growing in popularity over the last few years. The industry will likely continue to use the technology for onboarding. In fact, BLE support is a necessary part of the Matter standard and is used for device discovery and provisioning
Zigbee. It is very likely that the Zigbee wireless standard will continue to develop alongside Matter, which means Zigbee devices will co-exist within the market for the next several years. Many legacy Zigbee smart home devices will work with Matter after an upgrade. Some experts anticipate the standard to merge with Matter at some stage, although not in the immediate future
Ultra-Wideband (UWB) technology. With its precise ranging, UWB will play an important role in the smart lighting market, especially in applications focused on creating an immersive lighting experience or energy conservation.
Matter. As the industry's first open-source home connectivity standard, Matter will bring all of the Internet of Things (IoT) pieces together. In other words, it will help integrate all existing technologies. In most cases, gateway devices will be used to bridge existing ZigBee networks to new Matter networks.
Design Considerations
Focus on interoperability and ease of installation. The good news is Matter will help eliminate many of the interoperability and plug-and-play challenges smart lighting has faced over the years. As an open-source standard, developers have access to Matter's open software code, development tools, and the Connectivity Standard Alliance's Matter certification program. However, engineers will need to choose SoC products that support Matter's SDK.
Backward compatibility will be critical. Although the industry expects Matter to become as ubiquitous as Wi-Fi, backwards compatibility will be crucial for developers that want to protect against obsolescence. Choosing hardware technologies that offer dynamic multi-protocol (DMP) features and concurrent listening capabilities will be critical for ensuring backwards compatibility with existing protocols like ZigBee, Bluetooth, and Thread.
Security should be a top priority.As with any connected device, smart lighting can be viewed as a security risk. In a home network, a system is only as strong as its weakest link and no one wants their product to be the weakest link. Engineers and developers can no longer afford to treat security as an afterthought. Instead, they need to consider it throughout the entire design cycle.
Lighting the Way Forward
Thanks to Matter and increased interest in green energy, the smart lighting market is gaining substantial momentum and will likely see tremendous growth over the next few years. How quickly the growth occurs will depend on how well the industry caters to the user needs and key market drivers like efficiency, energy savings, and personalization.
With the right focus, design elements, and technologies in place, developers in the smart lighting space have a prime opportunity to both meet and exceed user expectations and, even more so, help the market finally reach its full potential.
References
[1] https://www.statista.com/statistics/813066/world-smart-lighting-market-revenue/
[2] https://www.strategyanalytics.com/access-services/devices/connected-home/smart-home/reports/report-detail/smart-home-survey-smart-light-bulbs-may-2020
[3] https://www.reportsanddata.com/report-detail/smart-lighting-market
[4] https://www.researchandmarkets.com/reports/5415439/global-smart-lighting-market-size-share-and