You're probably familiar with IEEE 802 as the family of standards developed by the Institute of Electrical and Electronics Engineers (IEEE) that deal with local area networks (LAN) and metropolitan area networks (MAN). But you may not be as familiar with exactly how this large technical association amends its standards to keep pace with the fast-changing demands of global networks. As an engineer in today's quickly-shifting wireless landscape, it's important to understand this process and keep pace with planned updates as they hit the market and affect designers and end users alike.
The amendment process starts with an idea
The diagram below illustrates the process of flow when an idea turns into an 802.11xx amendment.

New ideas flow through the Wireless Next Generation (WNG) Standing Committee, which meets at every 802 Working Group interim and plenary meeting. The WNG essentially funnels next generation features and refinements to existing 802.11 standards by providing six opportunities each year for new or updated ideas to be presented to the 802.11 Working Group. Presented ideas are voted on in the WNG sessions, and if approved by motion to move forward, a Topic Interest Group (TIG) is then formed. The TIG investigates the idea for technical feasibility and initial requirements and then makes a recommendation report to the Working Group. The Working Group then decides whether to move forward with a Study Group. If a Study Group is created, this committee develops a Project Authorization Request (PAR) which drives the formation of a Task Group. The Task Group is chartered with developing a draft standard. It is this Task Group phase that typically requires the most time in the process, as there are usually several drafts before achieving the required 75% approval of this letter ballot. After a Letter Ballot is approved, a Sponsor Ballot is sent to the IEEE Standards Association (IEEE-SA) for final approval and publication of the proposed standard.
The evolution of the first five generations of Wi-Fi standards
Task Groups within the 802.11 Working Group have released five generations of Wi-Fi standards since 1991, starting with 11b and up to 11ac. The sixth generation – 11ax (Wi-Fi 6) – is coming in late 2019.
The diagram below shows the timeline of the Wi-Fi standards generations, as well as the major features included in each release: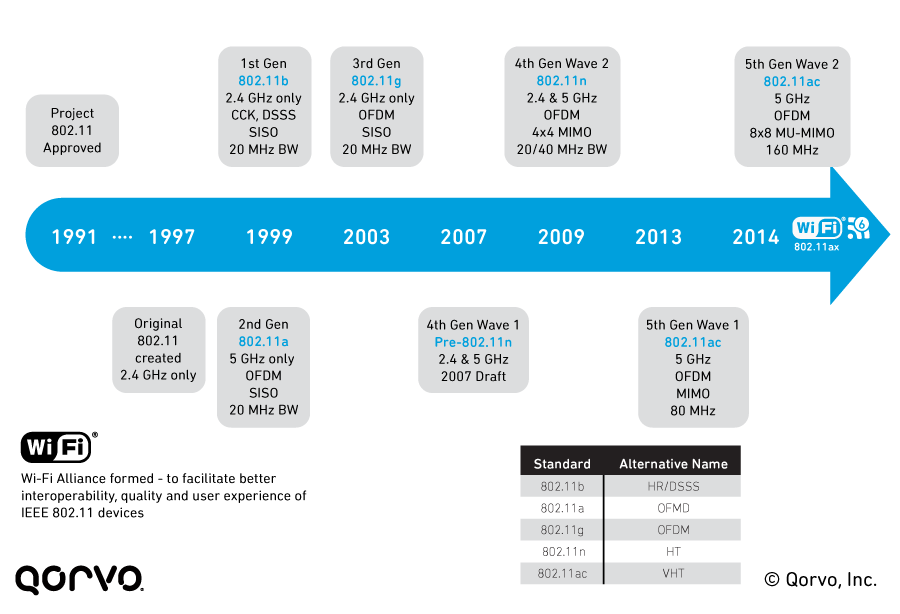 The driving force behind 802.11
In a nutshell, the evolution of the 802.11 standard has been driven by the need for consumers and businesses to access and distribute information on the internet.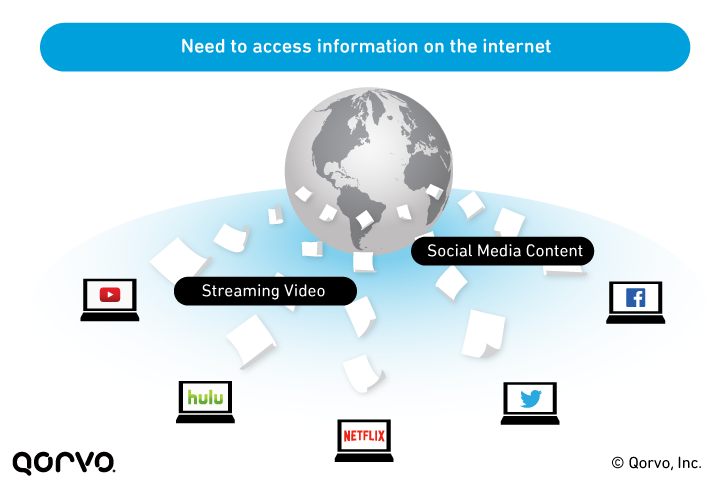 One of the major changes over the years of 802.11 is data rate. With the evolution from 11b to 11ac and toward 11ax, the data rates have shown a 1000x improvement. It's important to note, however, that even though 11ac was able to achieve roughly 7 Gbps, it did not achieve that rate in practical applications (e.g., dense and crowded venues such as stadiums). That practical, "real-life" achievement of up to 10 Gbps is one of the major goals of 11ax, as shown in the figure below.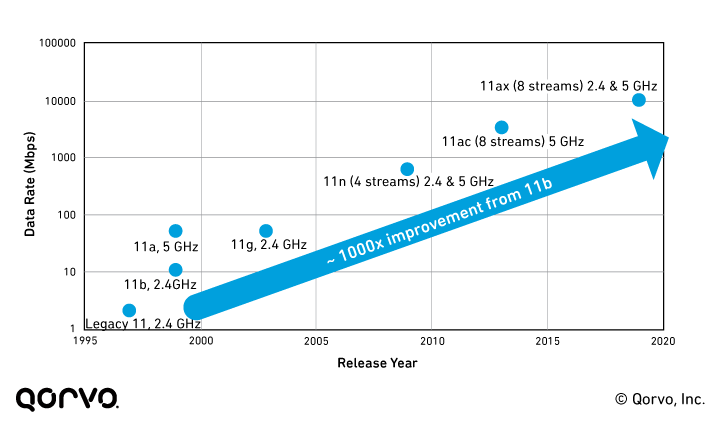 11ax (Wi-Fi 6) improvements over 11ac (Wi-Fi 5)
Even though 11ac was a substantial breakthrough, it does have some shortcomings, as mentioned above. With the goal of making the Wi-Fi experience better for the user, the list of 11ac issues addressed by 11ax includes:
Slow data rates in dense or crowded venues like airports or stadiums
Degraded system efficiency when large numbers of users are present
A lack of short data frame aggregation in 11ac
Overlapping BSSs can block each other in dense deployments
To better compete with cellular, improved performance in outdoor hotspots is needed
11ax intends to address these issues with the following benefits and features:
A maximum data rate > 10 Gbps
10x higher data capacity
Desire to improve throughput from 11ac by 4x in dense deployment scenario

High density modulation (up to 1024 QAM) resulting in a 25% better throughput

Uplink MIMO capability

DL/UL MU-MIMO with 8 clients to improve throughput by 2x

Inclusion of indoor and outdoor environments through enhanced delay spread protection

Longer guard interval 1.6/3.2us 11ax vs. 0.8us 11ac

Access points will dictate when a device will operate using a schedule-based protocol rather than contention-based

Reduces power consumption for battery-powered clients
Provides more efficient handling of clients

Support for both 2.4 and 5 GHz bands (11ac currently only supports 5 GHz)
Enhanced Modulation through OFDMA

Allows FDD vs. TDD for improved resource allocation with given bandwidth

Frequency band expansion up to 7.125 GHz

Opens additional channels outside of the existing crowded 5 GHz band
The chart below shows definitions of U-NII-5 through U-NII-8 channels from 20 MHz up to 160 MHz bandwidths:

The band expansion of 11ax is especially significant as it will provide a much needed additional 160 MHz channel capability. It will also help with the current congestion in the 5 GHz band with LTE and LAA. This expansion will take hold rapidly in the industry, with many products expected to launch very quickly.
What's coming after 11ax
The 802 Working Group currently has six active task groups with amendment schedules targeting RevCom releases between late 2019 and the end of 2021. Here is a look at what is currently in the 802.11 pipeline:

802.11ay defines next generation 802.11ad targeting a maximum throughput of at least 20Gbps while maintaining or improving the power efficiency per station. This amendment must insure backward compatibility.
802.11az defines MAC and PHY layers to enable determination of absolute and relative position with better accuracy (with respect to the Fine Timing Measurement protocol) while reducing existing wireless medium use and power consumption in dense deployments.
802.11ba, known as Wake-up Radio, is a low power mechanism to enable power savings in 802.11 stations. Previous power saving mechanisms in 802.11 degraded latency. 802.11ba intends to combine low power and low latency.
802.11md is an amendment to the standard that rolls in maintenance updates.
802.11bb is an amendment to define the PHY and MAC using light communications for fixed, portable and moving stations within a local area network. This standard is intended to be a complement to RF 802.11 not a replacement.
Today, Wi-Fi is everywhere. It has become the ubiquitous, expected connection standard and even a basic necessity for many people around the globe. Can you imagine your life without wireless internet access at home or in the office? Life just wouldn't be the same, which is why companies like Qorvo and organizations like the Wi-Fi Alliance continue to work together with engineers like you to ensure the future of Wi-Fi will serve all of our needs and trends in the connected world of today and tomorrow.