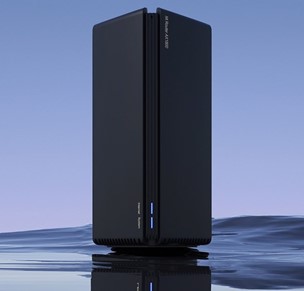 Wi-Fi 6 technology and the products it powers are gaining traction in the market. This is especially true of the router market, which is poised to reach USD 14.4 billion by 2025, according to Market Insight Reports. Major providers see Wi-Fi 6 as a significant way to boost router performance, and they're making considerable efforts to get them to market quickly. The competition among them is fierce.
Signal coverage and stability, along with price, are the primary factors that end users consider when choosing a router. Much of this relies on the router's RF front-end performance, and therefore selecting the right RF front-end solution is key to outperforming the competition.
As a leader in RF technologies, Qorvo offers unique insights on Wi-Fi 6 router solutions. Xiaomi's recently launched AX1800 Wi-Fi 6 router used Qorvo technology strength to the fullest. As Xiaomi designed its latest router, they partnered with Qorvo to leverage our RF technology and Wi-Fi 6 expertise to overcome some key challenges.
Wi-Fi 6 Router Design Challenges
There has been plenty of coverage on the new Wi-Fi 6 standard, including a Qorvo blog post "Unscrambling the Wi-Fi 4/5/6/6E Standards", which discusses the differences among the many standards used today. To adapt to high-density wireless access and high-capacity wireless services, an excellent performing Wi-Fi 6 router should offer high speed, extended coverage and high throughput. Achieving this creates several challenges for the RF front-end:
The distributed architecture of Wi-Fi 6 requires a split of the 5 GHz frequency bands. For example, 5 GHz works in low band (UNII1-2a) and high band (UNII2c-3) concurrently, allowing backhaul and client communications. This is best optimized with narrowband filters based on proven BAW technologies designed for advanced Wi-Fi that meets the most extreme performance criteria.
Because of the high density, large capacity, multiple antennas and other characteristics of Wi-Fi 6, router design requires a small footprint, sleek size and lower power consumption. A higher integrated front-end module (FEM) becomes a necessity for the RF front-end. Not merely the integration of the power amplifier, low-noise amplifier, software, etc., but the BAW (bulk acoustic wave) filter is designed into the FEM. At the same time, amplifiers focused on efficient power improve the overall reduction in power consumption for the total system.
In addition, Wi-Fi 6 routers need to be designed specifically for the spectrums, frequency bands, and requirements of different countries/regions. For example, the Wi-Fi spectrum should not interfere with cellular carriers' networks — and vice versa. B40, B7 and LTE Bands are located in the Wi-Fi bandedge. To coexist, 2.4 GHz LTE and Wi-Fi streams must not interfere with each other as this impacts system performance through defense, retry transmissions and potential loss of link. To mitigate the issue in the US, the FCC extended regulations to Wi-Fi bandedge power.
To help design engineers with these challenges, Qorvo works closely with industry partners to provide the best solution for its customers' use cases.
Meeting the Challenges
Qorvo has a well-known track record of creating advanced RF solutions. In terms of FEMs, its product portfolio covers design, production, testing, application, and other processes. Qorvo's advanced GaN, GaAs, SOI and other processing technologies accelerate the development of high-efficiency, high-linearity and high-integration FEM products for customers around the world.
To address the frequency band coexistence problem mentioned above, Qorvo has developed a series of BAW filters that reject the interference between Wi-Fi and LTE. In order to meet US FCC regulatory requirements, Qorvo introduced a bandedge filter that effectively suppresses out-of-band spurious signals. Without these filters, the access points (APs) would have to reduce power to meet the requirements, which would inevitably influence the AP's signal strength, decrease the coverage and signal quality, and negatively affect the customer experience.
Qorvo's FEM portfolio also includes products that provide leading error vector magnitude (EVM) floor, which helps maximize the useful non-distortion signal (1024-QAM signal) to transmit through the antenna, ensuring accurate demodulation at the receiver.
At the same time, 8x8 MU-MIMO technology can greatly increase the number of AP connections and data throughput. By using Qorvo's FEM (power amplifier + low-noise amplifier + software) solution, coverage range can be significantly reinforced — the PA can extensively enhance signal transmission power and the LNA can improve receiver sensitivity.
Wi-Fi 6 applies higher-order modulation, larger bandwidth and MU-MIMO technology, significantly boosting throughput. Because of the support for 160 MHz bandwidth and 8x8 MU-MIMO (Wi-Fi 5 only supports 4x4 MU-MIMO), there are more stringent requirements on power consumption and chip size. Qorvo's Wi-Fi semiconductor and design selections offer small size, high efficiency, and provide high reliability for the entire system.
Collaboration with Industry Partners
Qorvo works with partners to develop reference designs in the early stages to ensure the overall performance meets customer specifications. As RF performances vary due to differences in layouts and materials, the error vector magnitude (EVM) specification has been difficult to meet in the early stages of product design.
However, Qorvo devices provide enhanced matching to optimize system performance. Using Qorvo's integrated or discrete BAW filters provides all the RF front-end capability — without the hassle and time required to add tuning and matching components. This ensures margins for key indicators are consistent to help maintain volume shipments.
Better Together
Leveraging the advantages described above, Qorvo and Xiaomi worked together to design the exceptional AX1800 Wi-Fi 6 router. By implementing Qorvo's FEMs, the coverage range of the AX1800 router has been broadly improved — the PA strengthens signal transmission power, while the LNA optimizes receiver sensitivity. Improved efficiency also solves the heat dissipation issue and makes the overall design lighter and more elegant.
The antenna's output power and EVM can reach up to +19 dBm and -35 dBc at the highest frequency of the modulation signal. It delivers broader coverage than products in the same price range from other suppliers, not to mention Qorvo's advantageous efficiency in FEM control current.
Wi-Fi 6 Benefits Realized
Wi-Fi 6 ushers in new and exciting capabilities for end users. As people spend more time online and rely on Wi-Fi for access, the benefits Wi-Fi 6 offers — faster connections, lower latencies and better range — are increasingly more important. Router makers are eager to take full advantage of Wi-Fi 6 and, at the same time, beat the competition to market. With these design challenges in mind, Qorvo's breadth of expertise and wide product portfolio can ensure our partners have the tools and support they need to realize best-in-class products like Xiaomi's AX1800 Wi-Fi 6 router.
Learn more about Qorvo's innovative Wi-Fi solutions.