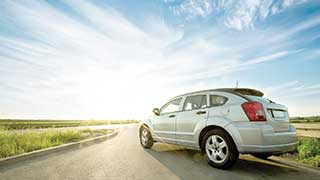 Smart Cars, Smart Antennas
Today's on-the-go consumers expect to extend their digital lifestyles into their vehicles with wireless services such as GPS satellite navigation, digital satellite radio, Wi-Fi connectivity and Bluetooth® integration with their smartphones. To establish an interference-free coexistence in the overcrowded wireless spectrum, the automotive technology industry developed the concept of a "smart antenna" — a multiband antenna system that can handle all those wireless standards in parallel.
However, as more RF components for in-vehicle communications are squeezed into "sharkfin" roof antennas, high-performance filters are needed to keep those signals from interfering with one another. Enter Qorvo. Qorvo is dedicated to providing quality products to support the growing automotive market, using our LowDrift™ and NoDrift™ bulk acoustic wave (BAW) filters.
Solving Antenna Interference with Qorvo's NoDrift™ BAW
Our NoDrift BAW filters use an advanced version of BAW to provide superior temperature stability to meet an especially challenging interference issue, allowing desired signals to transmit while rejecting undesired signals. Because our BAW technology solves some of the toughest filtering coexistence issues that RF designers face, many of the leading premium electric car manufacturers have chosen to incorporate our high-performance BAW filters into their rooftop antennas.
Achieving good performance and manufacturability with BAW is not easy — it requires superior process control; unique knowledge of materials science; and reliability under temperature and environmental stress. Temperature-compensated BAW filters such as Qorvo's NoDrift and LowDrift filters offer temperature stability along with high quality factors, enabling BAW technology to meet the most challenging requirements of the automotive industry.
The Future
RF interference rejection will become more challenging as the demand to use wireless devices grows, more wireless bands are allocated at higher frequencies, and global spectrum management remains a fragmented process. Over the next few years, vehicle-to-vehicle (V2V) and vehicle-to-infrastructure (V2X) communications will come into fruition. This technology is expected to spread to millions of vehicles across the automotive industry, as collision-avoidance and other intelligent transportation applications prove their value to consumers, insurance companies and government agencies. We're dedicated to providing the clear, connected communications needed for car RF technologies.