Feature-rich, easy-to-use low-cost ARM MPU kit extends Atmel Xplained concept with Arduino shield-compatible expansion headers for the industrial, consumer and IoT markets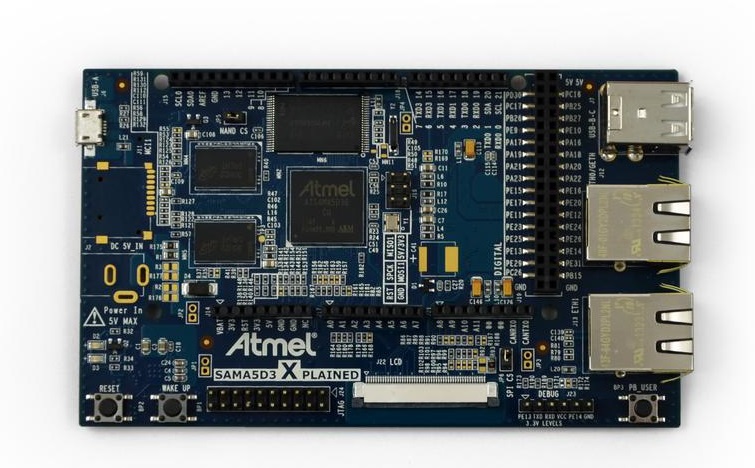 CHICAGO, – February 25, 2014 – (ATMEL) – Newark element14 and Atmel today announced the launch of Atmel's new SAMA5D3 Xplained evaluation kit, a low-cost fast prototyping and evaluation platform for microprocessor-based design.
The board, which is based on Atmel's SAMA5D3 ARM® Cortex®-A5 processor-based MPU, comes with a rich set of ready-to-use connectivity and storage peripherals, along with Arduino shield-compatible expansion headers for easy customization. A Linux distribution and software package also enables rapid software development. The board is a perfect target for headless Android too.
"Our partnership with Newark element14 on the development and manufacturing of this kit and its first set of expansion boards enables engineers from all communities to build applications requiring rapid prototyping and evaluation for their MPU designs," said Jacko Wilbrink, Sr. Marketing Director of Microprocessors, Atmel Corporation. "Offering features such as mid-range graphical user interfaces, capacitive touch capability, wired and wireless communication, free of charge Linux distribution and QT developer's kit, we're incredibly proud of this newest member of the Xplained family."
"Atmel's ARM Cortex-A5 processor-based MPUs deliver balance in a rich set of devices and ultra low power consumption that meet your every industrial design need," said David Shen, Chief Technology Officer at Premier Farnell. "This new Atmel Xplained kit, in addition to our soon-to-be-available expansion boards which will add more capabilities to the SAMA5D3 platform, will be very helpful to professional engineers as well as makers, hobbyists, educators and students, both within and outside their main employment."
The SAMA5D3 series is ideal for wearable computing and mobile applications where low power and a small footprint are critical.
The SAMA5D3 Xplained features:
Atmel's Xplained hardware platform for evaluation and rapid prototyping
Fully documented and readily available Cortex-A5 based MPU solution
Rich set of peripherals, specifically on connectivity
USB power (no need for power adaptor)
Flexibility – Arduino-compatible connectors, enabling the user to leverage the extensive Arduino shields ecosystem
Open Source hardware – All design files available; easy to reuse in customer projects
Software package with drivers and examples for bare metal developers
Qt developers kit and Linux distribution free of charge
The SAMA5D3 Xplained is priced at USD $79 and will ship in mid-March 2014 from Farnell element14 in Europe, Newark element14 in North America and element14 in APAC. Pre-registration for the product can be done at www.element14.com/sama5d3.
The new kit is the latest in Newark element14's diverse variety of solutions ranging from starter kits to complete development boards, including the newest releases and exclusive bundles. For more information on dev kits visit: http://www.newark.com/dev-kits.
"We are excited about the accelerating demand for embedded control development platforms and especially value our continued partnership with Atmel for providing turnkey power solutions for their broadly deployed SAMA5 and SAM9 MPUs," said Mark Cieri, Vice President of Sales and Marketing at Active-Semi. "Atmel's new SAMA5D3 Xplained evaluation kit focuses on enabling designers with a low-cost, fast prototyping platform across a wide breadth of customer MPU-based applications, and our Atmel-optimized ACT8865 and ACT8945A PMIC power devices play a key role by reducing board size and design complexity."
Please visit www.qorvo.com/how-to-buy for additional contact and purchasing information.
About Atmel
Atmel Corporation (NASDAQ: ATML) is a worldwide leader in the design and manufacture of microcontrollers, capacitive touch solutions, advanced logic, mixed-signal, nonvolatile memory and radio frequency (RF) components. Leveraging one of the industry's broadest intellectual property (IP) technology portfolios, Atmel is able to provide the electronics industry with complete system solutions focused on industrial, consumer, communications, computing and automotive markets.
About Qorvo
Qorvo (Nasdaq: QRVO) makes a better world possible by providing innovative Radio Frequency (RF) solutions at the center of connectivity. We combine product and technology leadership, systems-level expertise and global manufacturing scale to quickly solve our customers' most complex technical challenges. Qorvo serves diverse high-growth segments of large global markets, including advanced wireless devices, wired and wireless networks and defense radar and communications. We also leverage unique competitive strengths to advance 5G networks, cloud computing, the Internet of Things, and other emerging applications that expand the global framework interconnecting people, places and things. Visit www.qorvo.com to learn how Qorvo connects the world.
Qorvo is a registered trademark of Qorvo, Inc. in the U.S. and in other countries. All other trademarks are the property of their respective owners.