Science and Technology Partnership Sees Long-Term Success
GREENSBORO, N.C. and HILLSBORO, Ore. – July 15, 2015 – Qorvo, Inc. (NASDAQ: QRVO), a leading provider of core technologies and RF solutions for mobile, infrastructure and aerospace/defense applications, announced that components manufactured in its facilities played a critical role in the New Horizons' Pluto exploration flight this month.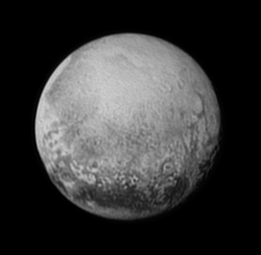 Pluto as seen from New Horizons on July 11, 2015
Image Credit: NASA/JHUAPL/SWRI
"Through our partnership with Qorvo™, Johns Hopkins' graduate students were able to simulate, design and test a frequency tripler. Modified for a slightly different frequency, one of those narrowband tripler design variations was chosen for the Pluto mission's digital receiver," said Johns Hopkins University – Engineering for Professionals Professor John Penn. "We've worked with Qorvo for 25 years and we've designed technology for the Pluto space exploration mission; it's an exciting time to see this technology come to fruition."
Qorvo has also equipped the spacecraft with voltage control oscillators (VCOs) in the X-Band uplink doppler tracking & command receiver and X-Band downlink transmitter.
The New Horizons spacecraft flew past Pluto yesterday after traveling three billion miles since its launch in 2006. This spacecraft entered an area called the Kuiper Belt to collect data and imagery of Pluto and its moons to send it back to Earth for assessment.
"These components show how Qorvo technology stands up to the harshest environments, in space where reliability over several years is paramount," said Roger Hall, General Manager of Defense and Space Products at Qorvo. "Johns Hopkins and Qorvo's focus on empowering students to design, test and experience advanced technology has led to an important contribution to the New Horizons mission."
This mission marks the first ever visit to the Kuiper Belt, a large zone at least a billion miles beyond Neptune, which contains small, icy orbiting objects. The New Horizons spacecraft seeks to provide more information about how Pluto and its moons, and this "third zone of our solar system" are characterized versus the larger inner planets made up of rock and gas.
About Johns Hopkins
The Johns Hopkins University Applied Physics Laboratory in Laurel, Maryland, designed, built, and operates the New Horizons spacecraft, and manages the mission for NASA's Science Mission Directorate. The Southwest Research Institute, based in San Antonio, leads the science team, payload operations and encounter science planning. New Horizons is part of the New Frontiers Program managed by NASA's Marshall Space Flight Center in Huntsville, Alabama. Johns Hopkins Engineering for Professionals give working adults a convenient way to advance their education and competitiveness with eighteen master's degree programs in traditional and newly emerging fields.
About Qorvo
Qorvo (NASDAQ:QRVO) is a leading provider of core technologies and RF solutions for mobile, infrastructure and aerospace/defense applications. Qorvo was formed following the merger of RFMD and TriQuint, and has more than 6,000 global employees dedicated to delivering solutions for everything that connects the world. Qorvo has the industry's broadest portfolio of products and core technologies; world-class ISO9001-, ISO 14001- and ISO/TS 16949-certified manufacturing facilities; and is a DoD-accredited 'Trusted Source' (Category 1A) for GaAs, GaN and BAW products and services. For the industry's leading core RF solutions, visit www.qorvo.com.
Qorvo Media Contact
Katie Caballero
Marketing Communications Manager
Qorvo Infrastructure and Defense Products
+1-972-994-8546
katie.caballero@qorvo.com
This press release includes "forward-looking statements" within the meaning of the safe harbor provisions of the Private Securities Litigation Reform Act of 1995. These forward-looking statements include, but are not limited to, statements about our plans, objectives, representations and contentions and are not historical facts and typically are identified by use of terms such as "may," "will," "should," "could," "expect," "plan," "anticipate," "believe," "estimate," "predict," "potential," "continue" and similar words, although some forward-looking statements are expressed differently. You should be aware that the forward-looking statements included herein represent management's current judgment and expectations, but our actual results, events and performance could differ materially from those expressed or implied by forward-looking statements. We do not intend to update any of these forward-looking statements or publicly announce the results of any revisions to these forward-looking statements, other than as is required under the federal securities laws. Qorvo's business is subject to numerous risks and uncertainties, including variability in operating results, the inability of certain of our customers or suppliers to access their traditional sources of credit, our industry's rapidly changing technology, our dependence on a few large customers for a substantial portion of our revenue, our ability to implement innovative technologies, our ability to bring new products to market and achieve design wins, the efficient and successful operation of our wafer fabrication facilities, assembly facilities and test and tape and reel facilities, our ability to adjust production capacity in a timely fashion in response to changes in demand for our products, variability in manufacturing yields, industry overcapacity and current macroeconomic conditions, inaccurate product forecasts and corresponding inventory and manufacturing costs, dependence on third parties and our ability to manage channel partners and customer relationships, our dependence on international sales and operations, our ability to attract and retain skilled personnel and develop leaders, the possibility that future acquisitions may dilute our shareholders' ownership and cause us to incur debt and assume contingent liabilities, fluctuations in the price of our common stock, additional claims of infringement on our intellectual property portfolio, lawsuits and claims relating to our products, security breaches and other similar disruptions compromising our information and exposing us to liability, the impact of stringent environmental regulations, and the impact of the integration of Qorvo. These and other risks and uncertainties, which are described in more detail in Qorvo's 8K and other reports and statements filed with the Securities and Exchange Commission, could cause actual results and developments to be materially different from those expressed or implied by any of these forward-looking statements.