Low power Qorvo® chips enhance connectivity, reliability of new Luna Smart Home System
GREENSBORO, N.C. and STEINAU AN DER STRASSE, Germany – July 21, 2016 – Qorvo® (NASDAQ: QRVO), a leading provider of innovative RF solutions that connect the world, and Levarys, a leading developer and manufacturer of smart thermostat solutions, today announced that Levarys' new Luna Smart Home System for energy management includes ZigBee chips from Qorvo's Low Power Wireless business (formerly GreenPeak Technologies). Qorvo's ZigBee Green Power chips enable secure, long range and highly reliable wireless transmission of data between the gateway and multiple sensors and activators of the Luna Smart Home System. Qorvo's ZigBee Green Power chips' very low current draw significantly extends battery life, making the system essentially maintenance free.
Smart energy is a top smart home adoption driver. By 2020, ON World projects that global annual revenue for smart home systems and services will exceed $26 billion. "As smart home adoption accelerates, consumers have increasing demands and expectations for their systems," says Mareca Hatler, ON World's Research Director. "Qorvo's low power wireless innovations and ZigBee components are deployed in tens of millions of homes with a growing footprint worldwide."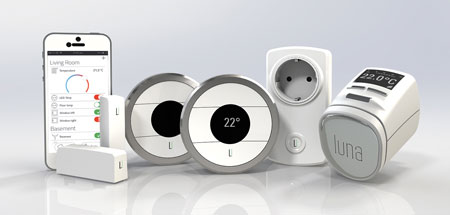 Levarys' new Luna Smart Home System consists of stylish thermostats, smart radiator valves; temperature, door and window sensors, and smart plugs that are wirelessly connected to the gateway.
"Our new Luna smart home solution gives customers a set of smart devices that seamlessly interact, creating more comfort at home, saving energy and making life easier," according to Annette Herber and Anita Hübner, Managing Directors of Levarys GmbH. "By choosing Qorvo's ZigBee chips we can offer end users the reliable and flexible wireless network they need."
"Qorvo's Low Power Wireless business unit is where the smart home and IoT meet innovative chip design," said Cees Links, General Manager of Qorvo's Low Power Wireless business unit. "By choosing our chips for the new Luna system, Levarys can provide future-proofed, scalable solutions to end users. Smart services that address real customer needs – instead of providing just engineering features – will further accelerate the growth of the connected world."
Levarys' new Luna Smart Home System consists of stylish thermostats, smart radiator valves; temperature, door and window sensors, and smart plugs that are wirelessly connected to the gateway. The flexibility of Qorvo's wireless network allows Levarys to offer starter kits that can be extended with extra devices fitting the requirements of any house. With an easy-to-use app on a smartphone or tablet, users can turn devices on and off and control the thermostat while at home or on the road, providing comfort and significant energy savings. The Luna system also makes intelligent decisions based on input from sensors. For example, residents can efficiently heat individual rooms by combining a smart radiator valve with a small temperature and window sensor. If someone forgets to close a window, the Luna system will automatically stop heating the room. It will also turn the heating back on once the window is closed.
From the gateway to the smart plug, all Luna smart home devices are elegantly designed for today's contemporary homes. In order to protect the personal data of the residents, information from the devices is collected and managed on secure servers hosted in a German datacenter. The new ZigBee Luna Smart Home System will be available as an end user kit at electronics retailers in Germany, Austria and Switzerland as of September 2016.
Qorvo's Low Power Wireless solutions offer superior range, robustness and best-in-class Wi-Fi interference rejection with no latency in production-ready designs. Qorvo's highly integrated RF solutions and systems-on-a-chip (SoCs) allow quick time to market for customers serving the connected home and the rapidly growing Internet of Things (IoT).
About Levarys
The Levarys GmbH represents know-how from over 15 years of "Made in Germany" smart home technology. The care that we put into detail and the identification with our products are what set us apart. Team spirit and motivation are the cornerstones of our success. We are convinced that uncompromising product design and an intuitive operating concept allow for great smart home experiences from the very beginning. Levarys – the name for top quality, innovative products and the development of state-of-the-art software solutions for house and building automation systems.
About Qorvo
Qorvo (NASDAQ:QRVO) makes a better world possible by providing innovative RF solutions at the center of connectivity. We combine product and technology leadership, systems-level expertise and global manufacturing scale to quickly solve our customers' most complex technical challenges. Qorvo serves diverse high-growth segments of large global markets, including advanced wireless devices, wired and wireless networks and defense radar and communications. We also leverage our unique competitive strengths to advance 5G networks, cloud computing, the Internet of Things, and other emerging applications that expand the global framework interconnecting people, places and things. Visit www.qorvo.com to learn how Qorvo connects the world.
Investor Relations Contact:
Doug DeLieto
VP, Investor Relations
+1-336-678-7088
Media Contact:
Kristien Lippens
Marketing Communications Specialist
Low Power Wireless
kristien.lippens@qorvo.com
+32-52-458739
This press release includes "forward-looking statements" within the meaning of the safe harbor provisions of the Private Securities Litigation Reform Act of 1995. These forward-looking statements include, but are not limited to, statements about our plans, objectives, representations and contentions and are not historical facts and typically are identified by use of terms such as "may," "will," "should," "could," "expect," "plan," "anticipate," "believe," "estimate," "predict," "potential," "continue" and similar words, although some forward-looking statements are expressed differently. You should be aware that the forward-looking statements included herein represent management's current judgment and expectations, but our actual results, events and performance could differ materially from those expressed or implied by forward-looking statements. We do not intend to update any of these forward-looking statements or publicly announce the results of any revisions to these forward-looking statements, other than as is required under the federal securities laws. Qorvo's business is subject to numerous risks and uncertainties, including variability in operating results, the inability of certain of our customers or suppliers to access their traditional sources of credit, our industry's rapidly changing technology, our dependence on a few large customers for a substantial portion of our revenue, our ability to implement innovative technologies, our ability to bring new products to market and achieve design wins, the efficient and successful operation of our wafer fabrication facilities, assembly facilities and test and tape and reel facilities, our ability to adjust production capacity in a timely fashion in response to changes in demand for our products, variability in manufacturing yields, industry overcapacity and current macroeconomic conditions, inaccurate product forecasts and corresponding inventory and manufacturing costs, dependence on third parties and our ability to manage channel partners and customer relationships, our dependence on international sales and operations, our ability to attract and retain skilled personnel and develop leaders, the possibility that future acquisitions may dilute our shareholders' ownership and cause us to incur debt and assume contingent liabilities, fluctuations in the price of our common stock, additional claims of infringement on our intellectual property portfolio, lawsuits and claims relating to our products, security breaches and other similar disruptions compromising our information and exposing us to liability, the impact of stringent environmental regulations, and the impact of integrating the businesses of RFMD and TriQuint. These and other risks and uncertainties, which are described in more detail in Qorvo's most recent Annual Report on Form 10-K and in other reports and statements filed with the Securities and Exchange Commission, could cause actual results and developments to be materially different from those expressed or implied by any of these forward-looking statements.