Wi-Fi front-end modules run cooler and deliver higher throughput, creating a bridge to greater capacity
GREENSBORO, NC – April 12, 2017 – Qorvo® (Nasdaq:QRVO), a leading provider of innovative RF solutions that connect the world, continues to advance 802.11ax migration as customers implement its recently released portfolio of Wi-Fi front-end modules (FEMs). The company's new 2.4GHz and 5GHz FEMs, and bulk acoustic wave (BAW) filters, provide the high throughput and extreme thermal efficiency that are central to high-density 802.11ax Wi-Fi connectivity.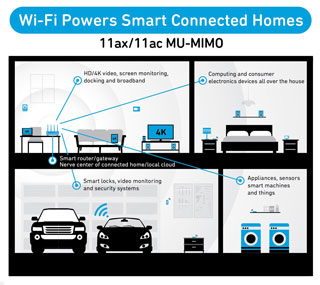 Wi-Fi Powers Smart Connected Homes
Brad Shaffer, senior analyst, Mobile Devices & Networks at IHS Markit, said, "Qorvo's Wi-Fi FEM and BAW filter products are examples of the RF components which will be required to enable the developing 802.11ax standard and help Wi-Fi manufacturers realize the benefits of increased capacity and broader coverage indicative of 802.11ax."
James Klein, president, Qorvo Infrastructure and Defense Products, said, "Our customers are seeing firsthand how Qorvo technology is improving capacity and supporting multiple, high-performance Wi-Fi applications operating simultaneously in the same space. We are expanding our Wi-Fi portfolio across retail, enterprise, service provider and set-top-box markets, and will support the earliest market releases of 802.11ax solutions."
The 802.11ax standard will deliver significantly greater capacity – which translates into more data, more devices and more services – over different frequency networks. In 2016, ABI Research forecast that 802.11ax will account for nearly 60 percent of the 21 billion Wi-Fi chipsets expected to ship by 2021.
The most recently introduced Qorvo Wi-Fi FEM family lays the foundation for 802.11ax with its support for 802.11ac and Wave 2 1024QAM. The 5GHz FEMs in the family offer more than 1.2 Gbps throughput per stream (with up to eight streams), the highest achievable data rate. These capabilities support the essential requirements of 802.11ax, such as multi-user multiple-input/multiple-output (MU-MIMO), extended range and high throughput, as well as denser-capacity Orthogonal Frequency Division Multiple Access (OFDMA) modulation. Qorvo's BAW technology addresses thermal concerns, harmonic compliance and band-edge performance to enable broad power transmission across the full allocated spectrum. This enables maximum range and reliable throughput for Wi-Fi applications.
Detailed information about Qorvo Wi-Fi solutions is available on our wi-fi integrated modules page.
About Qorvo
Qorvo (NASDAQ:QRVO) makes a better world possible by providing innovative RF solutions at the center of connectivity. We combine product and technology leadership, systems-level expertise and global manufacturing scale to quickly solve our customers' most complex technical challenges. Qorvo serves diverse high-growth segments of large global markets, including advanced wireless devices, wired and wireless networks and defense radar and communications. We also leverage our unique competitive strengths to advance 5G networks, cloud computing, the Internet of Things, and other emerging applications that expand the global framework interconnecting people, places and things. Visit www.qorvo.com to learn how Qorvo connects the world.
Qorvo is a registered trademark of Qorvo, Inc. in the U.S. and in other countries.
Investor Relations Contact:
Doug DeLieto
VP, Investor Relations
+1-336-678-7088

Media Contact:
Katie Caballero
Marketing Communications Manager
Qorvo Infrastructure and Defense Products
+ 1 972-994-8546
katie.caballero@qorvo.com
This press release includes "forward-looking statements" within the meaning of the safe harbor provisions of the Private Securities Litigation Reform Act of 1995. These forward-looking statements include, but are not limited to, statements about our plans, objectives, representations and contentions and are not historical facts and typically are identified by use of terms such as "may," "will," "should," "could," "expect," "plan," "anticipate," "believe," "estimate," "predict," "potential," "continue" and similar words, although some forward-looking statements are expressed differently. You should be aware that the forward-looking statements included herein represent management's current judgment and expectations, but our actual results, events and performance could differ materially from those expressed or implied by forward-looking statements. We do not intend to update any of these forward-looking statements or publicly announce the results of any revisions to these forward-looking statements, other than as is required under the federal securities laws. Qorvo's business is subject to numerous risks and uncertainties, including variability in operating results, the inability of certain of our customers or suppliers to access their traditional sources of credit, our industry's rapidly changing technology, our dependence on a few large customers for a substantial portion of our revenue, a loss of revenue if contracts with the U.S. government or defense and aerospace contractors are canceled or delayed, our ability to implement innovative technologies, our ability to bring new products to market and achieve design wins, the efficient and successful operation of our wafer fabrication facilities, assembly facilities and test and tape and reel facilities, our ability to adjust production capacity in a timely fashion in response to changes in demand for our products, variability in manufacturing yields, industry overcapacity and current macroeconomic conditions, inaccurate product forecasts and corresponding inventory and manufacturing costs, dependence on third parties and our ability to manage platform providers and customer relationships, our dependence on international sales and operations, our ability to attract and retain skilled personnel and develop leaders, the possibility that future acquisitions may dilute our shareholders' ownership and cause us to incur debt and assume contingent liabilities, fluctuations in the price of our common stock, additional claims of infringement on our intellectual property portfolio, lawsuits and claims relating to our products, security breaches and other similar disruptions compromising our information and exposing us to liability, and the impact of stringent environmental regulations. These and other risks and uncertainties, which are described in more detail in Qorvo's most recent Annual Report on Form 10-K and in other reports and statements filed with the Securities and Exchange Commission, could cause actual results and developments to be materially different from those expressed or implied by any of these forward-looking statements