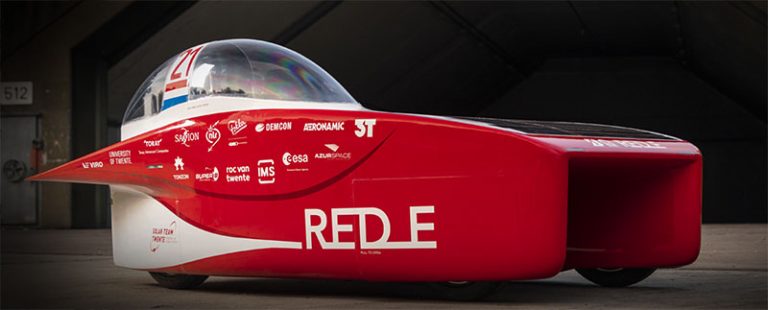 October 2nd, 2019, Princeton, New Jersey— A Dutch solar car team from University of Twente and Saxion Hogeschool has selected silicon carbide (SiC) devices from UnitedSiC, a manufacturer of SiC power semiconductors, ahead of a major solar racing challenge in October.
UnitedSiC provided product samples of their FAST Series of SiC FETs to Solar Team Twente, which they selected on the basis of superior performance. The team is testing the SiC devices for use in innovative electronics for their solar cars. The new solar car 'RED E' is aiming of reaching the top position in the Bridgestone World Solar Challenge (BWSC), which takes place on October 13, 2019.
Participating teams from schools and universities in over 30 countries have built their own custom-made solar-powered vehicles and will traverse 3,000 km (1,864 miles) of Australian outback from Darwin to Adelaide, facing scorching heat and challenging terrain over public roads.
Solar Team Twente consists of students of different disciplines ranging from mechanical and electrical engineers to marketing students, all working together with one goal in mind: to cross the finish line first.
"At Solar Team Twente we try to make everything as efficient as possible. Since most commercial electronics do not meet our high demands, we develop our own," says Devon Screever, Electrical Engineer at Solar Team Twente. "At the moment, Solar Team Twente develops and produces the entire electrical system of the vehicle, from solar panel, battery, and even the drivetrain. The motor controller and electrical motor are also developed by the team. To ensure we get the best possible performance, we are continuously looking to new technologies, including silicon carbide. With SiC we can reduce our switching losses drastically, while reliability and robustness remains guaranteed."
SiC FETs from UnitedSiC are based on a unique "cascode" circuit configuration, in which a normally-on SiC JFET is co-packaged with a Si MOSFET to produce a normally-off SiC FET device. With its standard gate-drive characteristics, the SiC FETs offer a "drop-in replacement" capability for higher performance in existing designs that use Silicon (Si) IGBTs, Si FETs, SiC MOSFETs or Si superjunction devices.
"For new designs such as this solar car project, UnitedSiC FAST Series SiC FETs will offer the designers significant system benefits from the device's increased switching frequencies, such as increased efficiency and reduction in the size and cost of passive components," says Anup Bhalla, VP of Engineering at UnitedSiC. "The FAST Series devices offer not only ultra-low gate charge, but also the best reverse recovery characteristics of any device of similar ratings.
"Solar Team Twente's selection of these products is an indication of just how much of a competitive advantage SiC FETs from UnitedSiC can offer, particularly in the challenging environment of the Bridgestone World Solar Challenge. We wish the team success ahead of the race in October."
The UnitedSiC UF3C FAST SiC series, which now totals 14 devices, is available in a range of TO247-3L, TO247-4L, TO220-3L and D2PAK7-3L packages, with four 1200V and ten 650V options.
"We are challenging the future of sustainable mobility by using the power of the sun as a primary source of renewable energy," concluded Screever. "Solar Team Twente inspires all generations to contribute towards a sustainable future. Being challenged triggers innovation and this is why we believe we have created one of the best solar cars in the world to participate in the Bridgestone World Solar Challenge."