In a world where we increasingly work, learn, shop and play in the virtual space, the demand for upstream connectivity is growing exponentially. Multiple system operators (MSOs) are already seeing their coaxial network capacity – and their customers – benefit from the implementation of Data Over Cable Service Interface Specification (DOCSIS®) 3.1. DOCSIS enables high-bandwidth data transfer over existing hybrid fiber-coaxial infrastructure.
DOCSIS 3.1 has moved the industry to 1.2 GHz. But if MSOs are to keep pace with the needs of consumers around the world, the needle needs to move higher and faster. Extended Spectrum DOCSIS 4.0 will further increase frequencies to 1.8 GHz and is the next step in building architecture that supports higher upstream data rates in traditional FDD HFC Networks.
With DOCSIS 4.0 approved, we can expect support and equipment for it to start shipping in early 2024. This version defines four new splits that expand the spectrum range, which could lead to exciting new applications. Upload-heavy activities like live streaming and content creation will be considerably faster. However, it also poses a challenge for developers building amplifiers for upstream applications, as they will now need to support much higher frequency bands.
"Short-term band splitting projects will begin to give way to longer-term DOCSIS 4.0 upgrades, particularly in the North American market, where operators are looking to increase capacity and keep pace with fiber ISPs," said Jeff Heynen, vice president and analyst with the Dell'Oro Group. "These upgrades will result in a significant increase in spending on optical nodes, amplifiers, and passive equipment, including taps and hardline splitters," added Heynen1 .
This blog provides excerpts from the Qorvo Design Summit webinar, Using Flexible Architecture to Meet DOCSIS 4.0 Higher Bandwidth Upstream Requirements, which explains DOCSIS 4.0 and its new upstream options and also discusses the data throughput and bandwidth considerations. The blog, and the white paper, How to Increase Downstream Bandwidth and Upstream Capabilities in CATV Amplifiers with Greater Efficiency, are definitely worth checking out, especially if you're into next-generation technologies and the advances that are driving them.
DOCSIS 4.0 Spectrum Options
The DOCSIS 4.0 spectrum options are substantially improved over its previous iterations. With this latest version, users can now enjoy download speeds of up to 10 Gbps and upload speeds of up to 6 Gbps, which is a significant boost in speed and a major upgrade in terms of latency reduction. To facilitate these faster speeds, DOCSIS 4.0 also includes Extended Spectrum Technology, which expands the upstream spectrum to 684 MHz and the downstream spectrum to 1.8 GHz. This expanded spectrum creates a much larger pathway for data travel, allowing for even faster and more efficient data transfer.
Extended Spectrum provides four new split options in DOCSIS 4.0, adding flexibility to implementations with additional ultra-high splits. Using frequency division duplexing (FDD), upstream and downstream are separated. The nature of the specific use cases will determine which splits are advantageous for upstream and downstream requirements.
Using 96 MHz block Orthogonal Frequency Division Multiple Access (OFDMA) lets multiple customers share a channel for upstream access with time-division multiple access format techniques. Operators can pick the split that best suits their needs. The 204 MHz and 396 MHz splits are likely to be the most popular, providing a reasonable balance of 2.5 – 3.0 Gbps upstream and 10 Gbit/sec downstream rates.

Figure 1. DOCSIS 4.0 ESD Data Throughput
DOCSIS Technology Innovation
Qorvo offers a complete portfolio of RF solutions for DOCSIS 3.0, DOCSIS 3.1, and DOCSIS 4.0, and leverages its extensive industry experience to provide support that can accelerate designs, manufacturing and testing.
For Downstream Applications, its newest product for high-power fiber deep applications for DOCSIS 3.1 and FDX DOCSIS 4.0 networks is the QPA3260 or QPA3246 power-doubler hybrid, which provides the highest linear output power up to 1.2 GHz. For FDD DOCSIS 4.0, the QPA3314 power-doubler hybrid is the equivalent for applications needing to support 1.8 GHz. The QPA3260, QPA3246 and QPA3314 provide 23 dB gain with industry-leading linearity.
Qorvo's dedicated manufacturing operation supports the superior levels of automation required for producing millions of pieces each year, and the quality and reliability required by the CATV market. In addition, the company's testing of CATV systems is very comprehensive and product specific. To assure consistent quality and reliability, Qorvo implements small signal and distortion testing across 100% of its CATV Hybrid amplifier production. Additionally, testing includes multi-carrier (composite) distortion testing with legacy analog loading or state-of-the-art digital loadings with single-carrier-QAM or OFDM channels.
For Upstream Applications, Qorvo offers a building block approach that allows customers to put the devices where needed in their end application. The devices include small form factor, low power consumption amplifiers plus attenuators, equalizers and switches. They enable MSOs to provide the full bandwidth, 5 MHz to 684 MHz, to meet DOCSIS 4.0 requirements at any split.
Qorvo's family of devices includes single-ended and differential amplifiers that can cover the full DOCSIS upstream spectrum. Qorvo also offers a family of voltage-controlled attenuators and digital-step attenuators. The innovative family of upstream variable equalizers are available in linear or cable compensated versions. The new devices slated for release in 2024 will provide much less loss for splits lower that 396 MHz and options for inverse cable compensation.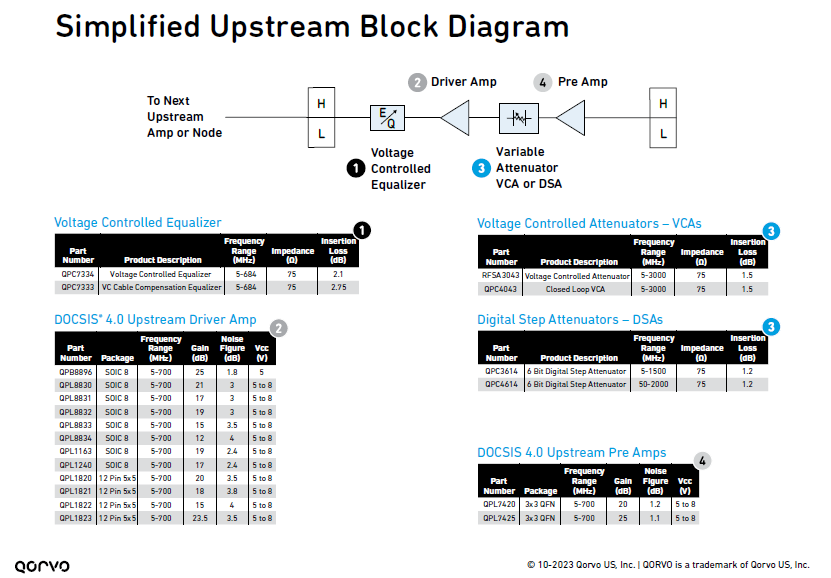 Figure 2. Qorvo's building-block approach enables MSOs to deliver DOCSIS 4.0 and other extended spectrum applications.
Paving the Way for New Applications
Overall, DOCSIS 4.0 is expected to bring significant improvements to the cable network infrastructure and enable a wide range of applications that require faster internet speeds, increased capacity and improved network efficiency. MSOs are fully committed to innovative solutions that further extend the spectrum.
Designing amplifiers for DOCSIS 4.0 requires careful consideration of several requirements: higher frequency ranges, higher output power levels and improved noise performance. The Qorvo Design Summit webinar, Using Flexible Architecture to Meet DOCSIS 4.0 Higher Bandwidth Upstream Requirements, and the white paper, How to Increase Downstream Bandwidth and Upstream Capabilities in CATV Amplifiers with Greater Efficiency, offer a more detailed explanation of how to meet these higher upstream requirements.