Solutions with a PAM
To address these challenges, Qorvo has turned to PAMs.
A PAM is an electronic component that integrates the discrete components in a PA, and its surrounding circuitry, into a single packaged solution. For example, in the application of a 5G base station, a PAM might integrate the driver amplifier and final stage amplifier into a single package as opposed to implementing them as discrete circuit blocks. By integrating the entire PA system onto a single module, we can achieve many important results (Figure 1).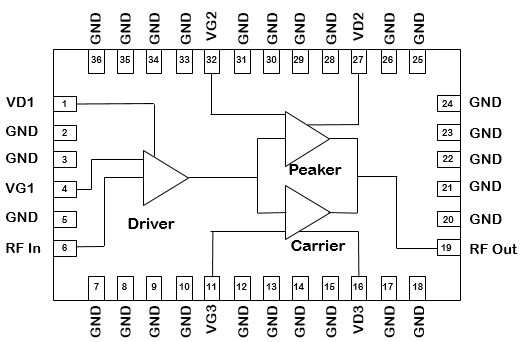 Figure 1: The Qorvo QPA4501 PAM incorporates a Doherty final stage for high power and efficiency.
First, PAMs make the design of RF systems, such as base stations, significantly easier than the discrete option. Instead of selecting components and designing a discrete circuit, designers can instead select a module that fits their needs and implement it within their system as a whole.
Beyond this, PAMs can offer improved performance and area when compared to non-module solutions. By integrating the components, layout concerns, such as parasitics, can be minimized, resulting in higher performance and efficiency. Qorvo PAMs also address considerations like impedance matching for the designer, ensuring that maximum performance is attainable.
Lastly, this integration allows for smaller systems on average, saving weight and area for users in their final system design.
Qorvo's PAM Expertise
Qorvo offers the industry's largest, most innovative GaN-on-SiC portfolio to help users realize superior efficiency and operational bandwidth. The GaN-on-SiC products deliver high power density, reduced size, excellent gain, high reliability and process maturity. Qorvo recognizes the importance of PAMs in the future of 5G system designs and is working to bring industry-leading solutions to the market. Qorvo's PAMs aim to offer a balance of power, efficiency, size and cost while making the design as easy as possible for the users.