Qorvo was among the 4,400 exhibiting companies at the Consumer Electronics Show this year, showcasing innovative products and solutions in the exciting area of IoT, Wi-Fi 6 and V2X. This post provides a summary of what we unveiled along with a glimpse of what the future may bring…ready for more robots and an even smarter home? Nikolaus Klemmer, one of Qorvo's system architects, provides his fresh perspective on some of the highlights from CES.
Highlights from Qorvo's Point-of-View
Transportation
We can't help but get excited about the evolution of transportation and the new technology that surrounds it. Innovative use cases around electric mobility (cars, motorcycles, electronic bicycles) and in the form of "future mobility" – even drone-like flying taxis were on display. While the notion of self-driving cars seems to have transitioned to the new normal, cars were still a focus across the show floor. Qualcomm featured autonomous driving controllers and telematics control units (TCU) to enable "car-to-cloud" as well as vehicle-to-infrastructure connectivity through the cellular 5G network (V-V2X).
Cellular vehicle-to-everything (C-V2X) was also highlighted in the Samsung exhibit area with displays of its TCU prototype and a live demo of the safety benefits from interaction between cars and the surrounding environment.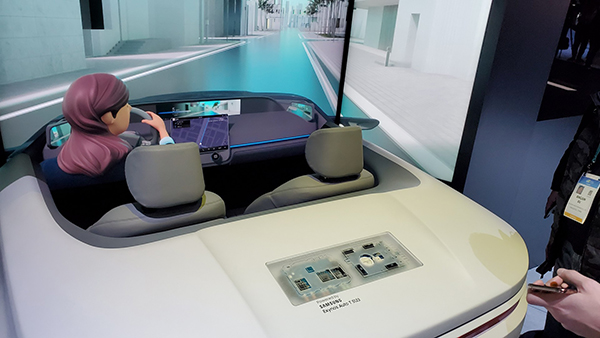 Samsung showcased its 5G telematics controlled by the Exynos Auto T 5123 for the intelligent, connected car.
Robotics
On the robotics front, we saw everything from "pet entertainment" gadgets (e.g., Samsung Ballie) to industrial and home security robots, home cleaning robots, even walking humanoids with simulated emotions. Progress here is fueled by the fusion of multiple sensing modalities and the application of artificial intelligence (AI) local to the robot itself. One of the more interesting robots featured is the autonomous "sensing robot" made to move through large areas such as server farms to observe the status (temperature, error displays, read displays) or warehouses to assist with inventory management (visually check racks, read bar codes, scan RFIDs). The most impressive robotics demonstration was a ping-pong playing robot by Omron, showcasing state of the art perception, computation, and actuation.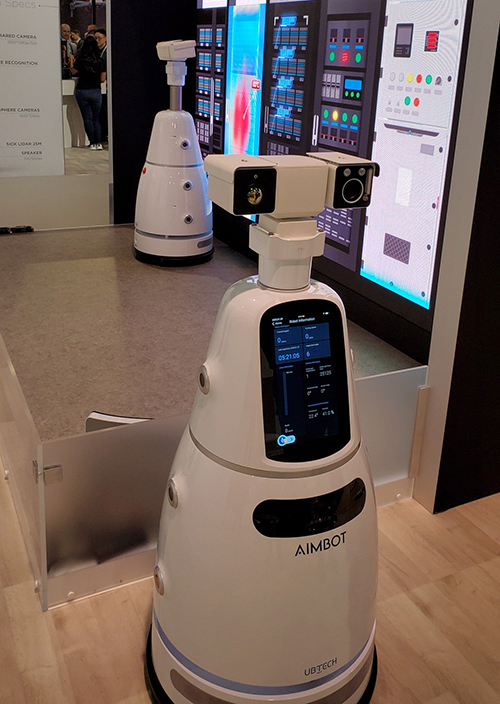 Robots were in high attendance at CES. UBTECH's AIMBOT is an autonomous indoor monitoring robot built for intelligent inspection of data centers for everything from inventory management to safety and security.
The Smart Home Gets Smarter
With each new year, the number of smart home products announced at the show seems to quadruple from the year before, showing a trend for the adoption and demand in households across the globe. In a few of the pavilions, showgoers witnessed firsthand the pioneering technologies centered around security, control, sensing, remote access to the home or devices within it. The possibilities for the smart home seem endless and we got the impression that only creativity is the limit here. For example, Kohler displayed a smart faucet, which is configured via Alexa and can dispense a desired amount of water at a desired temperature on command.
What did Qorvo Showcase?
CES is an important venue for Qorvo because we provide many of the technologies that drive innovation in consumer electronics. This year we made significant announcements related to 5G, IoT, Wi-Fi 6, and automotive – many of them breakthroughs that will continue to advance technology that connects the world.
A Smarter Home
The possibilities for smart home products seem endless. Qorvo made several announcements about new products that support new use cases in the connected home. They include the following:
Qorvo's transceiver chip enables simultaneous operation of all low-power, open-standard smart home technologies
We announced the introduction of the QPG7015M transceiver, which is a System-on-Chip that allows multiple protocols and applications of smart home devices to communicate at a greater range. With the integration of multi-protocol support, it ensures that IoT designers don't have to sacrifice device size and appearance to achieve protocol concurrency and high performance.
Industry's first iFEM for reliable, whole-home coverage when designed into Wi-Fi 6 (802.11ax) systems
Wi-Fi 6 is gaining rapid momentum and new Qorvo products help to make it a reality. The new QPF7219 iFEM combines Qorvo's advanced BAW filter technology with its unique edgeBoost™ – or flat power – capability, nearly doubling Wi-Fi range and tripling capacity to handle more devices. With more than 50 billion connected wireless devices around the world by 2022 – as predicted by the Wi-Fi Alliance – the QPF7219 helps to make this a reality. It opens up the full 2.4GHz Wi-Fi bandwidth, making it all usable throughout the smart home and delivering more FCC-compliant range than any competing product. The compact size and addition of edgeBoost resolves interference, improves efficiency and reduces size – all while increasing speed, extending coverage and connecting more devices.

Qorvo® edgeBoost™ provides unique flat-power capability that maximize capacity and range by boosting output power at channels close to the band edge.
World's smallest, highest-performing Wi-Fi 6 solution with seamless IoT integration
Continuing with the trend for Wi-Fi 6 and IoT, Qorvo announced support for seamless integration with a new kit. The QPK8642 kit advances Qorvo's concept of a smart, connected home where there is a pod in every room, and where the challenge is to keep in synch with the changing requirements of the connectivity market. The kit includes QPQ1903, QPQ1904 and QPF4551 (all 5 GHz) and the new QPF7219 (2.4 GHz) Wi-Fi filters, along with the new QPG7015M IoT transceiver. By combining these capabilities, designers get performance in capacity and coverage, along with Zigbee, Thread and Bluetooth® Low Energy connectivity, all while minimizing cross-radio interference in the connected home.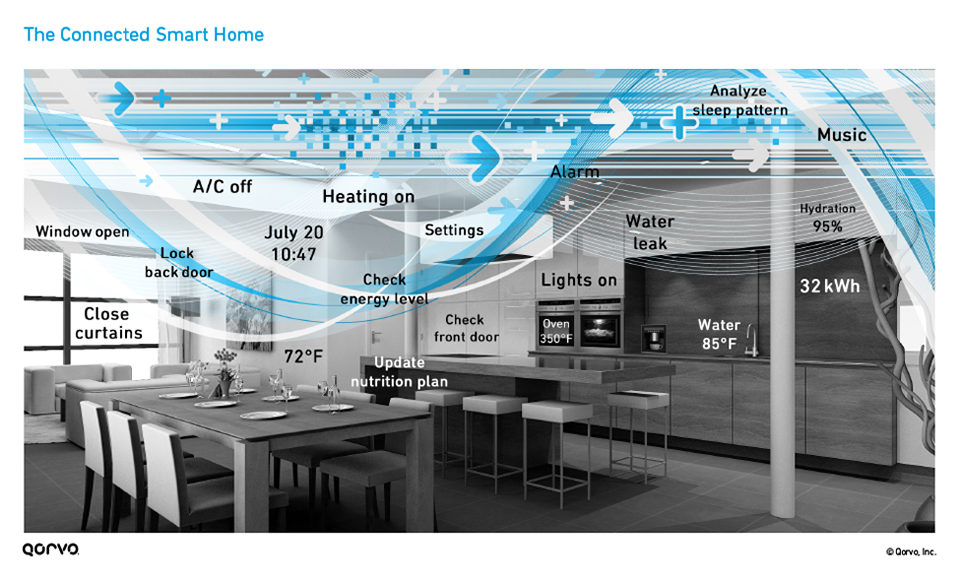 To achieve a truly connected smart home, an enhanced "pod in every room" design serves as the best approach to achieve this distributed Wi-Fi architecture with IoT communications. Because every pod serves as a wireless access point, every access point will support Wi-Fi and IoT standards. This includes the home's increased Wi-Fi requirements as well as Zigbee, Thread and Bluetooth® devices.
Qorvo expands cellular IoT portfolio to support the NB-IoT and LTE-M cellular standards
NB-IoT and LTE-M are two established mobile technologies getting focused attention and gaining adoption. To that end, Qorvo announced the addition of two RF front-end (RFFE) modules that support the NB-IoT and LTE-M cellular standards allowing our customers to design always-on global connectivity for a massive number of devices, including applications that weren't previously feasible. We partnered with Nordic Semiconductor to develop cellular IoT solutions using Qorvo's RFFE modules, which offer high integration, and minimize the size and power consumption that are critical battery-powered devices.
Driving Innovation for the Connected Car
Announcements from companies big and small at CES reinforced the notion that the connected car is quickly becoming mainstream. Qorvo is committed to advancing it as well and made two announcements related to automotive applications. They include:
Full Suite of Products for V2X
Qorvo's new, complete V2X front-end solution enables a reliable vehicle-to-everything (V2X) link in the Telematics Control Unit (TCU) and antenna. It includes the first Band 47/Wi-Fi bulk acoustic wave (BAW) coexistence filter, which enables Wi-Fi coexistence with the V2X 5.9 GHz band – a capability is critical to establishing reliable links between vehicles and their surroundings.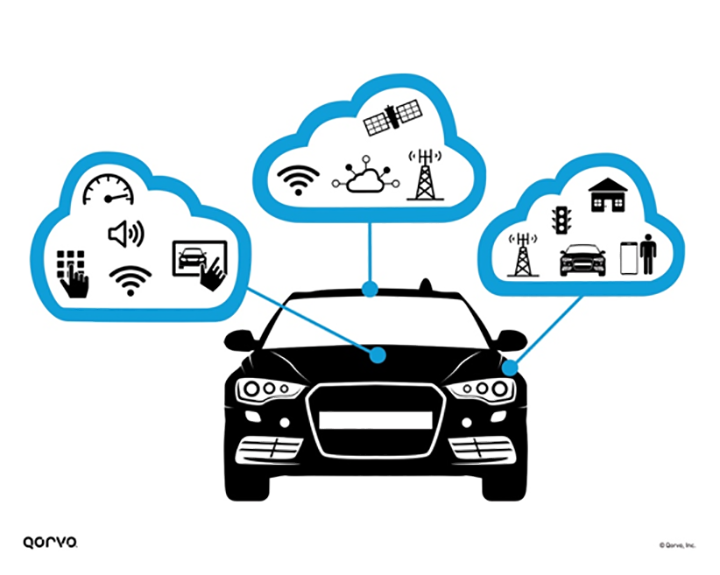 Qorvo Connected Car - V2X, V2V, V2I, V2P and V2N
New power management IC allows for rapid in-vehicle phone charging
We expanded our portfolio of products for rapid in-vehicle charging of phones, tablets and laptops with the announcement of the ACT4751M. It is the industry's first AEC-Q100 qualified step-down, voltage-regulator IC dedicated to USB Type-C® Fast Charger applications, meets all power requirements for USB Fast Charger applications, including the Power Delivery 3.0 Programmable Power Supply (USB PD 3.0 PPS) specification.
Expanding the Wi-Fi 6E, 6 GHz Spectrum
In addition to product and solution announcements, we also announced support for Wi-Fi 6E. As a member of the Wi-Fi Alliance®, Qorvo fully stands behind its efforts to help simplify and enable the 6 GHz spectrum. At CES, we announced that we support the Wi-Fi Alliance's efforts to advance the discussion and implementation of Wi-Fi 6E – the extension of Wi-Fi 6 into the 6 GHz spectrum. As we've done in the past, we'll continue to develop innovative technologies that help customers realize all the benefits of this spectrum expansion.
Happy 5th Anniversary to Qorvo
Lastly, we announced our fifth year as Qorvo. We celebrated this milestone with our UK-based Mobile Product design team launching and safely returning a Qorvo payload 22 miles into space. Qorvo was formed on January 2, 2015, following the merger of RFMD and TriQuint Semiconductor, two companies with many decades of RF expertise in commercial and defense markets.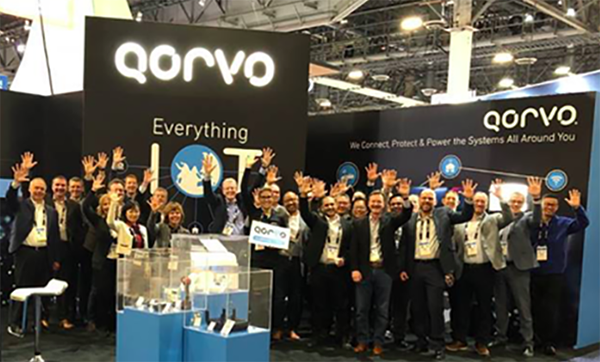 The Qorvo booth at CES 2020 – celebrating five years!
The Bluetooth® word mark and logos are registered trademarks owned by Bluetooth SIG, Inc. and any use of such marks by Qorvo US, Inc. is under license. Other trademarks and trade names are those of their respective owners.