Qorvo and X-Microwave collaborate to provide RF and microwave engineers with modular building blocks for evaluating components, during prototyping, and in production applications.
A growing library of Qorvo components are available in the X-Microwave modular format. Each block is carefully crafted to use individually in a full signal chain. When paired with matching bias or control block, active components are immediately ready to use.
Each X-Microwave block can be used on the prototyping plate, integrated into a connectorized housing as an individual block, or combined with other blocks to build a complete product assembly "on the grid."
Need Help?
Questions?
Call X-Microwave at +1.512.355.7115 or email support@xmicrowave.com.
How to Use X-MWblocks®
Component Evaluation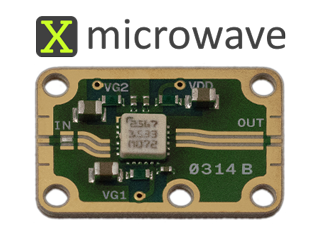 The X-Microwave prototyping plate allows individual parts to be evaluated independently or combined with other blocks to design systems. Each X-MWblock serves as its own functional block and features one or more Qorvo devices. The common 50-ohm launch on each RF port enables common connectivity to every port using the X-Microwave probe. When required, bias and control signals are provided from the bottom side of the prototyping plate, enabling quick high-performance evaluation that is reusable for prototyping and production.

System Prototyping
Every X-MWblock can be combined with any other block to build full system prototypes. The patented solderless interconnect allows for multiple devices to be connected in any configuration on the prototyping plate. System prototypes are clean, compact, and perform remarkably close to that of a custom integrated design. Modular walls, lids, and shield allow you to build a cavity around your design and address potential production issues before they occur.

Production
Each individual block can also be placed in a connectorized housing for production applications or combined to build production subassemblies or IMAs. Individual X-Microwave blocks can be combined and miniaturized on-the-grid at lower cost and lower risk, improving your chances of first-pass success.

Get Started with X-Microwave
What Do You Need To Get Started?
XM-Prototyping Kit
Your favorite Qorvo RF device and its recommended bias controller