High Linearity and Low Power Consumption Devices for Wi-Fi Applications
Are you doing research for Wi-Fi and Internet of Things (IoT) applications? Our product guide offers a simple way to find options that support all your important features and requirements for customer premises equipment (CPE), enterprise systems and IoT.
Our products reduce power consumption and resolve interference while maintaining high throughput and excellent range. We create the most efficient solutions in the smallest form factor, while following the newest Wi-Fi standards.
Download your free copy of our product guide below.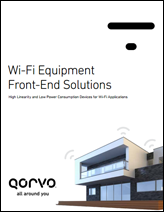 What's Inside:
How to leverage Qorvo technologies for Wi-Fi 6 (802.11ax)
BAW filtering solutions
Front-end modules – with and without integrated filters