Introduction - Going Beyond Silicon
Qorvo's portfolio of development kits for wireless connectivity products not only support a wide range of IoT hardware and software solutions but also include – development tools, documentation, and examples of applications to rapidly prototype and evaluate IoT connectivity solutions. Out-of-the-box, our turnkey reference designs closely mimic application behaviour of IoT products and integrate with major smart home ecosystems. The reference applications ensure ease of implementation for customer software development teams and guarantee a speedy time-to-market. Additionally, the hardware reference designs we provide will optimize the product design and cost, maximize performance and efficiency while being tailor-made for typical IoT products such as light bulbs or gateways.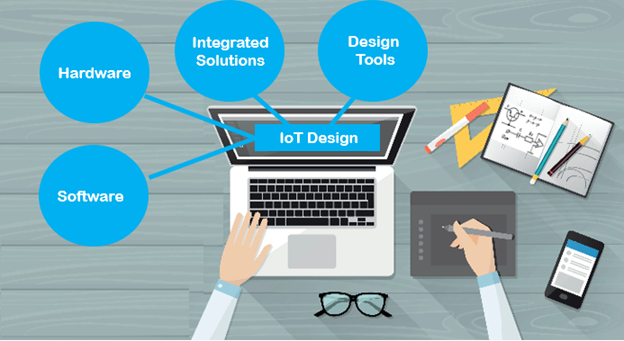 Designing with Qorvo
As a leader in the IoT industry, Qorvo provides the most trusted and reliable services during customer product design and development. Additionally, Qorvo helps customers innovate and differentiate their designs from their competition in any IoT market segment. By continually innovating our IoT product solutions, we solve many challenges faced by today's system developers. Our IoT solutions support wireless communication protocols such as IEEE 802.15.4, Zigbee, Thread, Matter, Bluetooth™ Low Energy, Wi-Fi, and cellular IoT (LTE / NB-IoT).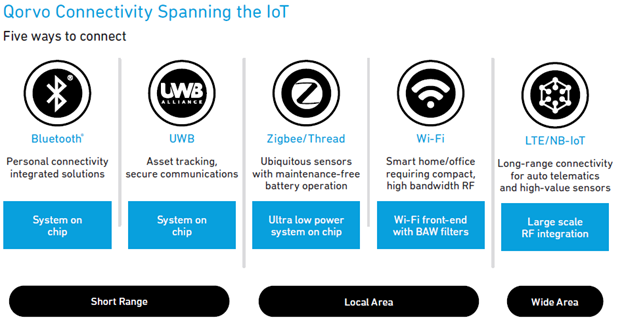 Qorvo offers solutions for the above family of standards using its system-on-chips (SoCs) supported by development tools such as modules, development kits, reference designs and more – all to aid design engineers in creating wireless IoT products. The SoCs provide the technology to help engineers in their designs, seamlessly performing across all standards regardless of the application. These SoC driven development kits and design collateral provide the essential tools to create custom products. Qorvo's IoT products based on the above 5 IoT spaces offer:
High reliability
Robust mitigation to Wi-Fi interference
Industry leading RF range and communication coverage
Low design cost with fast time-to-market
Highly efficient power management
Future-proof capability through over-the-air (OTA) updates
Ultra-low power and long lifetime battery operation (if applicable)
As homeowners, businesses and cities transform their ecosystems into state-of-the-art IoT environments for connectivity anywhere and everywhere, component manufacturers must respond. Qorvo has the advantage of responding early in marketplace developments because it is seated at the table of key standards bodies – testing, streamlining, and driving the direction of adopted solutions.
Where Qorvo Exceeds in Adding Value
Qorvo's patented technologies and unique hardware enable IoT developers to create innovative products that are reliable and secure. ConcurrentConnect™ technology incorporated in our IoT - SoC, provides increased capacity and reliability in multi-protocol use-cases. This unique technology provides constant, instantaneous Bluetooth Low Energy, Thread/Matter and Zigbee listening capability. It also provides a patented antenna diversity which increases the link budget with 8 dB – doubling effective RF range in indoor congested environments.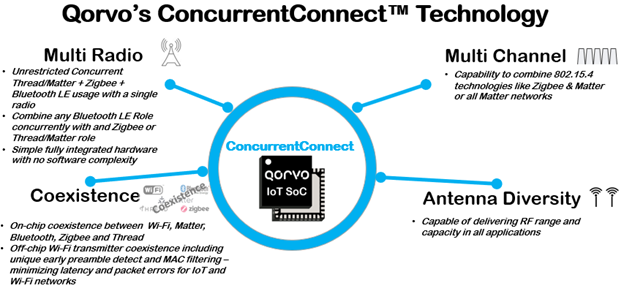 Qorvo's ConcurrentConnect technology adds tremendous capability for low power IoT applications such as gateways, smart home hubs, connected lighting, sensors, smart plugs, thermostats, smart locks, and wearables.
The Software Value Add
Qorvo's software development kits provide an immersive design environment. The software tools accessible on our GitHub site are free and easy to use. These tools allow system engineers to customize their IoT applications and quickly evaluate the hardware performance. Off the shelf hardware and software solutions are easy and intuitive to get you started on your unique design. Moreover, they provide the needed tools to complete your design in a short period of time. The image below explains the key attributes of the Qorvo software development kits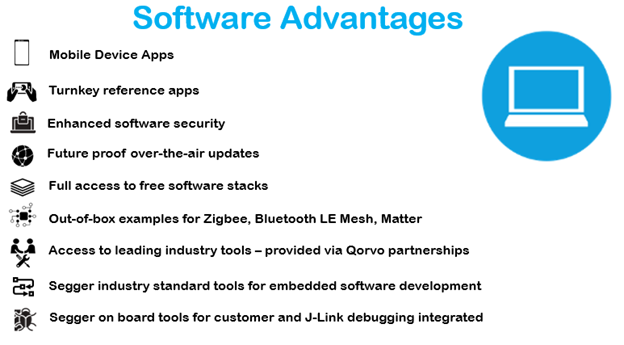 Example applications include a pre-integrated over-the-air (OTA) firmware update mechanism that distributes new firmware images via point-to-point or across the network. This feature helps developers simply copy the code from these example applications in their final product design without having to re-invent the wheel. This function helps developers meet fast time-to-market.
Our smartphone app helps materialize a real-life experience to further assist developers create designs. It supports all the functionality to help test and verify your product. The smartphone app also provides use case-oriented applications for both android and iOS. They include real world interactions with the Bluetooth network, letting developers verify the application and determine its intuitiveness during product development.
Furthermore, the applications are turnkey, meaning they are made as if they were a final IoT product including typical features such as the user interface and the over-the-air update mechanism. These turnkey applications are a great starting point for SW developers and give them a concrete example how to use the available SW API's in a concrete and real use-case.
With all these available software tools developers can opt for a quick design process where only minor tweaks to Qorvo's reference application are needed during the design of their product. Developers can then spend time on the higher-level aspects of the software such as innovative application features and a distinctive and differentiating user interface/experience without squandering valuable design time on data communication issues. Qorvo's software development kit delivers a best-in-class Bluetooth, Matter and Zigbee performance, exceptional interoperability with new and evolving protocols, and offers an effective starting point for developing your IoT end-node products.

Qorvo's development kits include communication stacks for established networking technologies such as Zigbee, Bluetooth LE and Matter. Design engineers can cover all the standards product developers are using to create IoT products with a single development kit.
Qorvo strives to streamline a way for engineers to develop IoT products using best-in-class hardware and software solutions. The development kits enable the most advanced product development, helping designers to develop quickly. Qorvo also provides unique software and hardware tools like our proprietary ConcurrentConnect technology to operate in multi-standard environments. ConcurrentConnect technology can resolve the diverse challenges of maintaining communications across all home and business network environments – opening more opportunities for IoT developers.