Are you an engineer trying to create a new IoT wireless product or ecosystem? This checklist will help you prioritize what's important, what not to forget, and what to keep top of mind while designing your new IoT solution – both theoretically and technically.
Before beginning your design…
Study Your Desired Product Market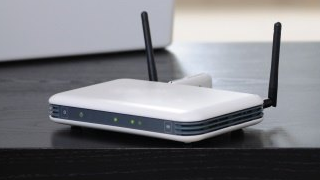 While this is often considered more of a product marketer's responsibility, it's important to define the product that fits your requirements best and know what solutions may already exist. Benchmarking the end products and technical solutions currently available, in addition to studying the end-consumer's needs, provides a good basic starting point for your project. Using available literature to research the market, like this article on Wi-Fi trends, will ensure you're not reinventing the wheel unnecessarily or entering an overly saturated product segment.
Stay Informed on Popular Design Trends in the World of IoT Today
In addition to specific product analysis, it is important to understand what is happening on the design side. Knowing the next IoT trend being designed to simplify your life as an engineer, and that of the consumers using your end-product, will keep you working toward a solution that matters and will be more easily supported and adopted when released.
Define Exactly What Your IoT Solution Will Achieve
To design the best solution for the market, ask yourself purposeful questions to determine the best path forward:
What will the end-product or device be specifically – a new Smart Home solution, wearable IoT sensors, improved routers for the new Wi-Fi 6 (802.11ax)? What are the desired use cases for your target audience – sensors for home monitoring, or a set-top box that would be the main Wi-Fi gateway for a home or business? Once you've narrowed down the product segment, determine what the best solution is to achieve the ideal mix of performance and cost while balancing any necessary tradeoffs that may arise. What signal range and capabilities are required to be successful? Can you afford to sacrifice power or package size if needed to find the parts that fit your budget?
Validate the Best RF Technologies for Your Design – Part 1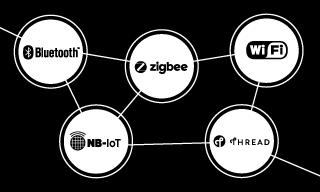 This step goes hand-in-hand with the previous one and is critical in the development of any IoT solution. It might seem obvious that different environments may require different components to achieve the desired results, but the more research you can do before actually testing a design, the less time you'll spend rebuilding for unexpected shortcomings. For example, are you designing for an indoor or an outdoor product? This will determine the type of range and power requirements needed along with potential protocols to use. Regarding power, will you need a long battery life – like for a wearable device – or are you focused on improving power usage in a more stationary unit? Answers to questions like these will also determine the complexity and potential cost of your design.
Validate the Best RF Technologies – Part 2
There are a lot of IoT communication standards to consider – Zigbee, Thread, Bluetooth (Low Energy), NB-IoT, Wi-Fi – and new ones are being developed all the time. It's important to stay educated about all the available options to make the best choice and efficient use of your resources. For example, there are two different categories of standards – open and proprietary protocols – and the choice between the two can often determine the success or failure of your IoT solution in the marketplace. An open protocol is a universal standard that can be used by everyone, interfaces with a variety of devices, and is accepted by the industry at large. Whereas proprietary protocols are usually created by a specific manufacturer and are frequently unable to communicate with devices existing outside of the designated ecosystem. Designing with these options in mind, decide if you would like to see your solution develop and evolve in a closed or an open ecosystem. The open solution might offer more opportunities in the long run.
Know What Is Happening in the Component Market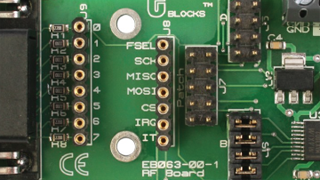 Be sure to check out our regulatory roadmap for future trends or announcements that may affect your design. Awareness of new regulations coming soon for the specific standards or parts with which you are working will help determine if there are any potential shortages planned that may nullify specific components (like the impacted Multilayer Chip Capacitors). If so, make sure you are ready to face the challenges of a redesign by planning ahead for a potential alternative solution.
Once you have a more specific idea of what you are going to design…
Identify Potential Supply Partners
Finding a trusted partner to help develop your solution and achieve your project end goals is very important. This should come early in your planning and design process, especially depending on the scope of design work you are managing internally. The right partner can help you determine potential issues early on as well as support the development of your solution at each step along the way. As your main engineering goal is reaching the best RF performance for your product, make sure to use your partnership to better understand what the tested parameters are for any system or components you choose to use. You also want to ensure all regulatory requirements are met, especially on an international level, so that your final solution is fully compliant and provides a consistent end-user experience. A good design or supply partner will provide guidance on how to best accomplish your desired RF solution and they should be leveraged to discuss these logistical elements as well.
Determine Your Investment in Internal Development
Will you design your own RF board or buy a certified radio module? Both have advantages and disadvantages to consider: Using entirely internally designed elements allows greater control and the ability to monitor all parts of the process. This requires you to make sure that your product is in compliance with all existing rules and regulations for your country of origin, as well as anywhere you are going to sell your product, which can be an expensive process of testing and certification. Alternatively, leveraging a partner that offers a turnkey, proven RF solution may allow you to worry less about these regulations and focus more on developing the product's application. Additionally, using existing reference designs which cover relevant radio frequency systems can save a lot of energy and frustration during development. Such designs can greatly improve your time to market and free up your organization's resources to work toward more meaningful revenue generating activities. Yet another option is using a pre-assembled solution such as an integrated RF module, that comes pre-packaged, fully tested and includes integrated parts, thus providing even more of a "plug-and-play" capability.
There are many solutions to consider, so it is important to spend time researching the one that fits your organization's goals the best and puts your team on the path to success the fastest!
As your overall design process begins to develop more fully, here are some additional technical considerations to keep in mind…
Focus on What's Critical
Given that there are so many things to consider – technical specifications, reference design availability, costs, efficiency, legal regulations, etc. – knowing what elements of your design are absolutely necessary for success is important when push comes to shove and sacrifices may be required. There is often more than one way to accomplish your design goal and knowing what you can let go of and what must remain unchanged will make it easier if a redesign is required. If you're designing a Wi-Fi Front End solution, refer to this list to help you decide exactly what to consider and why it really matters.
Be Aware of Coexistence Issues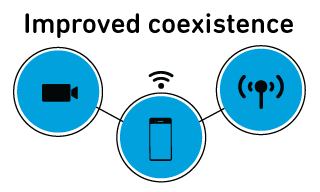 Radio Frequency technology comes with many inherent coexistence challenges. Depending on the environment your product belongs to, and the existing ecosystem, interference with other radio technologies should be planned for and avoided if possible. This is especially true as frequency ranges for LTE, BLE, 5G and Wi-Fi 6 (802.11ax) continue to develop and the available bands grow more and more crowded. While there are many ways to deal with interference, some are better than others as not all filters are created equal. Being aware of potential overlap with other frequencies that may be used in proximity to your end product will help determine the best components and design solution to mitigate potential issues.
Keep Heat in Mind
With the increasing pressure to fit more performance in ever smaller and sleeker packages, thermal creep should not be underestimated. Whether building for the new Wi-Fi 6 (802.11ax) protocols or determining the best frequency to use in your IoT ecosystem, each technology poses its own set of thermal challenges to consider. The more power needed, the more ventilation that may be required which can quickly increase cost and result in larger form factors if not planned for effectively. In these instances, using highly efficient BAW filters and integrated Front End Modules (iFEMs) can greatly decrease overall spend and improve design efficiency.
There is obviously an abundance of things to consider when designing products for the Internet of Things and the above list is certainly not exhaustive. We hope that it will offer some guidance on where to begin when sorting through the variety of design issues and potential pitfalls. The journey into the new landscape of connectivity is being blazed by those who dare to experiment and challenge the expectations of what's possible.