Introduction
As IoT smart home products continue to evolve and innovate, complexity becomes more prominent. Designers of these products are always looking for ways to invent creative designs that are innovative to support the next generation. To meet these goals, designers need to use state-of-the-art products inside their IoT solutions. Qorvo realizes this and has gone the extra mile to ensure its silicon IoT product solutions are future proof and innovative, so your IoT end-product design is also state-of-the-art.
How Qorvo Helps Designers
All IoT system designers are hard-pressed to bring their product ideas to market quickly and successfully, while markets, standards and product ideas are evolving. Without using a simplified development ecosystem that supports all the needs of your design – the process can be challenging. But, by using a partner that puts all the tools and expertise you need at your fingertips these challenges can be eliminated completely.
This is what Qorvo has done. By providing IoT smart lighting customers with everything they desire to create innovative IoT solutions, your design can be easy and best-in-class. So, what is it that Qorvo provides?
Software and Hardware reference designs for smart lighting solutions
An IoT gateway development kit to connect your solution
A complete set of design tools available through GitHub
A smartphone App for testing and controlling your lighting solution
These tools and more provide any smart lighting designer with the necessary instruments to get started, create an innovative design and get to market fast. Moreover, these tools are simple to use and allow you to concentrate on innovation rather than spending time trying to figure out how things connect or work. This shortens the design phases and provides cost effective viable solutions.
A peek into the Design Tools
The Qorvo QPG6105 smart lighting System on Chip (SoC), advances the state of smart home networking by supporting different connectivity standards, including IEEE 802.15.4, Zigbee 3.0, Thread, Matter™ and Bluetooth® Low Energy 5.2, for sensors and actuators throughout the home. Our design kits enable easy integration of multi-protocol use cases in IoT smart home devices, supporting simultaneous interactions with a Bluetooth-enabled smartphone and the Zigbee or Matter™ devices in the smart home network. The Software and example applications in our development kit are certified, including Bluetooth Low Energy controller, host, service and profile certification. Moreover, the products are certified to a Zigbee 3.0 platform, and we also have the world's first Matter light bulb product certification.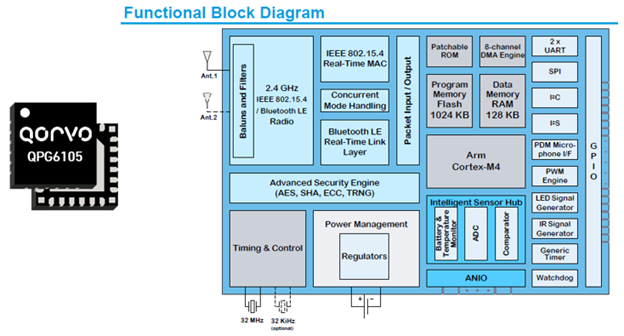 Other items that the QPG6105 provide:
Best in class multi-standard support
Enhanced security capabilities, including secure key storage, hardware crypto engine and support for secure boot
Double the effective range of a connected light design by using Qorvo's unique Antenna Diversity
+10dB Transmit output power
Memory: 1MBFLASH / 128K RAM/ 256K ROM – Software leverages the ROM to minimize the flash footprint of the networking stack.
A large set of peripheral options
Up to 8 PWM outputs for LED control
Qorvo's ConcurrentConnect™ Technology
The QPG6105 has Qorvo's patented ConcurrentConnect™ technology in a single chip using a single radio that ensures instantaneous switching from multiple protocols with no latency. With ConcurrentConnect technology, designers can rely on a solution that just works – in every use case and reduce part content, resulting in smaller sleeker form factor and lower product costs.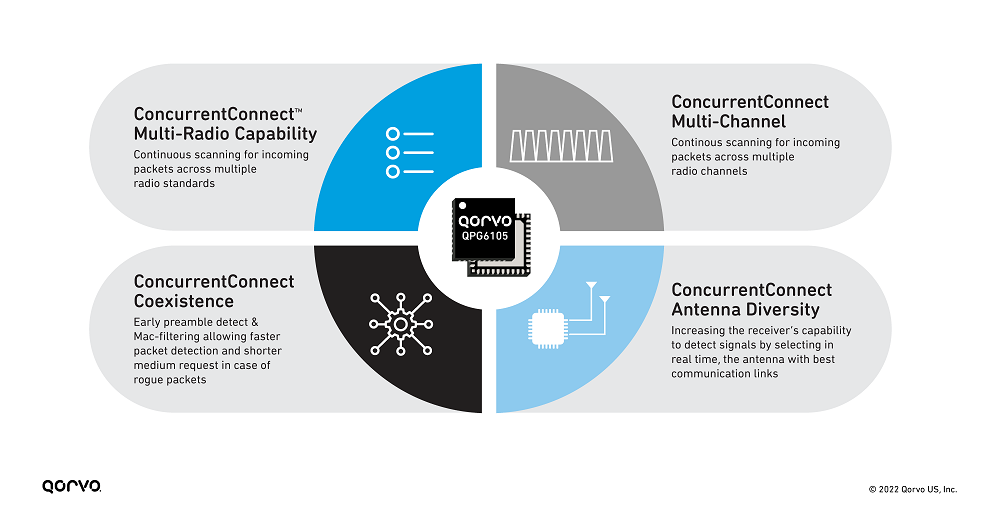 The Qorvo IoT Development Kit Pro
The IoT Development Kit Pro, which includes the QPG6105, has all the software development tools required including an IoT gateway using our QPG7105M silicon SoC and patented ConcurrentConnect technology. This fully functional development kit provides all you need to get started on an IoT design. Moreover, the design kit is Matter ready – meaning you can use this development kit to create next generation Matter products minutes after opening the box.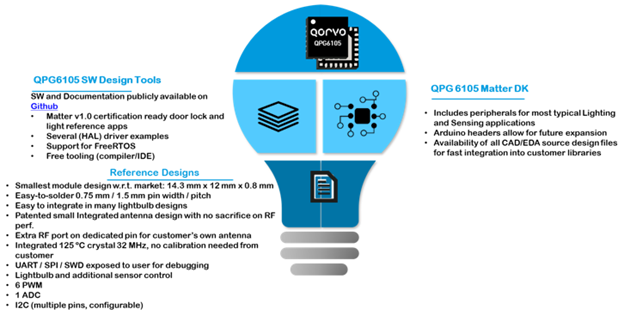 Qorvo Support Ladder
Qorvo recognizes their customers are busy and this is why we make certain we provide all the tools to help you design. If you cannot locate what you require on our website, then it will surely reside on our GitHub site. Throughout your design, Qorvo will support you. They provide design review support, RF validation services, certification guidelines and assistance and third-party software tools like SEGGER J-Link debugging and programming products. Moreover, we provide design considerations or ideas to help springboard your product solution quickly through the development process.
Our ultimate goal is to make your IoT design easy, robust, next generation and easy to certify. Doing so, will ultimately lead to a fast time to market with a fully certified IoT product solution.
Design Consideration Example: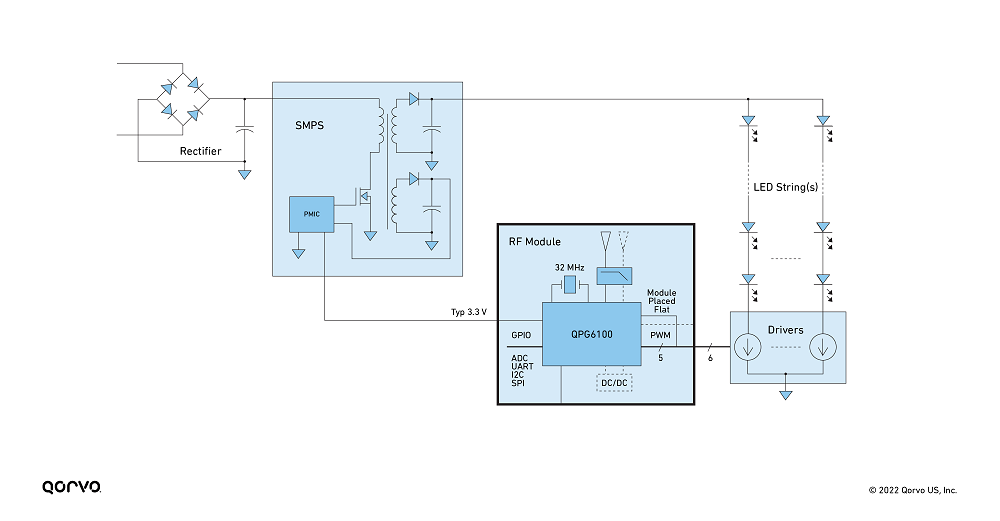 As you can see Qorvo is a partner that will help you meet your organizations and customers goals – creating next generation innovative IoT solutions. As a partner with Qorvo, you are provided all the needed instruments to make an IoT product that your customers will find to be sleek, simple to use, 'green' and just work with their other IoT product designs in the home.