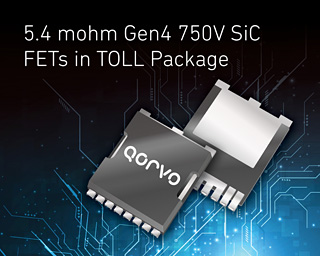 Download full size image
Greensboro, NC, March 20, 2023 – Qorvo® (Nasdaq: QRVO), a leading global provider of connectivity and power solutions, will showcase a new surface-mount TO-leadless (TOLL) package for its high-performance, 5.4 milliohm (mΩ) 750V SiC FETs. This is the first product in a family of 750V SiC FETs that will be released in the TOLL package with on-resistance ranging from 5.4 mΩ to 60 mΩ. These devices are ideal for use in space-constrained applications such as AC/DC power supplies ranging from several 100s of watts to multiple kilowatts, as well as solid-state relays and circuit breakers up to 100A.
In the 600/750V class of power FETs, Qorvo Gen4 SiC FETs offer unmatched performance across the main figures of merit for on-resistance and output capacitance. Additionally, in the TOLL package, at 5.4 mΩ the devices have 4-10x lower on-resistance than competing best-in-class Si MOSFETs, SiC MOSFETs and GaN transistors. The 750V rating of the SiC FETs is also 100-150 volts higher than the alternative technologies, providing a significantly enhanced design margin for managing voltage transients.
Anup Bhalla, chief engineer for Qorvo's Power Devices business, said, "The launch of our 5.4 mΩ Gen4 SiC FETs in TOLL packaging is an important step in our goal of providing designers with the industry's best performance and multiple device options. Customers working on industrial applications in particular need this combination of flexibility and cost-efficient power design."
The TOLL package is 30% smaller in footprint and at 2.3 mm half the height of comparable alternative D2PAK surface-mount offerings. Despite the size reduction, advanced manufacturing techniques achieve an industry-leading 0.1° C/W thermal resistance from junction to case. The DC current rating is 120A up to case temperatures of 144 C, while the pulsed current rating is 588A up to 0.5 millisecond. Combined with the ultra-low on-resistance and excellent transient thermal behavior, this yields an 'I2t' rating around 8x better than a Si MOSFET in the same package, aiding robustness and immunity to transient overloads, while also simplifying the design. A Kelvin source connection is also provided in the TOLL package for reliable high-speed switching.
These Gen4 SiC FETs leverage Qorvo's unique cascode circuit configuration, in which a SiC JFET is co-packaged with a Si MOSFET to produce a device with all of the efficiency advantages of wide bandgap switch technology and the simpler gate drive of Silicon MOSFETs.
The Qorvo TOLL-packaged, Gen4 5.4 mΩ SiC FET is included in Qorvo's FET-Jet™ free-to-use online calculator, which allows instant evaluation of efficiency, component losses and junction temperature rise for parts used in a wide variety of AC/DC and isolated/non-isolated DC/DC converter topologies. Single and paralleled devices may be compared under user-specified heat-sinking conditions to determine an optimal solution.
For more information about Qorvo's advanced solutions for power applications, please visit https://www.qorvo.com/innovation/power-solutions.
These products will be highlighted at the Applied Power Electronics Conference (APEC) from March 19-23 in Orlando, Florida at Qorvo booth 632. More information about Qorvo's innovative technologies on display at APEC and links to schedule meetings and interviews at the show can be found at https://www.qorvo.com/newsroom/trade-shows/apec-2023.
About Qorvo
Qorvo (Nasdaq: QRVO) supplies innovative semiconductor solutions that make a better world possible. We combine product and technology leadership, systems-level expertise and global manufacturing scale to quickly solve our customers' most complex technical challenges. Qorvo serves diverse high-growth segments of large global markets, including consumer electronics, smart home/IoT, automotive, EVs, battery-powered appliances, network infrastructure, healthcare and aerospace/defense. Visit www.qorvo.com to learn how our diverse and innovative team is helping connect, protect and power our planet.
Qorvo is a registered trademark of Qorvo, Inc. in the U.S. and in other countries. All other trademarks are the property of their respective owners.
This press release includes "forward-looking statements" within the meaning of the safe harbor provisions of the Private Securities Litigation Reform Act of 1995. These forward-looking statements include, but are not limited to, statements about our plans, objectives, representations and contentions, and are not historical facts and typically are identified by use of terms such as "may," "will," "should," "could," "expect," "plan," "anticipate," "believe," "estimate," "predict," "potential," "continue" and similar words, although some forward-looking statements are expressed differently. You should be aware that the forward-looking statements included herein represent management's current judgment and expectations, but our actual results, events and performance could differ materially from those expressed or implied by forward-looking statements. We do not intend to update any of these forward-looking statements or publicly announce the results of any revisions to these forward-looking statements, other than as is required under U.S. federal securities laws. Our business is subject to numerous risks and uncertainties, including those relating to fluctuations in our operating results; our substantial dependence on developing new products and achieving design wins; our dependence on several large customers for a substantial portion of our revenue; continued volatility and uncertainty in customer demand, worldwide economies and financial markets resulting from the impact of the COVID-19 pandemic, conflict in Ukraine or other macroeconomic factors; a loss of revenue if defense and aerospace contracts are canceled or delayed; our dependence on third parties; risks related to sales through distributors; risks associated with the operation of our manufacturing facilities; business disruptions; poor manufacturing yields; increased inventory risks and costs, including under long-term supply agreements, due to timing of customers' forecasts; our inability to effectively manage or maintain evolving relationships with chipset suppliers; our ability to continue to innovate in a very competitive industry; underutilization of manufacturing facilities; unfavorable changes in interest rates, pricing of certain precious metals, utility rates and foreign currency exchange rates; our acquisitions and other strategic investments failing to achieve financial or strategic objectives; our ability to attract, retain and motivate key employees; warranty claims, product recalls and product liability; changes in our effective tax rate; changes in the favorable tax status of certain of our subsidiaries; enactment of international or domestic tax legislation, or changes in regulatory guidance; risks associated with environmental, health and safety regulations, and climate change; risks from international sales and operations; economic regulation in China; changes in government trade policies, including imposition of tariffs and export restrictions; we may not be able to generate sufficient cash to service all of our debt; restrictions imposed by the agreements governing our debt; our reliance on our intellectual property portfolio; claims of infringement of third-party intellectual property rights; security breaches and other similar disruptions compromising our information; theft, loss or misuse of personal data by or about our employees, customers or third parties; provisions in our governing documents and Delaware law may discourage takeovers and business combinations that our stockholders might consider to be in their best interests; and volatility in the price of our common stock. These and other risks and uncertainties, which are described in more detail under "Risk Factors" in Part I, Item 1A. of our Annual Report on Form 10-K for the year ended April 2, 2022 and Qorvo's subsequent reports and statements filed with the Securities and Exchange Commission, could cause actual results and developments to be materially different from those expressed or implied by any of these forward-looking statements.