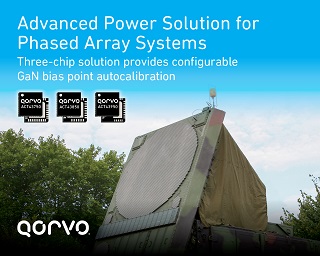 Download full size image
Three-chip solution provides configurable GaN bias point autocalibration
Greensboro, NC, February 2, 2023 – Qorvo® (Nasdaq: QRVO), a leading global provider of connectivity and power solutions, today announced a compact, three-stage power solution for phased array commercial and defense radar. The three-chip solution provides configurable GaN bias point autocalibration, enabling engineers to maximize system performance for different GaN power amplifiers (PAs) without changing the board design.
Qorvo's new chipset optimizes one of the largest and most expensive parts of a phased array system: the pulsed-energy storage capacitors. Through an innovative new architecture, this solution reduces capacitance by up to 90%, shrinking system volume by up to 30% while reducing weight and operating costs.
Philip Chesley, president of Qorvo's High Performance Analog business, said, "This complete radar power solution integrates advanced technologies from across Qorvo, combining an innovative new power conversion architecture, our best-in-class GaN RF power amplifiers and efficient, reliable silicon carbide FETs."
The new three-stage solution consists of the following:
ACT43950 is a high-voltage constant-current capacitor charge controller that works with Qorvo's silicon carbide power switches to provide fully programmable output voltage and current, allowing customers to maximize system performance. This regulator's architecture, in conjunction with the following stages, minimizes power storage capacitor requirements.
ACT43850, an RF Point-of-Load (RFPoL) step-down DC-DC power converter, takes the output from the ACT43950 and steps it down to a well-regulated voltage optimized for Qorvo GaN power amplifiers. Its advanced configuration options allow RF system designers to minimize noise and EMI, maximizing the performance of the radar array.
ACT43750 is a highly-integrated drain switch and negative gate voltage regulator PMIC that enables ultra-fast RF GaN PA drain switching. By automating gate voltage bias sequencing, autocalibration and dynamic bias recalibration, Qorvo simplifies system manufacturing while mitigating the effects of device aging and temperature on RF performance.
Qorvo offers an evaluation board (CB1-750-850-950) that allows customers to test the performance of this three-stage solution with a wide set of RF GaN PAs. The evaluation board's intuitive graphical user interface (GUI) allows customers to reconfigure the default settings to optimize performance for their specific PA. It demonstrates the reduced bulk capacitor requirements and gate bias autocalibration. The board's flexible design can be used to evaluate the individual stages or the entire three-chip solution with an RF PA, enabling faster time to market.
To learn more about Qorvo's radar chipset solution and request samples, visit http://www.qorvo.com/go/pwr-radar-chipset.
About Qorvo
Qorvo (Nasdaq: QRVO) supplies innovative semiconductor solutions that make a better world possible. We combine product and technology leadership, systems-level expertise and global manufacturing scale to quickly solve our customers' most complex technical challenges. Qorvo serves diverse high-growth segments of large global markets, including consumer electronics, smart home/IoT, automotive, EVs, battery-powered appliances, network infrastructure, healthcare and aerospace/defense. Visit www.qorvo.com to learn how our diverse and innovative team is helping connect, protect and power our planet.
Qorvo is a registered trademark of Qorvo, Inc. in the U.S. and in other countries. All other trademarks are the property of their respective owners.
This press release includes "forward-looking statements" within the meaning of the safe harbor provisions of the Private Securities Litigation Reform Act of 1995. These forward-looking statements include, but are not limited to, statements about our plans, objectives, representations and contentions, and are not historical facts and typically are identified by use of terms such as "may," "will," "should," "could," "expect," "plan," "anticipate," "believe," "estimate," "predict," "potential," "continue" and similar words, although some forward-looking statements are expressed differently. You should be aware that the forward-looking statements included herein represent management's current judgment and expectations, but our actual results, events and performance could differ materially from those expressed or implied by forward-looking statements. We do not intend to update any of these forward-looking statements or publicly announce the results of any revisions to these forward-looking statements, other than as is required under U.S. federal securities laws. Our business is subject to numerous risks and uncertainties, including those relating to fluctuations in our operating results; our substantial dependence on developing new products and achieving design wins; our dependence on several large customers for a substantial portion of our revenue; the COVID-19 pandemic materially and adversely affecting our financial condition and results of operations; a loss of revenue if defense and aerospace contracts are canceled or delayed; our dependence on third parties; risks related to sales through distributors; risks associated with the operation of our manufacturing facilities; business disruptions; poor manufacturing yields; increased inventory risks and costs due to timing of customer forecasts; our inability to effectively manage or maintain evolving relationships with platform providers; our ability to continue to innovate in a very competitive industry; underutilization of manufacturing facilities as a result of industry overcapacity; unfavorable changes in interest rates, pricing of certain precious metals, utility rates and foreign currency exchange rates; our acquisitions and other strategic investments failing to achieve financial or strategic objectives; our ability to attract, retain and motivate key employees; warranty claims, product recalls and product liability; changes in our effective tax rate; changes in the favorable tax status of certain of our subsidiaries; enactment of international or domestic tax legislation, or changes in regulatory guidance; risks associated with environmental, health and safety regulations and climate change; risks from international sales and operations; economic regulation in China; changes in government trade policies, including imposition of tariffs and export restrictions; we may not be able to generate sufficient cash to service all of our debt; restrictions imposed by the agreements governing our debt; our reliance on our intellectual property portfolio; claims of infringement of third-party intellectual property rights; security breaches and other similar disruptions compromising our information; theft, loss or misuse of personal data by or about our employees, customers or third parties; provisions in our governing documents and Delaware law may discourage takeovers and business combinations that our stockholders might consider to be in their best interests; and volatility in the price of our common stock. These and other risks and uncertainties, which are described in more detail in Qorvo's most recent Annual Report on Form 10-K and in other reports and statements filed with the Securities and Exchange Commission, could cause actual results and developments to be materially different from those expressed or implied by any of these forward-looking statements.