Designing today's cars is an enormously complex business. What makes them complex? Some cars have more computing power than jet aircraft, with as many as 100 programmable Electronic Control Units (ECUs) and up to 100 million lines of code helping to run everything from the engine and power train to infotainment, communications, and safety and driver-assistance systems. And the complexity is only increasing as car technology rapidly advances toward more sophisticated driver-assistance systems and self-driving cars.
So it's not surprising that the automotive sector has overtaken computers and communications as the fastest-growing market for electronics systems, according to IC Insights, which forecasts that demand for automotive integrated circuits will expand at a particularly brisk clip, experiencing 16 percent growth in 2018.

Critical design factors for automotive electronics
As in-vehicle electronics grow more complex and control more of a car's functions, several design factors become even more critical:
Ruggedness and reliability: Components must withstand the rigors of everyday use and the extremes of temperatures and humidity.
Longevity: Consumers expect their vehicles to function longer — ten years or more — than other electronic devices such as mobile phones.
Interference: Electronic components and systems in the vehicle must coexist with each other without causing interference.
To ensure components don't fail once they're embedded in electronics systems, the automotive industry has developed strict quality standards for component manufacturing and testing. Only parts that meet these standards can be qualified for automotive use.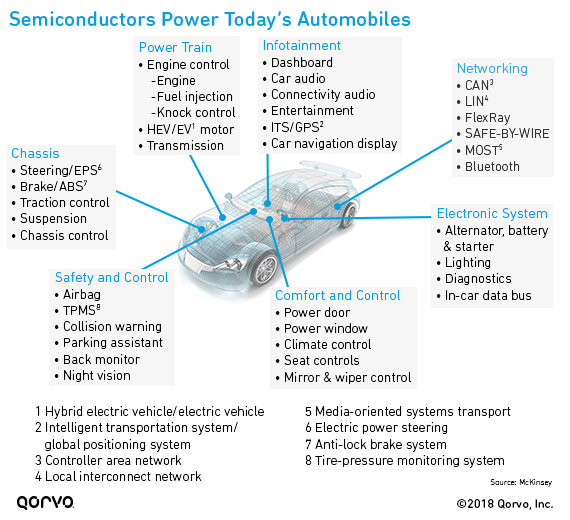 Key industry quality standards
For a component to be automotive qualified, manufacturers have to meet specific industry standards throughout the manufacturing and testing process. Three key standards are IATF 16949, AEC-Q100 and AEC-Q200:
IATF 16949. The global automotive industry standard for quality management systems. The automotive industry generally expects parts to be manufactured, assembled and tested in IATF 16949-qualified facilities.
AEC-Q100 & AEC-Q200. During the qualification phase before the release of the device, each component must survive a battery of industry-standard tests:
Some of these tests are unique to the automotive industry and aren't conducted at all on parts intended for commercial use. Examples are the test for early life failure rate (ELFR), which subjects multiple samples of 800 components to temperatures of at least 125°C, and the power temperature cycling (PTC) test, which repeatedly cycles between extremely high (125°C) and extremely low (‑40°C or even lower) temperatures.
Other tests are conducted under harsher conditions — such as higher temperatures — than when testing commercial parts, or using larger lot sizes to provide greater statistical confidence in the reliability of production components.
Also, because cars last much longer than other electronic devices, manufacturers typically must ensure a supply of each automotive component will be available for 10 years.

Additional testing for auto-qualified parts: From wafer stage to finished product
In addition to the standard tests applied to commercial parts, automotive components undergo further testing at each major stage in the production process, from wafer level to finished part:
Wafer level and assembly. Each die gets four optical inspections to uncover any lurking defects that might lead to failure once components are built into vehicle electronic systems.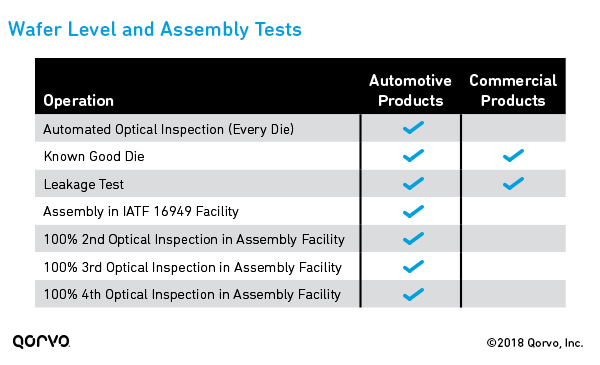 Final test, tape and reel. With even the best-designed semiconductor manufacturing processes, there's a chance that rare and unexpected events (such as problems in manufacturing tools or raw materials) can result in anomalies that lead to early part failure. The automotive component manufacturing process includes additional screening to identify these "outlier" parts and batches before they find their way into customer products.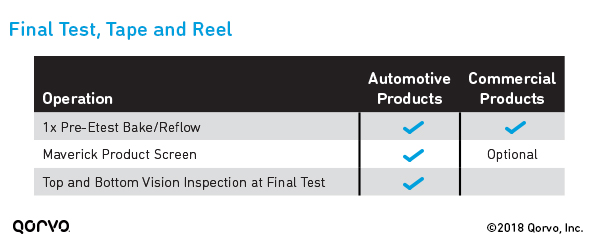 Reliability testing and documentation. In addition to the AEQ stress tests, component makers must follow a product quality program known as Advanced Product Quality Planning (APQP). This includes producing an extensive documentation package covering the entire manufacturing process, test records, design/process failure mode and effect analysis (FMEA), and other information. The Production Part Approval Process (PPAP) is a part of this APQP program.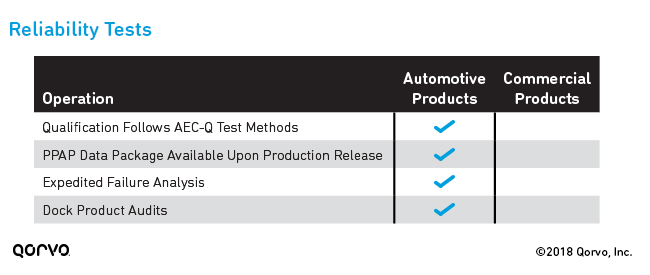 Qualified automotive components make a difference
As cars evolve into four-wheeled computing devices, the quality of electronic components becomes even more critical to vehicle reliability and safety. Although an RF filter or PA qualified for automotive use may appear to have similar specifications to a component designed for general commercial use, don't be fooled. A great deal of work goes into making sure that automotive components that adhere to the quality standards can stand up to the rigors of real-world conditions during the years that a car will be on the road.