Next-Generation of Location-Based Technology
Today we are witnessing the rise of a new generation in location-based technology. Technologies like Wi-Fi, Bluetooth®, or global positioning satellite (GPS) offer meter accuracy – while Ultra-Wideband (UWB) provides centimeter accuracy. By using UWB, businesses, governments, and individuals are able to pinpoint locations more accurately. Imagine being able to find a lost child in an amusement park, be able to open your car door upon approaching it, follow and control objects inside manufacturing facilities, and provide safety and security around businesses and homes.
Our recently developed Ultra-Wideband For Dummies book is a quick guide to understanding the UWB basics along with the latest trends and applications. Below are some highlights from the book.
1: What is Ultra-Wideband
Ultra-Wideband for Dummies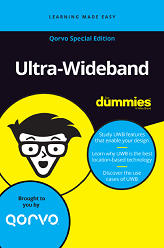 Ultra-wideband (UWB) delivers the "where" to enable contextual decision-making. It reduces manufacturing operating costs, increases safety, and provides greater security for data communication. UWB's technology capabilities open the door to a broad range of new applications, like secure keyless entry, secure payments, enhanced navigation, and precise asset location. It enriches the connected home by controlling smart devices based on the location of people and provides buildings with turn-by-turn navigation services. It also improves secure communications between the key fob and the car, which enhances factory efficiencies and personnel safety for automotive. UWB is on the path to becoming the next ubiquitous wireless connectivity used in our everyday lives.
2: UWB is the best solution for indoor location tracking
UWB's characteristics can provide much more accurate indoor location and distance measurements than other technologies. As shown in the below Figure 1, a UWB pulse (center and right images) is only two nanoseconds wide, making it immune to reflected signal (multi-path) interference and noise. Additionally, the UWB radio-frequency pulse has clean edges, allowing precise determination of arrival time and distance in the presence of signal reflections and multi-path effect, which commonly occur in everyday environments. Looking at UWB, the reflected signal (gray) does not affect the direct signal (blue). Moreover, the UWB signal (center and right images) has much faster rise and fall times than standard narrowband signals (left) like Wi-Fi and Bluetooth, making it possible to precisely measure the time of arrival of the signal.



Figure 1. Comparing narrowband signal impulse radio with direct and reflected signal.
3: The range and cost of infrastructure
RF range is important in all wireless infrastructure devices. Devices having the ability to transmit and receive at long ranges helps reduce the overall number of devices required in an individual network – thereby reducing infrastructure cost.
UWB has a range of 50 to 70 meters, where Bluetooth's range is only 10 to 20 meters. Additionally, Wi-Fi has a range of 40 to 50 meters. Moreover, the accuracy of Wi-Fi and Bluetooth drops as the devices get farther away from infrastructure, where UWB's accuracy is constant no matter what the distance. As shown in Figure 2 below, UWB outperforms Bluetooth and Wi-Fi in a factory application when comparing range versus infrastructure cost. This is because UWB only requires a few anchors compared to Wi-Fi and Bluetooth – therefore, it is much more cost-effective.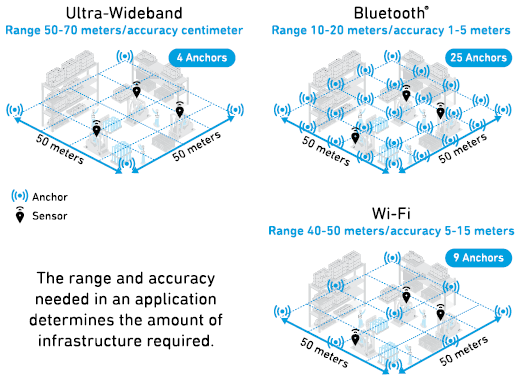 Figure 2. Comparing the UWB, Wi-Fi, and Bluetooth anchors required for a typical factory setting.
4: The future for Ultra-Wideband
UWB is already in more than 40 vertical marketplaces across industrial, enterprise, automotive, and consumer markets. It has already delivered operational efficiencies and improved worker safety and enabled secure transactions like keyless entry for automobile access.
With the inclusion of UWB in our smartphones, it has begun mass adoption globally. Because the smartphone market is so large, it has provided a gateway to a very broad use – helping people with activities like car access, retail transactions, home control and more. The explosion of UWB shipments in smartphones, wearables, and connected home devices is leading to a speedy ramp-up in the billions of units. Shown in below Figure 3.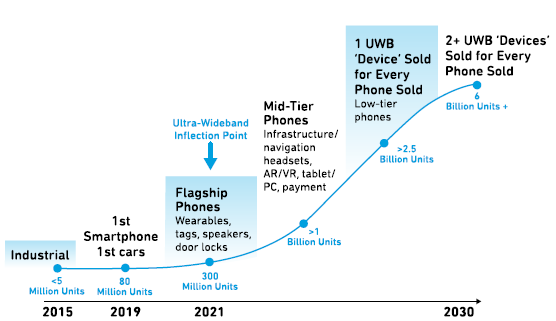 Figure 3. Projections for UWB adoption (source Qorvo).
Above is just a small snapshot of how UWB works and is impacting our lives. We encourage you to download our free e-book on Ultra-Wideband to explore the many facets of this technology.
The Bluetooth® word mark and logos are registered trademarks owned by Bluetooth SIG, Inc. and any use of such marks by Qorvo US, Inc. is under license. Other trademarks and trade names are those of their respective owners.