Czech-Canadian environmental scientist Vaclav Smil once said, "Collaboration and augmentation are the foundational principles of innovation." Those principles are what inspired three of Qorvo's newest employees, who found themselves on the Danish national stage late last year. The young design engineers Lauge Føns Dyring, Kasper Bruun Olesen and Jakob Brask were honored with the Connect Student Award from the Danish Engineering Association (IDA) for the thesis work they were doing as master's degree interns at Qorvo's Denmark Design Center.
The thesis that grabbed the IDA's attention was Design of an Efficient Integrated Power Amplifier for Handsets. Their nomination included praise from an Aalborg University professor who wrote: "The master project carried out by the three Danish nominees revolves around efficiency improvements of integrated radio frequency (RF) power amplifiers (PA), which is the most challenging design specification to achieve for advanced 5G and 6G handsets. The project is the result of a collaboration between Aalborg University and Qorvo over two semesters (50 ECTS) from 2021 to 2022."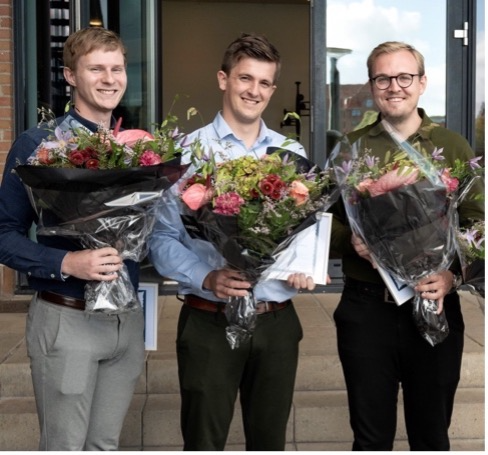 Achieving better energy efficiency in 5G can be especially challenging—and the use of a Doherty amplifier (invented by William H. Doherty of Bell Telephone Laboratories Inc. in 1936) has long been a way to approach efficiency goals. The Doherty amplifier uses two amplifiers to optimize the overall PA performance. The carrier amplifier (main) handles the low-power region, while the peaking amplifier (auxiliary) handles the high-power region. Conventional class B amplifiers can clip on high input-signal levels. Still, the Doherty amplifier can accommodate signals with high peak-to-average power ratios by using two amplifier circuits within one overall amplifier to accommodate the different signal levels. In this way, the amplifier achieves a high level of linearity while retaining good power efficiency. However, before the work by Lauge, Kasper and Jakob—it was rare to try to fully integrate the Doherty amplifier's function.
Modern handset power amplifiers must be very small, and traditional Doherty amplifiers demand bulky quarter-wave transmission lines. Good linearity at a wide bandwidth is crucial, and Doherty configurations tend to be narrowband and generally nonlinear. The team took on the challenge of making the Doherty function as an integrated circuit. "Keep in mind that we did not successfully solve all these problems," Kasper said. "But we did come up with several potential solutions that are under further study by a number of skilled PA designers at Qorvo."
"While working, we focused on designing the best possible power amplifier with all the challenges that go along with it," Kasper continued. "Power amplifier design is difficult, and our focus on improving the design meant it wasn't until the very end of the project period that we realized that our results were very good. It was a big surprise for us—not just receiving full marks for the thesis but also winning the national prize for the best thesis in telecom. We simply never thought this was an option—we just wanted to design the best possible amplifier."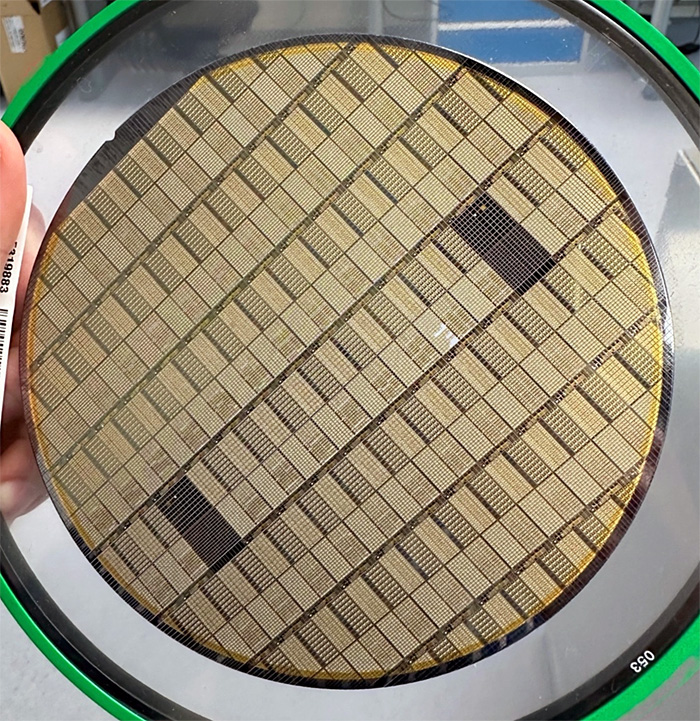 The wafer that represents the IDA Award-winning work by Lauge Føns Dyring, Kasper Bruun Olesen and Jakob Brask.
IDA members meet yearly to discuss the latest trends and developments in telecommunications. The IDA Connect Awards are presented to a Danish or foreign company, organization, team or individual whose work has been of recent importance in the development or use of telecommunications in Denmark. The awards also include a category for student achievement. Last October, the honor went to Kasper, Jakob and Lauge, who joined Qorvo Denmark as design engineers on the module integration team soon after.
"We worked very closely together," Lauge said. "We've known each other for years, and during the COVID lockdown, we spent a lot of time at a colleague's house working for days together. We'd work from when we woke up until we went to bed, through our meals—only taking time out for walks. It's been an incredible boost for starting my career and contributing to the RF industry."
"At that point in time when we started the project, having a Doherty amplifier fully integrated was almost unseen, and only a few people had tried it before," Jakob said. "During the period, we were also facing many problems, and the help and guidance were not easiest to get as no one from our site had ever tried it before. So down the road, how well this project would turn out was really up to our own discipline and understanding within the RF domain. Many times - and I mean almost every day—I doubted my understanding of the subject and felt inadequate. So to me, winning this award was really a pat on the shoulder and a way to recognize academic understanding and excellence."
The three engineers say they're proud to be not only named among the best students in the country but also to now be working for one of the most respected and leading semiconductor companies in the world. "I'm excited to think that my learning will not stop here at Qorvo, and I am feeling convinced that I am learning from the best," Jakob said.

Download your free copy of our e-book.
You'll learn:

The 5G vision today and in our future
5G New Radio architecture and rollout
The 5G drivers and use cases
Which innovative RF front-end solutions are enabling 5G
The path to 5G and key milestones to look for