Good news, developers, Qorvo offers system-on-chip (SoC) and wireless transceiver solutions to support Amazon's Common Software (ACS) for Devices initiative. This is a significant milestone in our collaboration with Amazon to drive simplified, hassle-free solutions for the smart home and Alexa environment. Building on proven, common modules from both Amazon and Qorvo will significantly improve time-to-market and allow device vendors to focus on differentiation and innovation. Cees Links, general manager of Qorvo's Wireless Connectivity business, discusses how ACS and Qorvo are making device design easier and faster than ever.

Q: What does built-in support for ACS mean?
Cees: Creating an Amazon-compliant device once involved additional steps from initial design through integration. Now, device designers using Qorvo products are assured they have built-in compatibility with the Amazon environment and Alexa, so they can focus on creating the unique features that differentiate their device from others. Qorvo is one of the first companies to offer this embedded support.

Q: How does ACS ease the design complexity for devices compatible with the Amazon environment?
Cees: ACS – Amazon Common Software – provides a unified application program interface (API) integration layer, pre-validated and memory-optimized components for common functions such as connectivity, and multi-tier test suites. Additionally, it defines the lower-layer driver interface, enabling Qorvo to deliver integrated support in our Software Development Kit (SDK). The ACS preview includes support for Frustration-Free Setup (FFS), which significantly improves the user experience via simplified, automated setup right out of the box.
Q: What does ACS mean to the device maker?
Cees: ACS essentially speeds up development time, accelerating time-to-market with devices. It's a streamlined process. With ACS, each API integration layer is standard and doesn't vary by SDK, so there's no need for separate development and test effort for each SDK. It also enables faster integration of different vendor ICs using the standard Device Porting Kit (DPK).

Q: How is Qorvo involved in ACS?
Cees: Qorvo products will have built-in support for ACS across its smart home product line. By using Qorvo's integrated and tested Amazon-compliant DPK, device vendors can easily and quickly bring up the platform so they can focus on differentiating their offering and getting it to market faster. For example, a device manufacturer who designs a smart home device with Amazon Alexa support can now leverage Qorvo's support for ACS, which provides solutions with pre-integrated infrastructure. Streamlining that part of development enables time to focus on building the custom features for their device.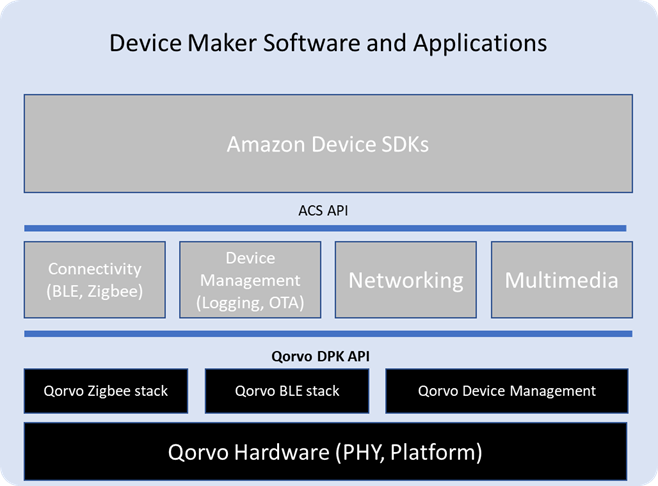 Q: What are the benefits of using Qorvo products in Amazon-compliant devices?
Cees: Qorvo supplies proven, multi-standard, Bluetooth® Low Energy, Thread® and Zigbee® connectivity solutions that cover a multitude of IoT use cases for the smart home. We also provide reference designs, reference applications and technical knowledge, enabling vendors to speed up their development of connected devices.
By combining the advanced, low-power RF capabilities of Qorvo devices with Amazon's robust and flexible software, device makers can now more easily develop reliable and interoperable wireless IoT applications such as connected light switches and thermostats that integrate support for the Amazon environment.
By using Qorvo's unique technology and multi-standard capabilities, vendors can implement a single design across multiple networking protocols and focus on application-specific functionality.

Q: How do designers start creating Amazon-compliant designs with Qorvo?
Cees: Qorvo provides the device porting kit (DPK) layer for its QPG7015M silicon, along with instructions how to build ACS reference applications such as a smart speaker with Alexa and FFS provisioner support built-in, enabling evaluation and early development of ACS solutions using Qorvo QPG7015M development kit. Amazon Web Services (AWS) IoT Device SDKs, with support for the Alexa Voice Service (AVS) Device SDK, are available now.
More detailed information about ACS from Amazon's official ACS page can be found here.
The Bluetooth® word mark and logos are registered trademarks owned by Bluetooth SIG, Inc. and any use of such marks by Qorvo US, Inc. is under license. Other trademarks and trade names are those of their respective owners.