Figure 1. Characteristics of GaN-based components compared to other semiconductor technologies.
Improving Linear Power Output with GaN
Contending with nonlinear behavior in active power devices presents a significant challenge as the industry moves beyond DOCSIS 3.0 and DOCSIS 3.1 to DOCSIS 4.0, a standard that supports up to 1.8 GHz of downstream spectrum. Inconsistent linearity degrades signal quality, generating bit errors on digital channels and sometimes results in complete device failure when demodulating the signal. Using GaN helps mitigate the possibility of degraded linearity—helping to avoid signal quality issues and device failures.
Qorvo's expertise in designing and manufacturing CATV amplifiers stretches back to the earliest stages of this industry. In fact, Qorvo was the first company to introduce CATV gain blocks using gallium nitride on silicon carbide (GaN-on-SiC).
Using GaN, with its superior performance characteristics, has led to a large-scale shift from GaAs to GaN in CATV applications. The combination of higher output levels, greater durability and superior thermal performance offered by GaN have been the key catalysts behind much of this shift.
As CATV bandwidths continue to be extended, engineers and system architects are looking for the best technologies for their network upgrades. In order to meet demands for the increased bandwidth and data rates, linearity must be maintained. Sustaining the linearity of a gain block or amplifier depends primarily on four factors: semiconductor technology, circuit design, power consumption and thermal design/properties. GaN offers advantages in these areas, providing up to 10 W/mm, compared to 1 W/mm for typical GaAs designs (see Figure 2).
Advances in Linear Output Power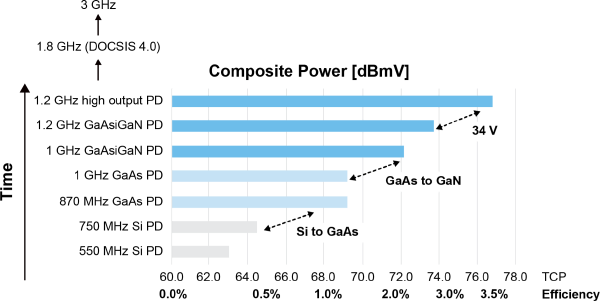 Figure 2. A comparison of efficiency and composite output power for GaAs, GaN and Si technologies.
Some Final Thoughts
MSOs now have solid options for addressing the capacity demands when upgrading their networks to the new DOCSIS standards. GaN technology delivers better data transmission and has the necessary characteristics to adapt to rigorous design constraints, and GaN-based amplifiers provide the ideal building blocks for these next-generation designs.
Access the video of this webinar to learn more about the capabilities of GaN technology.
Other related resources can be found on the Qorvo Design Hub. The hub offers a broad selection of block diagrams, design tools, brochures, e-books, white papers and other content to help you build solutions efficiently using Qorvo components.