September was a big month for smartphone makers. Apple launched the iPhone 8 and tenth anniversary iPhone X. Samsung's head of mobile, Koh Dong-Jin, confirmed his desire to release a foldable phone in 2018. And Xiaomi (pronounced "SHAO-mee") introduced Mi Mix 2, the second generation of its bezel-less handset.
Wait, who?
Apple and Samsung tend to share the spotlight, but the global smartphone market is not just a two horse race. Chinese smartphone makers Huawei (pronounced "wah-way"), Oppo (pronounced "oh-poe"), Vivo and Xiaomi round out the top six global vendors based on unit shipments, according to the latest IDC Worldwide Quarterly Mobile Phone Tracker.1
The rankings in China are even more mind-bending, with leaders Huawei, Oppo, Vivo and Xiaomi followed by fifth-place finisher, Apple.1
If you're not working in the cellphone space, you probably haven't heard of these brands. There are two reasons for this: China-based vendors have ascended the rankings at blistering speeds, and most of their growth comes from outside of the U.S.
Rising through the global ranks
Five years ago, ZTE and Huawei were the only China-based vendors in IDC's top five: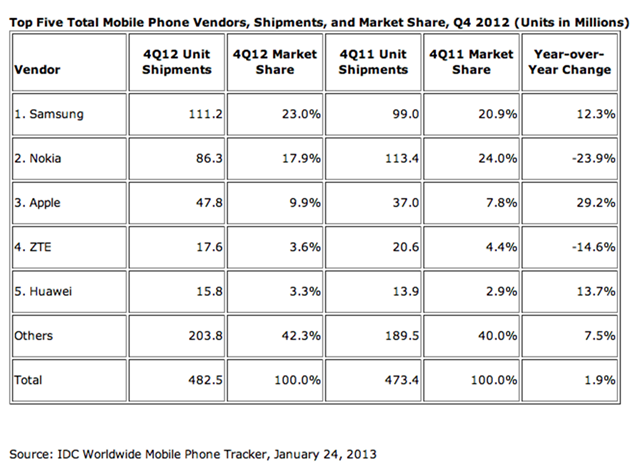 Fast forward five years, and Chinese smartphone makers account for four of the top six.
Also, notice the switch from "Top Five Mobile Phone Vendors" to "Top Five Smartphone Vendors." IDC used to separate mobile phones from smartphones — talk about ancient history!
Growth outside the U.S.
Global rankings bring "unknown" vendors like Huawei, Oppo, Vivo and Xiaomi into the public eye.
Huawei is traditionally a network infrastructure vendor. The company released its first smartphone seven years ago, in 2010, and just this summer surpassed Apple as the world's second-largest smartphone brand. The iPhone 8, iPhone X and other upcoming launches threaten Huawei's position, but the brand is seeing strong sales in China, Europe, Latin America and the Middle East.
Oppo and Vivo share a parent company and a focus on regional phones, designed for China, India and Southeast Asia. According to a recent Bloomberg article, these "sister brands" are experts in designing for local markets and dethroned Apple in China in 2016. They are also competitors — selling through Oppo and Vivo owned stores — and continue to duke it out in sales and marketing for the top spots in emerging markets.
Xiaomi is a master of channel strategy, selling phones online and in partnership with retailers like Flipkart, Snapdeal and Amazon. The company launched its first smartphone in India in 2014. According to a recent Forbes article, "In almost three years, the company has since become the number two brand in the overall Indian smartphone market, behind the long-standing leader, Samsung . . . and aims to ship 100 million smartphones globally in 2018."
So what should we be learning from this?
The quest for a global phone
China's smartphone market is saturated, so global phones are key to growth for Huawei, Oppo, Vivo and Xiaomi.
Huawei is already designing phones that can work in any region, launching its annual flagship Mate smartphone lineup this October to challenge the iPhone 8. While the Federal Trade Commission and U.S. carriers may ultimately determine the brand's success in the States, consumer buying trends seem to support new brands.
Consumers are holding onto older phones longer and becoming more price sensitive as smartphone performance approaches parity. Will the average consumer pay $1,000 for the new iPhone or opt for a similar Huawei phone for less?
There are also plenty of RF considerations for going global. To start, every geographic region has its own unique set of frequency bands. As Huawei and other handset makers expand their global footprint, their phones must support simultaneous communication on multiple frequency bands through carrier aggregation (CA). (Carrier Aggregation Fundamentals For Dummies® has your crash course.)
Of course, as the number of frequency bands increases, so does the potential for interference — there's a reason why party lines were phased out in the 1970s.
Smartphone makers must incorporate filters to combat interference, just like connected cars use RF filter technology to separate LTE, Wi-Fi and satellite signals. This need to filter has given rise to "multiplexers," which combine multiple filters into a single placement for particularly difficult CA combinations and closely-spaced bands.
The unknown smartphones are clearly posturing to take the global stage. Don't be surprised if next time you shop for a phone, you're confronted with a new and perhaps unpronounceable brand.
This article first appeared in Brent's Musings on Microwave Journal.
1idc.com