If there's one technology cable providers love, it's DOCSIS 3.1 (Data Over Cable Service Interface Specification), the latest standard in the CATV industry. While 5G is grabbing all the headlines, DOCSIS 3.1 (thank goodness for acronyms) is helping turbocharge many of the world's cable systems. DOCSIS 3.1 delivers gigabit speeds today, increasing effective downstream data rates from 160 Mbps to 10 Gbps and upstream data rates from 120 Mbps to 1 Gbps, when compared to its predecessor DOCSIS 3.0.
DOCSIS 3.1 has helped breathe new life into an industry that's increasingly threatened by cord cutters. It has allowed cable operators to deliver Gigabit broadband services to customers by easily retrofitting existing systems, without the exorbitant cost (and hazard) of digging or other cable-laying. The industry's transition to DOCSIS 3.1 is well under way, with cable leader Comcast claiming D3.1 penetration of nearly 60 million homes and businesses.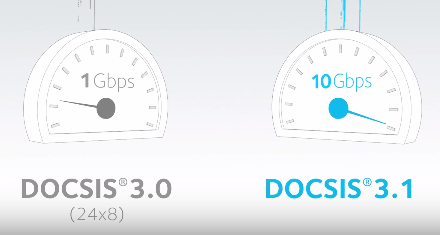 Download data rates, DOCSIS 3.0 versus DOCSIS 3.1. Source: Netgear.
DOCSIS 3.1 was front and center at the Cable-Tec Expo 2018, including a full duplex version, which promises even higher speeds. Full duplex DOCSIS, known affectionately as FDX, adds symmetry, increasing both upstream and downstream speeds to 10 Gbps across hybrid fiber-coaxial (HFC) networks.
So how much would you pay? Wait, there's more!
CableLabs is hard at work on the next generation of DOCSIS, which we all know will be called…?
Good guess, but no, it's not DOCSIS 3.2. The next flavor of cable, also known as extended spectrum DOCSIS, is rumored to be DOCSIS 4.0. Experts speculate that this upgraded standard could provide symmetrical broadband speeds as high as 30 to 60 Gbps and may not be too far off.
According to industry analyst firm Rethink Technology, while most of the world is expected to use fiber technology for Gigabit broadband delivery by 2023, the U.S. is expected to predominantly use DOCSIS 3.1. Yep, good ol' cable. DOCSIS 3.1 is helping turbocharge the cable industry, and more "horsepower adders" are on the way!
This article first appeared in Brent's Musings on Microwave Journal.