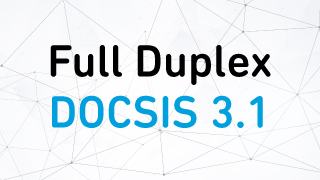 5G is the buzz word of the year for mobile devices and cellular infrastructure — but cable TV infrastructure is doing its part to upgrade its system capacity and support the transition to 5G.
One breakthrough CATV technology currently in development is Full Duplex DOCSIS 3.1, which will significantly increase the upstream capabilities of existing hybrid fiber-coaxial (HFC) cable networks. What is Full Duplex DOCSIS? How is it different from DOCSIS 3.1 technology deployed today? What are the challenges of this new standard? Let's explore.

The state of DOCSIS 3.1 today
DOCSIS (or Data Over Cable Service Interface Specification) originated in the late 1990s when the cable industry moved from an analog to a digital transmission system. DOCSIS 1.0 allowed a digital signal to transmit over existing analog coaxial cable systems, and subsequent releases of the DOCSIS specification have brought increased data speeds and capabilities to the system, as shown in the following table.

A number of MSOs in the U.S., including Comcast, Mediacom and Midco, have already deployed DOCSIS 3.1 to multiple cities, and 2018 will likely see even more deployments across more MSOs.

The move to Full Duplex DOCSIS 3.1
Even with the latest DOCSIS 3.1, the upstream capacity of the cable industry's HFC network likely isn't sufficient in the long run. The goal is to achieve 10 Gbps symmetrical streaming — or 10 Gbps bidirectionally, downstream and upstream — for several reasons:
FDD today, FDX tomorrow
The cable system transmits every frequency in a solid band, from 50 MHz to 1.2 GHz. Since the 1970s, the CATV network has used frequency division duplexing (FDD), where the spectrum is split between upstream and downstream data transmission. In FDD, upstream and downstream signals don't interfere since they don't overlap, as shown in the following figure.
To achieve full 10 Gbps symmetrical streaming, the cable system must change from FDD to full duplex. In FDX DOCSIS, MSOs can use the full spectrum for upstream and downstream transmissions, in both directions at the same time, with overlapping transmissions at some frequencies.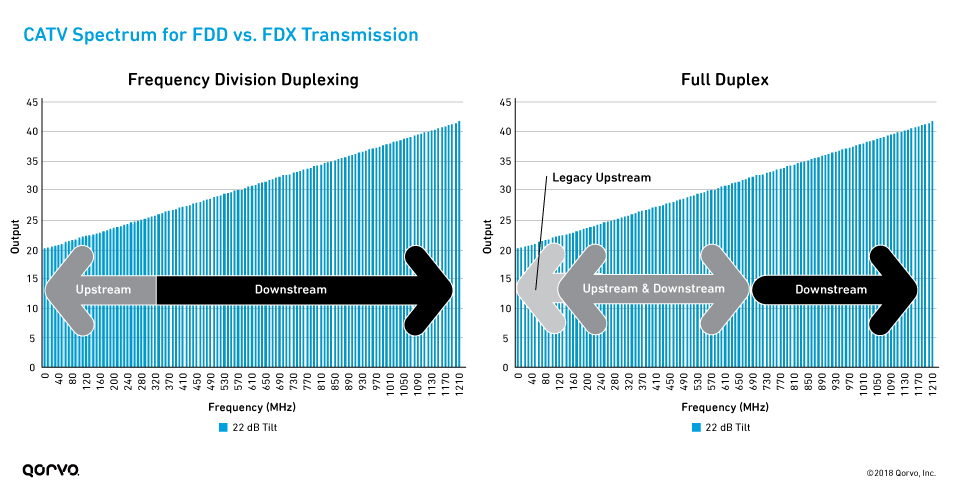 Addressing the RF challenges of DOCSIS FDX
Achieving full-duplex symmetrical streaming faces many challenges. Let's examine some of the biggest ones.
Fiber deep networks. As a first step, cable operators are moving more functions from the head end out to the field. Head ends are large and expensive, with huge capital expenses and upkeep. To achieve FDX and keep costs down, MSOs will push fiber cables deeper in the network, migrating to N+0 networks with digital remote PHY nodes. In a fiber deep network, there's only one amplifier, in the node; no additional amplifier follows it. For FDX to work, a lot of technology still must be invented and upgraded in the remote PHY node, such as echo cancellation, couplers and other intricate parts of the node.

Higher composite output power. The composite power increases when using FDX, to support tilt, echo cancellation and other requirements. For DOCSIS 3.1 remote PHY fiber deep applications today, the amplifier output requirement is 76.8 dBmV. The challenge is that this exceeds what most amplifiers on the market today are capable of.

Echo cancellation. Imagine if you were yelling at the top of your lungs, while somebody across the street is whispering to you. At the same time, you're in an urban canyon with echoes that are even louder than the whisper. This essentially is the challenge with FDX DOCSIS 3.1. The cable remote PHY node must cancel out all the echoes, ignore what it's shouting (the downstream transmitted signal), and listen for the faint receiving signal from the upstream transmission.
Echo cancellation is one of the biggest challenges for FDX. It will require some very sophisticated digital signal processing (DSP) that currently isn't in the node, which will also increase the node's processing power requirements. Combined, the processing power for echo cancellation adds a few watts of power.
It's a race to develop a component that meets the DC power targets and gets the echo cancellation technology right.
Modulation error ratio (MER). The biggest RF challenge for FDX is MER, which measures how spread out the symbol points in a constellation are and thus the error present in the modulation. MER includes the effects of all discrete spurious noise, carrier leakage, clock lines, synthesizer products, linear and nonlinear distortions, other undesired transmitter and receiver products, ingress, and similar in-channel impairments. Essentially, the challenge for FDX is trying to get a lot of RF power with very little DC power and very few errors (low MER).

Digital predistortion (DPD). DPD is used to increase the efficiency of the power amplifier. DPD algorithms predict the nonlinear behavior of the amplifier, correct for it and save power from the amplifier so you can have a remote PHY and node+0. To do FDX, devices will need to be optimized for DPD. Employing DPD algorithms will bring higher efficiency, better ACPR (linearity) and better MER, as well as lower operational and cable provider costs.

Qorvo's FDX-ready product offerings
Full Duplex DOCSIS is a complex space, but Qorvo is working hand-in-hand with many customers to develop components and solutions that meet the rigorous requirements of FDX. Here are some of our featured product offerings to support Full Duplex DOCSIS.

FDX: A race to get it right