When choosing a vendor for your next RF design, it's important to consider all the ways partnering with a strategic supplier can benefit your company's goals. From technical expertise, engineering support and regulatory compliance, to globally scalable production capabilities and cutting-edge market research, a successful relationship with the right manufacturer can quickly propel you ahead of the competition. In the changing worlds of Wi-Fi, IoT, and 5G, working with a trusted partner that offers deep experience, reliability and consistency in developing innovative solutions provides the confidence and support needed to succeed in such a highly competitive and complex market.
The Leader in Wireless Expertise
Qorvo helps shape solutions for some of the world's most innovative companies. Providing core RF product and technology leadership, semiconductor processing expertise and systems-level knowledge, we solve the most difficult of technical challenges. Our partnerships with brands like Levarys, People Power, BQ, NASA, and major cellular and automotive providers have enabled complex wireless communication across vast distances as well as small, crowded RF environments. Expert leadership from industry pioneers like Cees Links, Qorvo's General Manager of Wireless Connectivity, has helped establish the protocols and technologies responsible for Wi-Fi communication as we know it today. And we continue to drive innovative solutions for the challenges of the hyper-connected world of tomorrow.
With a broad portfolio of RF products covering frequencies ranging from DC to 80 GHz, Qorvo combines product and technology leadership, integration expertise, and global manufacturing scale to solve our customers' most complex technical requirements. We serve diverse, high-growth segments of large, global markets, including advanced wireless devices, wired and wireless networks, as well as the developing Internet of Things (IoT) and next-generation infrastructure for connected homes, cities and automobiles. We leverage our unique competitive strengths to support cloud computing, massive MIMO for 5G and Wi-Fi 6, along with other emerging applications that expand the global framework that interconnects people, places, and things. More than just a component manufacturer, with over 30 years of industry experience, we've been innovating, researching, developing, and acquiring cutting-edge technologies that shape the world as we know it.
QORVO, Everywhere and All Around Us
With offices and facilities across North America, Europe and Asia, there are 17 countries where you can find the 8,000+ dedicated Qorvo employees. From sales offices to manufacturing facilities with full engineering and design support, we have more than 30 locations around the world that enable us to provide global and local solutions quickly and consistently. This extensive network allows us to keep up with the changing certification standards across many international markets and provide specific logistical advice for cross-cultural communication. With such a large manufacturing footprint, Qorvo also possesses the means to scale fast for improved time-to-market while leveraging a comprehensive supply chain to manage material shortages or shifts in consumer demands.

Deep Roots
Qorvo constantly strives to achieve new goals, set records and discover ways to put our long history of industry experience toward solving complex and newly developing challenges. Being numbers-focused is a key part of measuring success in any industry, and some of the most significant numbers we've reached during our time in the RF market include:
3 Billion Miles
– the furthest distance Qorvo's products have traveled
9 Billion+
BAW filters shipped
2000+
products in our portfolio
1.5 Billion
Mobile devices shipped today contain Qorvo products
On our journey to becoming Qorvo, the mission has always remained the same: To drive connectivity, no matter the technology. From the start of RF Micro Devices® (RFMD®) in 1991, TriQuint in 1985, and dating back to beginnings in Tektronix®, Texas Instruments™, Raytheon®, and Watkins-Johnson, we've helped send rockets to Mars, connected families and friends through cell phones, and brought satellite radio to cars.
With knowledge developed over years of serving high-profile military applications, our gallium nitride (GaN), gallium arsenide (GaAs), silicon, bulk acoustic wave (BAW), and surface acoustic wave (SAW) technologies are now being used in wireless infrastructure for emerging 5G networks. Having worked tirelessly to connect antennas here on earth with satellite's soaring out to Pluto and beyond, we are putting our expertise to use connecting new smart devices for the home and business environment that allow improved energy management, remote intrusion alerts and biometric monitoring among other things. We see the future of Wi-Fi and the Internet of Things and are accelerating adoption of futureproof solutions with products like our multi-protocol communication controller (MPCC) chips – low power wireless technology that provides superior range, robustness and best-in-class Wi-Fi interference rejection with no latency in production-ready designs.
Quality & Product Leadership: A Key Qorvo Difference
To more effectively serve our customers and offer the most relevant resources and guidance for each, Qorvo's leadership is separated into two divisions: IDP (Infrastructure and Defense Products), which specializes in developing RF solutions for base station, aerospace and defense, IoT and the smart home, Wi-Fi, automotive, and optical applications. And Mobile which focuses on innovative technologies for the mobile sector including handsets, tablets, and the emerging 5G networks.
The IDP division capitalizes on research and development conducted over many years designing and delivering solutions for military applications. Transferring key learnings from these arenas to the commercial markets provides high-profile engineering expertise in Wireless Connectivity, Transport, and advanced satellite technology. With process and manufacturing capabilities allowing us to scale for the global markets of tomorrow, Qorvo invests in creating industry-leading applications for Wi-Fi, IoT and 5G infrastructures thanks to our innovative GaN, BAW, and Low Power solutions. Some specific use cases for our portfolio of products includes:
Base stations
Satellite radio
Vehicle to Vehicle and Vehicle to Infrastructure communication
Distributed, or Mesh Wi-Fi
Multi-user Multiple Input, Multiple Output (muMIMO) for Wi-Fi 6 applications
Transport: point-to-point and last mile
Everything connected:

smart buildings
smart homes
smart cars
Improving Wireless Communication
A part of the IDP division, the wireless connectivity product portfolio offers Wi-Fi front-end and advanced filtering solutions along with multi-protocol SoC and transceiver solutions for Bluetooth Low Energy (BLE), Zigbee and Thread technologies. Qorvo continuously develops leading products for Wi-Fi, including customer premises equipment (CPE), enterprise systems, and IoT applications that capitalize on our front-end differentiators – reduced power consumption and improved interference resolution. Providing increased efficiency, high throughput, and reliable coverage in the smallest form factor, our products support many iterations of Wi-Fi including the next generation 802.11ax (Wi-Fi 6/6E). Our components include 1024 QAM modulation schemes, 160 MHz bandwidth channels, and compliant-mode switching times. Ultra-low-power, future-proof IoT controllers enable the radio technology in many of the latest smart home and IoT solutions as well as supplying:
Long battery life for maintenance free operation
Best-in-class range for full home coverage
Reduced Wi-Fi interference
High reliability
Low cost
Highly configurable and fully integrated modules for improved time-to-market
Full standard compliance with low-power communication protocols such as Zigbee, Thread, Bluetooth BLE
Multi-protocol and multi-channel access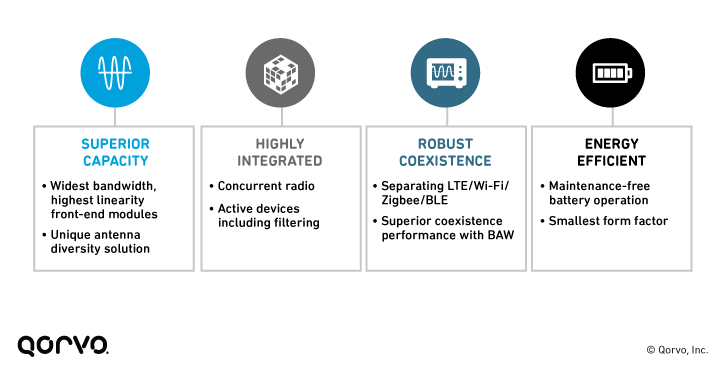 Qorvo's extensive portfolio and breadth of solutions leverage years of R&D across multiple markets to solve the most complex commercial requirements for our customers. With the priority for smaller packaging and increased performance around the new Wi-Fi 6 standard, comes new design challenges we are uniquely positioned to help resolve. Our highly integrated and efficient RFFE solutions support thermal management and allow for sleeker designs without the need for extra fans or vents. Advanced acoustic filtering enables coexistence with many other RF systems and improves the useable spectrum extending range and performance of Wi-Fi devices.
When smart home energy management system provider Levarys needed a supply partner that could deliver a wireless IoT solution with secure, long range and highly reliable data transmission in a small form factor, they chose Qorvo and our Zigbee Green Power chips. "Our new Luna smart home solution gives customers a set of smart devices that seamlessly interact, creating more comfort at home, saving energy and making life easier," said Annette Herber and Anita Hübner, managing directors of Levarys GmbH. "By choosing Qorvo's Zigbee chips, we…offer end users the reliable and flexible wireless network they need." Levarys chose Qorvo's wireless chips due to their flexibility in allowing the addition of extra devices to fit the requirements of any house. Qorvo's chips also significantly extend device battery life due to their very low current draw, freeing the system of extra maintenance and supporting the desire for uncompromised ease of use, sleek design and constant control from anywhere in the world.
Solving for a Connected World
As more and more consumers adopt IoT ecosystems comprised of multiple devices using different communication protocols at the same time, a significant RF challenge is managing interference and signal reliability. Devices inside, and outside the home or business environment need to be able to efficiently filter incoming and outgoing frequencies to prevent signal bleed and reduced functionality. Qorvo's BAW filters and multi-protocol SoCs improve interference robustness for Wi-Fi and other protocols – providing support for accessing different channels simultaneously. In addition, the newest Qorvo chips enable the combination of different network and profile layers running in parallel. Such hardware-based coexistence interfaces effectively balance access for Wi-Fi and ZigBee/BLE ensuring real-time management of signals to achieve optimal performance.
As demonstrated by Levarys, smart energy management is a top smart home adoption driver. By 2022, Statistica Research Department projects that global annual revenue for smart home systems and services will be $53.45 billion. "As smart home adoption accelerates, consumers have increasing demands and expectations for their systems." "Qorvo's low power wireless innovations and ZigBee components are deployed in tens of millions of homes with a growing footprint worldwide."
Supporting this rapidly growing desire for low-power, high-efficiency, multi-protocol wireless devices, Qorvo works closely with many chipset providers to enable competitive options when creating reference designs and vying for design wins. Chipset vendors, especially those in the $4.5 billion mobile application processor market, are in an increasingly difficult battle to differentiate their offerings. With more mobile applications now targeting universal remote control of connected homes, cars and other devices, solving for RF interference while maintaining strong connectivity is a major challenge. And as processing speeds continue to improve alongside demands for extended battery life, the need for highly integrated and extremely efficient designs is more important than ever. With the stakes for these wins so high, time-to-market can make all the difference. Thus, Qorvo offers technical expertise, and all-in-one, plug-and-play solutions like our integrated Front-End Modules (iFEMs) that chipset providers can easily leverage to improve design and production timelines when competing for lucrative contracts.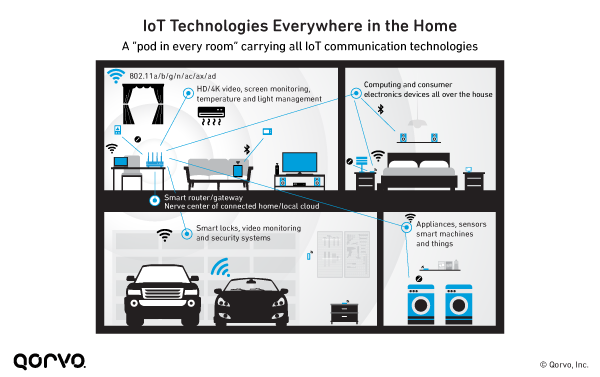 The Customer is at the Center of Everything We Do
A partnership with Qorvo means design and production support from day 1. Qorvo emphasizes technical support at all levels of our customer relationships and aspires to be a design partner from the start. We are not simply another vendor, but a trusted partner and advisor, collaborating closely with our customers' design engineers, supply chain management, procurement and sales teams to help solve multi-layered technical issues specific to their requirements. For those that seek it, we offer the capabilities needed to successfully develop effective products and market-leading solutions delivered in volume at a variety of scales. While we offer turnkey solutions for each of the RF problems a customer might have, we can also work closely to develop custom components and devices to fit highly-specific use cases.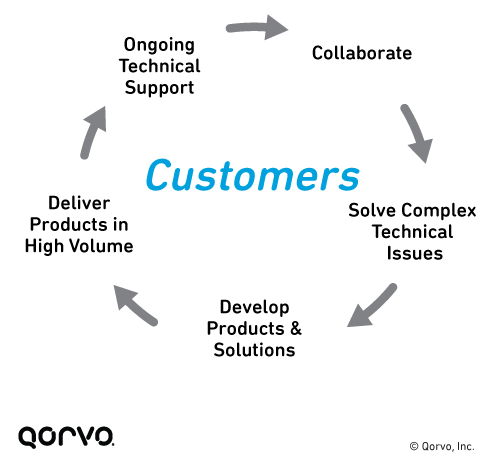 Smartphone manufacturer BQ appreciated these attributes and chose to leverage Qorvo's high-performance RF Fusion™ High Band Module as well as the multi-mode, multi-band power amplifiers (MMPAs) when designing their Aquaris X5 device. BQ, like most mobile device manufacturers, sought to integrate as much functionality as possible into their smartphone's "slimline" design. Working closely with our engineers from the start of their design process, BQ selected Qorvo's mobile RF technology to deliver the performance they needed, in the industry's smallest form factor.
Focus on Quality
Our commitment to our customers is to provide high quality products and services — every time. We pursue excellence in the customer experience and continually drive improvement in all that we do. Our quality is evident in the people we employ – highly skilled engineers that deliver industry-leading products, across all our product lines. Having achieved ISO 9001, ISO 14001, ISO 50001, IATF 16949 and AS9100 certifications, our focus on reliably delivering exceptional solutions has been recognized with several awards for our continuous commitment to technological innovation and community service.
We realize that being a trusted advisor is also recognizing our customers' customer – like the broadband or cable providers – and understanding their requirements, system deficiencies, and the business solutions needed to grow and succeed. We aim to ensure end users are satisfied with their devices, require fewer support calls and service visits and that all companies benefit from our involvement. Qorvo works closely with customers to consult on holistic, comprehensive solutions that extend beyond just the RF components needed to create high-performing devices.
Smart Choice for a Smart Partner
When deciding on which vendor to choose for your next RF design, remember that a strategic partnership can bring much more than just the parts needed to complete a new device. Industry experience, scalable manufacturing, global compliance, reliable delivery, and easily accessible technical support are extremely valuable and necessary elements when launching and sustaining a successful product in today's competitive markets. Let a proven expert with cutting-edge innovations and best-in-class customer service guide and support your company's journey for your next wireless design. Choose Qorvo to be your next RF partner – we have the solutions and resources to help you succeed and the desire to prove it.
Updated from Original Release Date: April 17, 2019