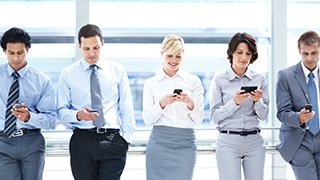 Walk and talk. With Qorvo technology, indoor cellular networks mean no dropped calls inside or out.
Imagine walking into an office building while on an important mobile phone call, only to lose the signal — and the call. Thanks to cellular boosters, repeaters, distributed antenna systems (DAS) and small cell networks, the days of having to use mobile phones outside are over. Think of these small cell networks as much smaller versions of cell towers, rebroadcasting and boosting cellular signals inside a building.
Qorvo's lineup of small cell power amplifiers, such as the TQP9418, TQP9421 and TQP9424, powers multiple customers' base station equipment. These fully-integrated PA solutions feature small package sizes, high linearity and high power, allowing our customers' engineers to design systems quickly. Qorvo's small cell solutions such as power amplifiers, duplexers, filters and low noise amplifiers (LNAs) help deliver reliable, high-speed connections with minimal error rates — providing better cell phone connections indoors.