Overview
Museum of the Bible (MotB), located in Washington, D.C., brings to life the history, impact and stories of the Bible. Using cutting-edge technology, the MotB creates an experience unlike any other museum in the world. With its innovative "Digital Guide," key features are offered such as:
Customized, running commentary that educates guests while efficiently guiding them to exhibits, theaters and attractions at optimum times, based on location and interests
Natural, proactive navigation, directing guests to artifacts and exhibits, and away from congested areas
Visual enhancements such as videos, interactive 3-D objects and augmented reality that complement artifacts and exhibit areas
Specialized features for group leaders, empowering them to pinpoint the location of family or group members, facilitate time limits, coordinate meal times and communicate with group members throughout the tour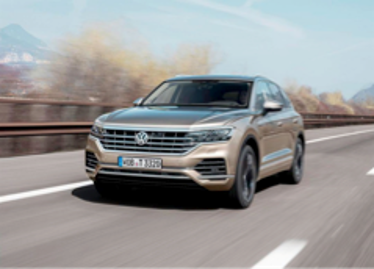 Interested in other UWB use cases?
See how the technology is streamlining operation for Volkswagen.
A Challenging Environment for Wireless Technologies
Located just off the National Mall in Washington, D.C., the MotB is based in a converted warehouse. Unfortunately, the building's concrete and steel-heavy construction creates a challenging environment for any wireless technology as it creates shadows and dead-zones that need to be worked around.
A further challenge is the high density of people in the museum, particularly with large tour groups clustering together in specific locations. Such clustering has made first-generation electronic guides notoriously unreliable.
Choosing the Right Technology
For its guides, the museum looked at the full range of competing location technologies, from GPS to Bluetooth® to Wi-Fi. It dismissed them because of their inability to provide the consistent, accurate location needed for the guide to be effective.
Instead, MotB turned to Ciholas' solution, powered by Qorvo's (formerly Decawave) UWB technology that had proven to be both accurate and reliable in challenging environments.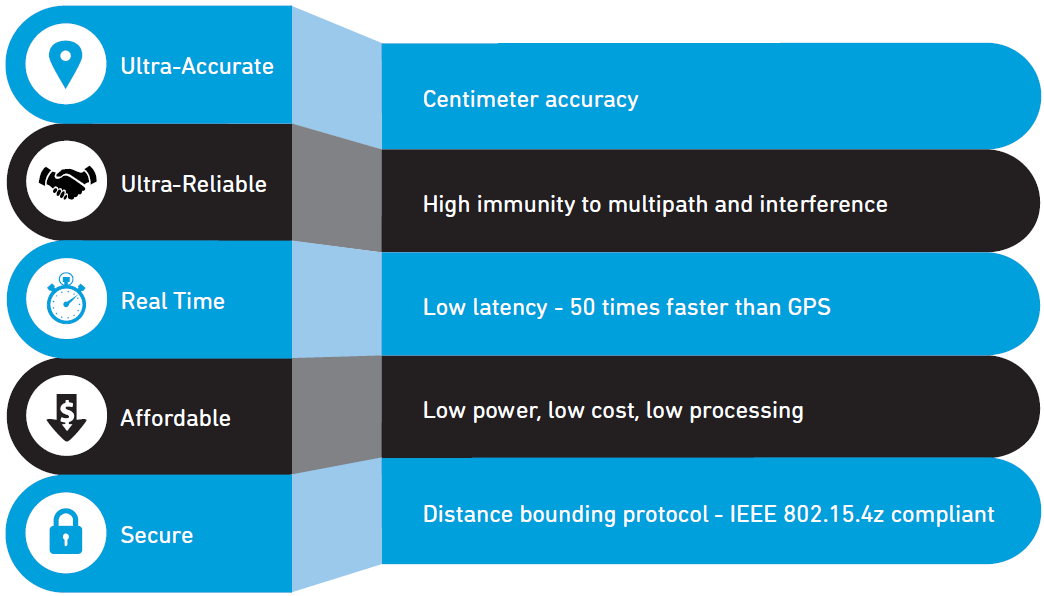 What is Ultra-Wideband? A technology designed specifically to deliver micro-location and secure communication.
System Foundation
At the heart of each Digital Guide is a UWB transceiver subsystem, based on Qorvo's DW1000 chip, featuring an integral UWB antenna and a dedicated microprocessor to handle UWB communications and computations.
In addition, an added FM radio receiver provides ADA audio delivery, which can be tuned to the proper channel by using the UWB location. The tablet and added electronics are all housed in a custom-made injection molded plastic enclosure with integrated handles, grips, and strap mounts.
On the infrastructure side, to meet the layout challenges of the museum, Ciholas installed nearly 600 UWB anchors to cover 43,000 square meters of floor space over seven floors.
All the anchors are networked to servers in the basement of the museum that run the Ultra-Wideband system. The servers manage the anchor network, perform anchor synchronization, perform location computations, keep logs of system data and performance, and manage the Digital Guide update process.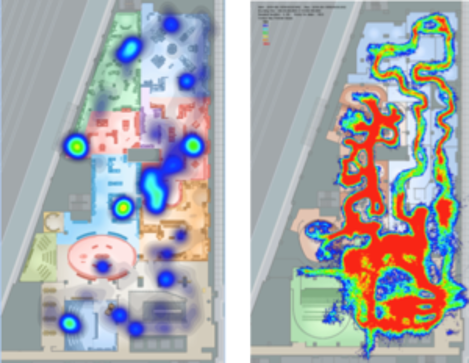 Data analysis derived from the Digital Guide provides heat maps that show where visitors are spending most of their time.
Location, Location
To overcome the issue of high-density of visitors, Ciholas tapped into the flexibility of Qorvo's UWB chips. As each device needs its own location to be used in the guide app, the Digital Guide implements "nav mode" location to reduce latency, network congestion, and increase reliability. Nav mode operates like indoor GPS, with coordinated UWB signals sent out from the anchors. These are used by the guide to compute its location 10 times per second – good enough for even the swiftest museum visitor. They also enable limitless guides to be located in any given area – so even the largest groups get a great experience.
The Digital Guide operates in 'track mode' as well. This allows the server to compute the device's location and use it for analytics and other system purposes. A key part of the system is the location engine, called VML. VML is particularly good in real-world situations where the UWB signal may be partially or wholly obstructed–which will occur in the museum from time to time. The VML algorithm can detect and mitigate when these occlusions occur, limiting the effect of bad data on the output and delivering best-in-class performance
Looking to the Future
The Digital Guide system at the MotB is already delighting visitors and provides opportunities for further development over time:
Data analysis will enable the museum to develop heat maps – better understanding what visitors are stopping to look at and how long they spend in different locations. Similarly, the museum can identify where congestion occurs. This gives museum curators the ability to continually improve guest experience by managing traffic flow, identifying popular exhibits, detecting problem areas and notifying guests of upcoming events.
The data can also enable new guide capabilities. Knowing how much time a visitor has and what their interests are, the guide could create a personal tour for them. Even better, with real-time congestion data, the guide could reorganize the tour as it happens to create the best possible experience.
MotB shows how detailed, accurate location data is changing how museums and other public spaces can engage with their audiences, but don't take our word for it – go and experience it for yourself.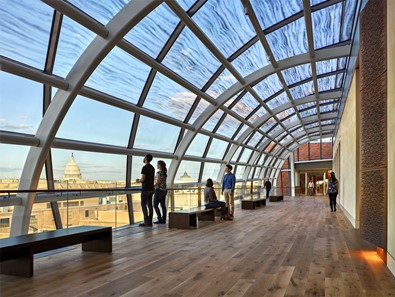 Glass galley views of Washington, D.C. from Floor 6 of
Museum of the Bible.