Over the past decade, the race to innovate in the IoT ecosystem has resulted in fragmentation, while Wi-Fi connectivity has increased bandwidth and capacity, expanding manufacturing complexity. Meanwhile, the consumer is left with attempting to understand and synergize these two ecosystems to get a simple outcome like clear video coverage at their front door.
Luckily, there is help on the way. To increase interoperability and reduce the overall complexity for smart home consumers, industry leaders like Amazon, Apple, Google and Samsung, along with cloud providers, multi-system operators (MSOs), and wireless connectivity technology vendors, like Qorvo, are supporting a single new IoT standard called Matter. These Matter-compatible devices are already out there and are now simplifying how the smart home connects its devices to the internet.
.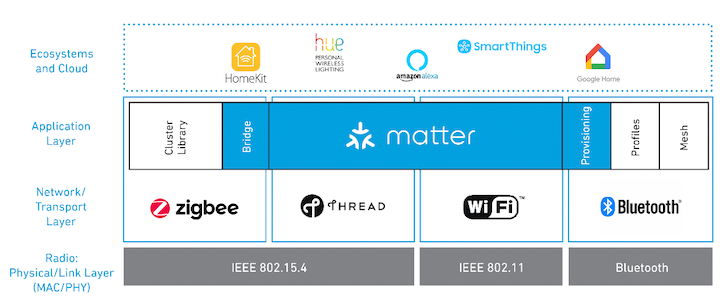 Networking ecosystems cohabitate: Matter is an aggregation standard that brings together existing IoT standards.
Qorvo's One Pod Per Room Vision
Even with the emergence of Matter solving the connectivity interoperability challenge, having so many IoT devices, throughput becomes a big concern, as does coverage across the smart home to a growing number of personal and home IoT devices—from the basement to upstairs to the garage, shop, and even the barn.
Qorvo has a vision of how to address these growing challenges through a 'one pod per room' (OPPR) model. To create a more connected smart home that is reliable and robust, manufacturers are offering a newer topology known as a mesh network. This network not only extends wireless device ranges but provides the needed capacity and coverage for a smart home filled with both IoT and Matter-based devices. Mesh networks have become an important development in the evolution of Wi-Fi, especially in the smart home.
.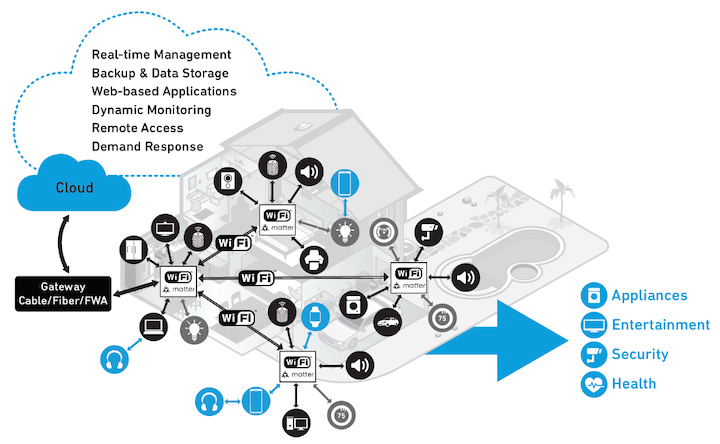 Smart-home devices in a mesh network infrastructure: One Pod Per Room (OPPR).
Solving the Backhaul and Coverage Challenges
With more performance-demanding devices, how can technology and architecture maximize throughput at acceptable latencies for the growing number and types of devices? How can topology optimize coverage and throughput? The answers lie in the capabilities offered by Matter, Wi-Fi 6/6E, upcoming Wi-Fi 7, and the aid of Front End Modules (FEMs) and RF bulk acoustic wave (BAW) filter technology that help boost signals while maintaining a necessary separation between channels and standards.
Qorvo's Jeremy Foland, an expert in wireless connectivity solutions, summarizes in this video how these current and emerging technologies will ease customer experiences with home connectivity solutions and how they enable performance and coverage for the scaling smart home. Jeremy offers a closer look at:
How Matter simplifies mesh deployments in the smart home.
The value that Qorvo's filtering products bring to multi-channel, multi-frequency radios.
The strategies that enable the backhaul to support clients more effectively.
How 6 GHz frequencies in the backhaul support greater distances between AP and mesh nodes.
How Wi-Fi 7 further supports smart home clients and IoT in the home.
These are effective solutions to the growing challenges facing the smart home. If you're part of developing connectivity solutions for the smart home ecosystem—routers, APs, mesh systems, etc.—you'll benefit from this discussion. Check it out here.
Learn more about the latest Qorvo Matter Innovations.
The Bluetooth® word mark and logos are registered trademarks owned by Bluetooth SIG, Inc. and any use of such marks by Qorvo US, Inc. is under license. Other trademarks and trade names are those of their respective owners.
Have another topic that you would like Qorvo experts to cover? Email your suggestions to the Qorvo Blog team and they could be featured in an upcoming post. Please include your contact information in the body of the email.