Qorvo's general manager Roger Hall recaps the 5G highlights from IMS 2017 — what's here and now.
The 2017 International Microwave Symposium (IMS) returned to Honolulu this year (who wouldn't want to go there?), with a focus on the upcoming transition to 5G.
I manage the High Performance Solutions group within Qorvo, a team that focuses on driving technology, products and solutions for defense, aerospace and wireless infrastructure applications. We develop cutting-edge products for radar, electronic warfare, defense communications and base station markets and help our customers to integrate them into program-winning systems.
I went to IMS to talk to our customers about two things I care about most: GaN and 5G (mai tais are a distant third). It's an exciting time in telecommunications as the industry is beginning to develop products to support emerging 5G standards. Everyone was talking about 5G at IMS 2017, and here are four key insights I took away from the event.
#1: 5G is happening soon
From pre-5G to sub-6 GHz to millimeter wave (mmWave or mmW) frequencies, companies unveiled multiple products to support the transition to 5G. These included solutions for wireless infrastructure networks — massive MIMO, small cells, macro base stations and more — to testing and simulation.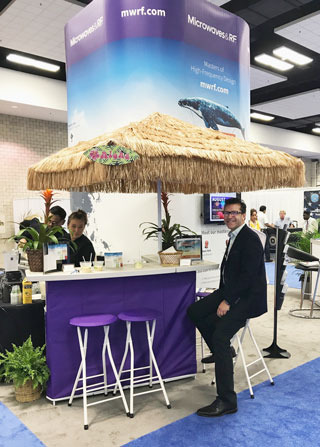 Qorvo's Roger Hall at IMS 2017

#2: The smoke is starting to clear around 5G and the Internet of Things
In the past, these two market trends have been used synonymously, but they are not the same thing. As the 5G New Radio (NR) standard takes shape and companies begin to develop solutions for it, we're seeing the following distinctions:
Both 5G and the IoT can stand alone but they will expand further and more rapidly together.
Data consumption is increasing dramatically. To implement 5G and meet customer demands, providers will need to reduce the cost of bits transmitted and upgrade wireless infrastructure using cost-effective approaches.
There are many network technologies and use cases to support the IoT, but 5G isn't actually necessary to support these applications.
Want to know more about the future for 5G, including how it relates to the IoT and cellular infrastructure? Our new e-book, 5G RF For Dummies®, helps explain it all. Another good read to help provide context is Internet of Things For Dummies®.
#3: Market trends from defense are converging in infrastructure and 5G
Defense programs have always been a highlight at IMS, in addition to driving innovation in the semiconductor industry. But as commercial applications are becoming more complex, they're drawing on trends from defense markets. Here are some of the convergences we're now seeing in infrastructure applications, which you could see in play at IMS:
GaN replacing LDMOS in base stations: Customers need its high efficiency and compact size, especially at broadband and higher frequencies.
AESAs and massive MIMO: Defense markets have been using AESAs, or actively electronically scanned arrays, for many years to increase system performance and reliability. Mobile infrastructure now has massive MIMO, which is effectively an AESA.
Broader bandwidth: Who doesn't have or need to move more data? Carrier aggregation means broader bandwidth, and most 5G bands are also broader than previously allocated spectrum.
Higher frequencies: Again, the quest to move more data. With 5G, frequencies are moving from 1.8 to 3.5 GHz and up to 6 GHz, and even to mmWave frequencies (24, 28 and 39 GHz).
Go in Depth
See what others have shared about IMS:
#4: The right technology to use for 5G products
We had many discussions at IMS about the right process technology to support 5G, whether GaAs, GaN or silicon. Ultimately, we believe the right technology to use is whatever one best matches a customer's requirements. As higher EIRP levels are required at the system level, gallium nitride will play an important role in the ecosystem of the future due to its higher output power abilities and higher power-added efficiencies.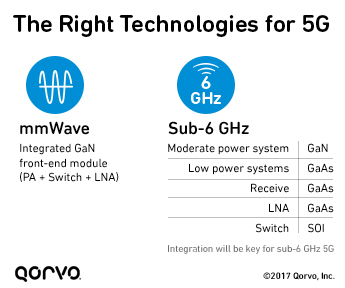 What did Qorvo unveil at IMS 2017?
We launched a number of products at the show, but these garnered the most buzz: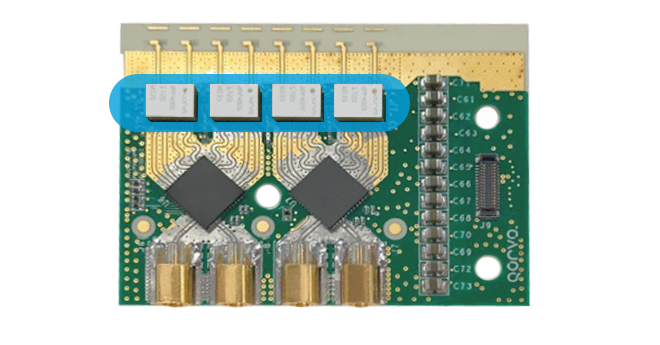 The QPF4005: a 37.5-40 GHz Dual-Channel GaN Front-End Module
(Power Amplifier, Low Noise Amplifier and Switch). See highlighted products in blue above.

It was exciting to see our products featured in demos by some of our partners, including NanoSemi and Keysight Technologies (see image below).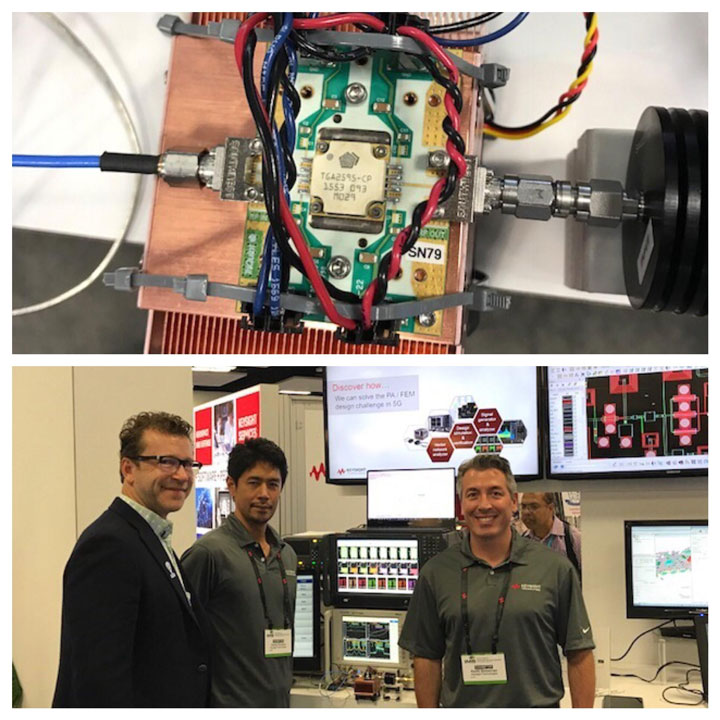 Qorvo's Roger Hall with Keysight Technologies, after our PA/FEM demo