Wi-Fi has had an interesting journey since its inception in 1997. It was initially used in most business and home environments to enable computers to communicate. Then, in 2010 it was chosen as the backbone for the iPhone's FaceTime application. The move to handheld mobile devices quickly catapulted Wi-Fi-based technology into a popular and prosperous wireless future. Today Wi-Fi is a core element in many connectivity devices, including the fast-emerging Internet of Things (IoT).
So where has it been, and where will it go in the years to come? Let's review some of the major milestones and imagine the possible future that lies ahead.
Wi-Fi – Past, Present, Future
As shown in the table below, Wi-Fi's initial upload and download speeds were not very impressive when compared to a wired connection. But around 2009, with the introduction of the 802.11n standard, the speed of a wireless connection began to match that of wired home and business data rates. Since then, wireless speeds have competed head-to-head with wired speeds, adding the much-needed convenience of no-chord connectivity with improving performance in each successive generation.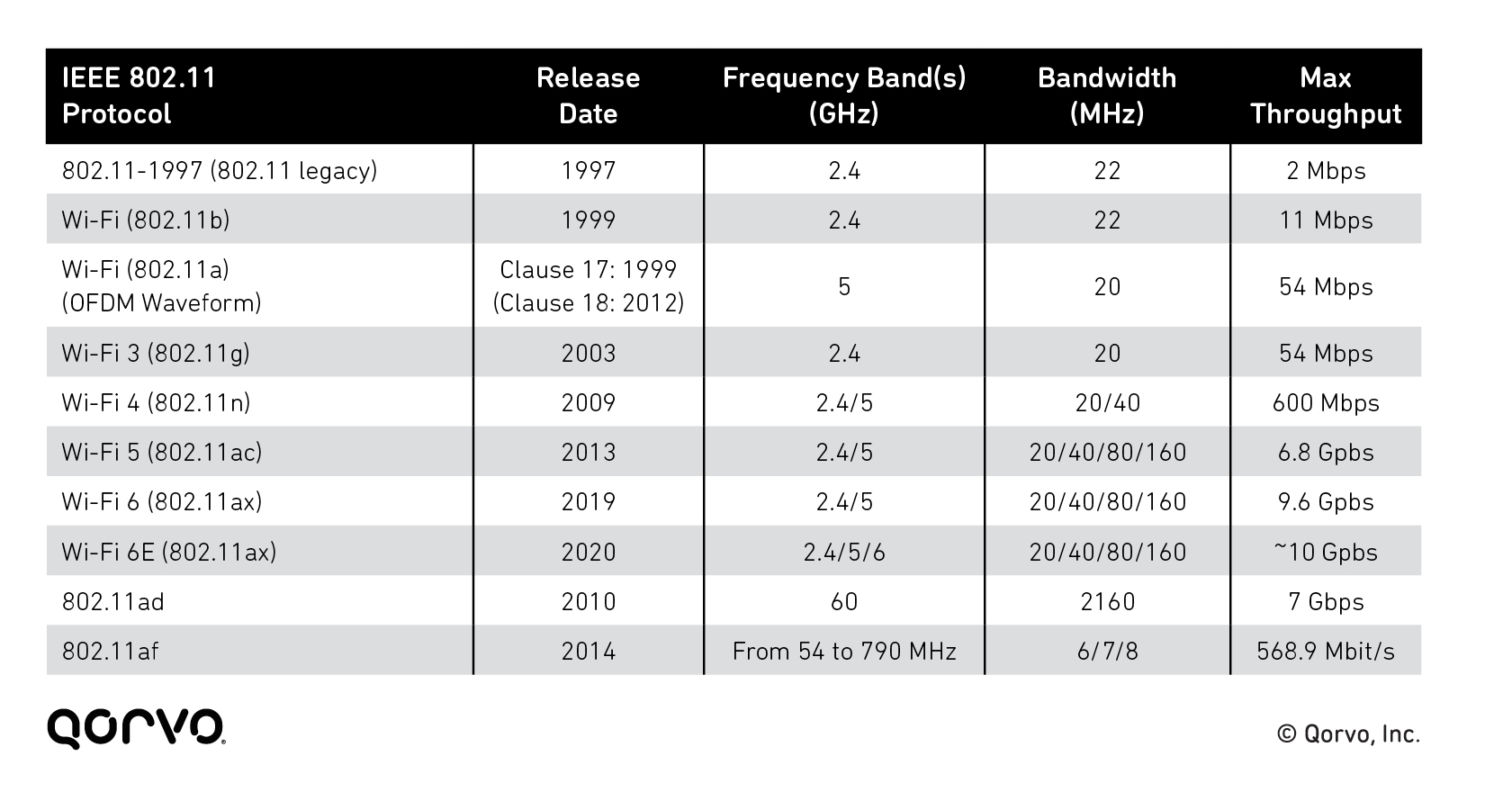 Wi-Fi 6 (802.11ax) is the current and sixth generation of Wi-Fi. Built on the strengths of 802.11ac, it provides more wireless capacity and improved reliability. By using denser modulation (1024-QAM), orthogonal frequency division multiple access (OFDMA), reduced subcarrier spacing (78.125 kHz) and scheduled-based resource allocation, Wi-Fi 6 offers four times more data throughput than its predecessor. 802.11ax is a dual-band 2.4 and 5 GHz technology providing maximum compatibility and coexistence with 802.11a/g/n/ac clients. With OFDMA, shown below, the resource units divide bandwidth according to the needs of clients and provide multiple individuals with the same user experience at faster speeds.
Wi-Fi 6E the 6 GHz add-on to 802.11ax takes Wi-Fi 6 to the next level. This addition is being finalized in 2020. It adds spectrum in the 6 GHz realm (5.925 – 7.125 GHz) making seven 160 MHz channels available. Wi-Fi 6E will offer the features and capabilities of Wi-Fi 6 – including higher performance, low latency, and faster data rates, doubling the capacity of Wi-Fi 6. It will also use MIMO and open spectrum to overcome the inherent range challenges in the high-frequency channels, ensuring full home or building coverage. Thus, providing optimal throughput/capacity.
Wi-Fi Is No Longer Alone
Today, connected products incorporate many wireless standards, not just Wi-Fi. Tools like the Amazon Echo or Apple's Home Pod use Wi-Fi in conjunction with Bluetooth, Thread, and Zigbee, turning a home or business into a wireless ecosystem of varying protocols. New entrants that combine 4G LTE with Wi-Fi in one device, such as Free with its Freebox Delta set-top box, add yet another layer to the mix – cellular – further increasing system complexity.
The design challenge is now to allow for all of these standards to coexist within the same product. With so many wireless standards and RF signals in one box, there are bound to be interference issues. Thus, RF signal filtering and integration are a must to decrease manufacturing cost, increase reliability and robustness.
Not only is there the need to design for more signals in a single unit, but also the added consideration of an abundance of wireless products confined in small areas – phones, pads, appliances, and gaming devices in a home or individual room. Manufacturers of connected devices are challenged to ensure their products coexist with all the others being deployed in the same space. Today, coexistence inside and outside a wireless module is more important than ever.
RF filtering plays a big part in managing coexistence, as do highly integrated, linear and efficient devices. More and more, consumers require wireless products that are continuously connected. Mesh networking – distributing wireless connection pods throughout the home or business – is now becoming the new norm to provide instantaneous, reliable service throughout a space. Additionally, these connected pods often include the necessary components within them to provide numerous connections simultaneously across a variety of communication standards.
Imagining the Future of Wi-Fi
Today, consumers care less about how their devices connect – whether it's using Wi-Fi, cellular, Bluetooth or other protocols – and more that they are constantly and reliably connected. The good news is that mobile devices can now easily switch intelligently between Wi-Fi and cellular networks without losing connection. However, problems still arise when weak wireless signal strength, or too much interference, may cause a device's internal switch to move ineffectively between connections as it searches for better access. When resources compete for bandwidth, it may be necessary to turn off a Wi-Fi connection and rely on a strong cellular signal to avoid poor load times.
Thus, many in the Wi-Fi world imagine a time, not too far off in the future, where there is a more effective continuation of this intelligent switching between standards. Where our connected devices will still pick the best signal available to use, regardless of protocol, but there will be more options to choose from. The hope is that devices will be sleeker and smaller as well, fitting stylishly within the evolving home and business environments. In this future, newer standards and improved networks will be able to provide almost fiber-like data rates, even where a fiber connection may not be available. And best of all, these systems will work seamlessly to keep users online across geographic and temporal borders. Just imagine what we can accomplish in such a connected world!
Updated from Original Release Date: April 29, 2019