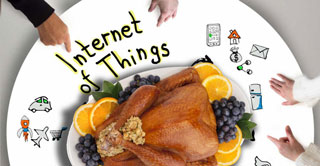 The leaves are changing, a nip is in the air, and rumblings of football rivalries are renewed. It's the season of giving thanks, and with Thanksgiving just days away, I'm thankful for the people in my life and the Internet of Things (aka IoT) that connect us. In fact, I like to think of this favorite of holidays as "Thingsgiving."
The proliferation of IoT and smart-enabled products is surging, as companies across many industries are jumping in to get a slice of the pie. This trend will continue, as Bain forecasts that the combined markets of the IoT will grow to about $520 billion in 2021, more than double from the $235 billion spent in 2017. For those of us in the RF industry, these are exciting times. The IoT is connecting more people, places, and things — and in the case of this Thingsgiving, our food.
IoT-connected kitchen tools have added to a cornucopia of smart-home products that just may turn your Thanksgiving meal into a culinary experience that even Gordon Ramsay would enjoy. For example, there's MEATER — the first wireless smart meat thermometer. No more advanced calculus to figure out when your turkey will be finished cooking. Now, you can check the turkey on your smartphone.
Or, how about the new Alexa-enabled microwave from Amazon? Hey Alexa…please cook the green bean casserole that we'll discover three hours after we've already eaten.

The real meaning of Thingsgiving
Like all holidays, Thingsgiving's true meaning is often overlooked as too many people focus on the IoT's commercial relevance. Thingsgiving isn't about things — it's about staying connected and making our lives easier by helping us make better decisions faster. Those of us in the RF industry will be giving thanks to our hard-working, invisible friends—wireless protocols and the standards that make the IoT possible.
Without these protocols and their peaceful coexistence, the IoT would not exist. Just watch the 3 Aha's that Make IoT Work, and you'll see what I mean!
Connecting all of these devices isn't easy, especially with all of the protocols currently in use. Bluetooth, Zigbee, Thread, Wi-Fi, NB-IoT, LTE, Bluetooth LE…the list goes on. There are as many standards as there are fixins to go along with your turkey.
Think of these protocols as different languages working separately from each other. Individually, they work great, but bring them together and chaos can ensue. Just like at the Thanksgiving table when Uncle Edgar decides to opine on the midterm elections.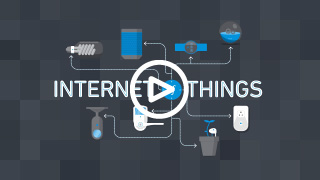 The 3 Aha's That Make IoT Work – Watch Our Video >
Standards to the rescue!
Luckily, many RF products and initiatives help make IoT products work in harmony. I'm thankful to the IEEE for creating the standards that help us navigate the confusing maze of wireless protocols. These include 802.15.1 (Bluetooth) to connect your Fitbit to your smartphone, 802.15.4 (Zigbee) to connect your smart thermostat to your home network, and 802.11ax (Wi-Fi 6) to keep us all connected in dense urban environments such as a Thanksgiving family reunion.
In the case of Thingsgiving, the MEATER uses Bluetooth to connect the thermometer to your smartphone up to 33 feet. Not far enough to keep tabs on the Bears-Lions game? Just add the MEATER signal repeater to extend your connection to 165 feet and you won't miss a single snap. You can extend the range even more by using your home Wi-Fi!
It's also worth giving thanks to the gateway—the silent hero of the smart home. Gateways are the control center of smart-home systems, and with the help of communication controller chips, they can handle a variety of different protocols to support myriad applications.

The leftovers
Thingsgiving can continue well past Thursday, and not just because of the leftovers. Black Friday and Cyber Monday give us two more opportunities to proliferate the IoT with gift-wrapped things that enhance the lives of family and friends. Enjoy your Thingsgiving!